/ Source: msnbc.com staff and news service reports
Bahrain's Shiite opposition on Saturday rejected any dialogue with the Gulf kingdom's Sunni royal family until "tanks are off the streets" and the army stops "shooting at peaceful protesters."
Khalil al-Marzook, a senior member of Al Wifaq opposition bloc said the "atmosphere for dialogue," led by Bahrain's crown prince "is not right."
Security forces opened fire Friday on protesters for a second straight day of an uprising seeking to break the political grip of Bahrain's Sunni leaders.
Al Wefaq's 18 Shiite lawmakers resigned from the 40-member parliament on Thursday after the army raided the protest encampment on Manama's Pearl Square, killing at least five people.
Protesters are expected to try to take back the landmark square Saturday.
At least 50 people were wounded Friday as thousands defied the government and marched toward the square.
Once again, Bahrain authorities showed no hesitation in using force against demonstrators who ramped up demands to bring down the whole ruling monarchy.
U.S. President Barack Obama spoke with the king of Bahrain, Hamad bin Isa Al-Khalifa, by telephone on Friday night and again urged his government to show restraint against "peaceful protesters," the White House said.
"As a long-standing partner of Bahrain, the president said that the United States believes that the stability of Bahrain depends upon respect for the universal rights of the people of Bahrain, and a process of meaningful reform that is responsive to the aspirations of all Bahrainis," according to a White House statement.
Obama earlier also condemned violence against the protesters in Libya and Yemen, where heavy crackdowns by old-guard regimes were reported.
A Libyan doctor said 35 protesters were killed in the eastern city of Benghazi during a confrontation with security forces, while three people were killed and 48 were wounded during protests called as part of a "Friday of rage" in Yemen.
The continuing wave of anger in the Arab world followed successful uprisings in Tunisia and Egypt, where hundreds of thousands of people celebrated the downfall of President Hosni Mubarak one week ago.
'This is a war'
In Bahrain, critically injured protesters were again rushed to Manama's main Salmaniya hospital, which also received the dead and wounded after riot police smashed a protest encampment early Thursday in the landmark square.
Some doctors and medics on emergency medical teams were in tears as they tended to the wounded. X-rays showed bullets still lodged inside victims.
"This is a war," said Dr. Bassem Deif, an orthopedic surgeon examining people with bullet-shattered bones.
Of the 50 injured, seven were critically hurt, Health Ministry official said.
Seven people have died in Bahrain's unrest this week, including five on Thursday, and more than 200 have been wounded.
Protesters on Friday described a chaotic scene of tear gas clouds, bullets coming from many directions and people slipping in pools of blood as they sought cover. Some claimed the gunfire came from either helicopters or sniper nests.
"Police attacking protesters here at hospital in Bahrain. Tear gas inside. Panic," tweeted New York Times reporter Nicholas Kristof. Another message on his Twitter account read: "Patients pouring into ER, along w tear gas. Chaos. Tr gas grenades thudding in bckground."
An Associated Press cameraman saw army units shooting anti-aircraft weapons, fitted on top of armored personnel carriers, above the protesters, in apparent warning shots and attempts to drive them back from security cordons about 200 yards from the square.
Then the soldiers turned firearms on the crowd, one marcher said.
"People started running in all directions and bullets were flying," said Ali al-Haji, a 27-year-old bank clerk. "I saw people getting shot in the legs, chest, and one man was bleeding from his head."
"My eyes were full of tear gas, there was shooting and there was a lot of panic," said Mohammed Abdullah, a 37-year-old businessman taking part in the protest.
The clash came hours after funeral mourners and worshippers at Friday prayers called for the toppling of the Western-allied monarchy in the tiny island nation that is home to the U.S. Navy's 5th Fleet, the centerpiece of the Pentagon's efforts to confront Iranian military influence.
Some members of Bahrain's Sunni ruling system worry that Shiite powerhouse Iran could use Bahrain's majority Shiites as a further foothold in the region.
Crisis deepens
Bahrain's crown prince Sheikh Salman bin Hamad al-Khalifa called for calm, saying it was "time for dialogue, not fighting".
Day by day, the crisis in Bahrain has deepened.
Mohammed, a 28-year-old banker who lives in Bahrain's capital and asked that his last name not be printed out of fear for his safety, said the medical complex by Pearl Square was overwhelmed.
"There is blood everywhere," he said. "Most of the shots are to the chest and the head. They were shot to kill; they were not shot to break down their gathering."
The gunfire started as protesters joined funeral mourners in Pearl Square, carrying flowers to honor the dead.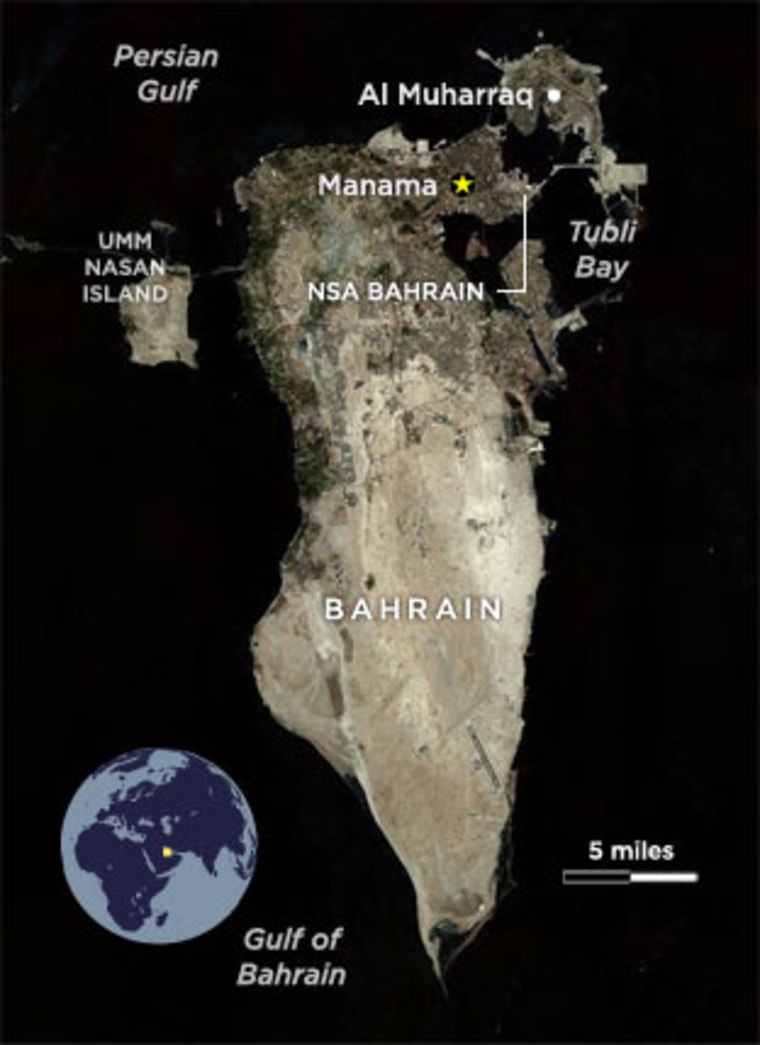 "As soon as they approached, there was gunfire," he told msnbc.com from his home in Manama, too afraid to go outside during the clashes. "My friend is just two blocks away, and he saw people falling. I have another friend who told me it's explosive chaos."
Ambulance sirens were heard throughout central Manama a day after riot police swept through the protest encampment, killing at least five people.
The clash came just hours after funeral mourners and worshippers at Friday prayers called for the toppling of the Western-allied monarchy in the tiny island nation that is home to the U.S. Navy's 5th Fleet.

The cries against the king and his inner circle — at a main Shiite mosque and at burials for those killed in Thursday's crushing attack — reflect an important escalation of the political uprising, which began with calls to weaken the Sunni monarchy's power and address claims of discrimination against the Shiite majority in the tiny island nation.
The mood, however, appears to have turned toward defiance of the entire ruling system after the brutal crackdown on a protest encampment in Bahrain's capital, Manama, which left at least five dead, more than 230 injured and put the nation under emergency-style footing with military forces in key areas and checkpoints on main roads.
"The regime has broken something inside of me ... All of these people gathered today have had something broken in them," said Ahmed Makki Abu Taki, whose 23-year-old brother Mahmoud was killed in the pre-dawn sweep through the protest camp in Manama's Pearl Square. "We used to demand for the prime minister to step down, but now our demand is for the ruling family to get out."
"He told me before he went there, 'don't worry, father, I want freedom'," the dead man's father, Mekki Abu Taki, 53, added.
Outside a village mosque, several thousand mourners gathered to bury three men killed in the crackdown. The first body, covered in black velvet, was passed hand to hand toward a grave as it was being dug.
'We have lost all trust'
Amid the Shiite rites, many chanted for the removal of the king and the entire Sunni dynasty that has ruled for more than two centuries in Bahrain — the first nation in the Gulf to feel the pressure for changes sweeping the Arab world.
"Our demands were peaceful and simple at first. We wanted the prime minister to step down,' Mohamed Ali, a 40-year-old civil servant, said as he choked back tears. "Now the demands are harsher and have reached the pinnacle of the pyramid. We want the whole government to fall."
At a funeral in the Shiite village of Karzkan, opposition leaders urged protesters to keep up their fight but not to seek revenge.
"We know they have weapons and they are trying to drag us into violence," said Sheik Ali Salman, the leader of the largest Shiite party, Al Wefaq, whose 18 lawmakers have resigned in protest from the 40-seat parliament.
The protesters had called for the monarchy to give up control over top government posts and all critical decisions and address deep grievances by Shiites, who claim they face systematic discrimination and poverty and are blocked from key roles in public service and the military.
Shiites have clashed with police before over their complaints, including in the 1990s. But the growing numbers of Sunnis joining the latest demonstrations surprised authorities, said Simon Henderson, a Gulf specialist at the Washington Institute for Near East Policy.
"The Sunnis seem to increasingly dislike what is a very paternalistic government," he said. "As far as the Gulf rulers are concerned, there's only one proper way with this and that is: be tough and be tough early."