/ Source: The Associated Press
Declaring the "great day has arrived," Haiti's Jean-Bertrand Aristide arrived at a South African airport Thursday, on his way home after seven years in exile despite President Barack Obama's bid to keep the hugely popular but controversial figure away from his country until it holds a presidential election this weekend.
Aristide addressed about 50 reporters in Zulu, a language he studied during his years in South Africa, at a small airport in northern Johannesburg that often handles charter flights. South Africa's foreign minister Maite Nkoana-Mashabane accompanied him, his wife Mildred and two daughters. Michaela, 12, and Christine, 14, have spent half their lives and their most formative years in exile.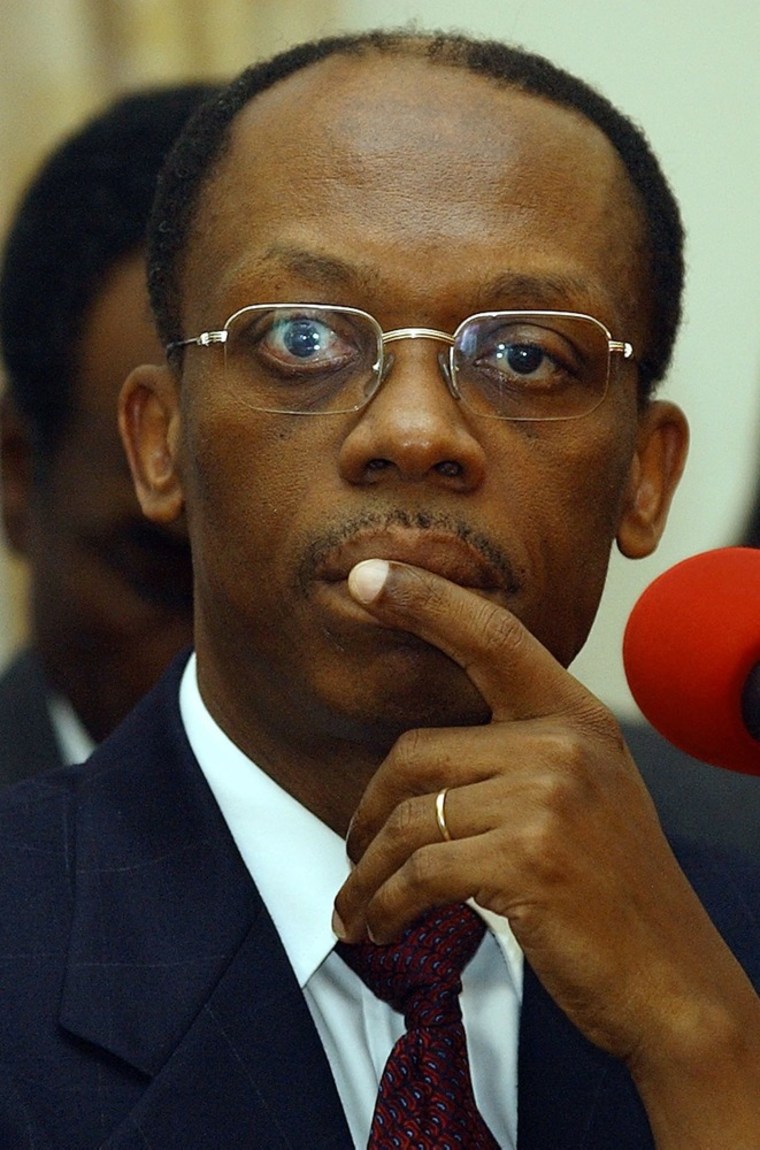 "The great day has arrived! The day to say goodbye before returning home," he said in Zulu. "We are delighted to return home after seven years. In Haiti also they are very happy .... Their dream will be fulfilled. Together, we will continue to share this endless love."
His plane took off shortly after.
Thousands are expected to welcome him home.
Aristide's lawyer Ira Kurzban had said Aristide will be back in Haiti by noon on Friday.
"We can't hold him hostage if he wants to go," South African Cabinet Minister Collins Chabane was quoted as saying earlier Thursday, noting Haiti's government had delivered Aristide's diplomatic passport last month.
South African officials, speaking on condition of anonymity because they were not authorized to make the official announcement, said Aristide would leave immediately after addressing reporters Thursday night at the airport. Before Aristide, waiting reporters had seen about a dozen massive suitcases marked "Aristide" arrive. The suitcases were followed by Danny Glover, the actor and social justice activist who arrived Thursday morning to help escort Aristide and his family home.
Aristide, a former slum priest, was twice elected president of Haiti and remains wildly popular among the Caribbean nation's majority poor. Thousands and thousands of people are expected to welcome him home.
Aristide never completed either of his terms. He was ousted the first time in a coup and restored to power in a U.S. military intervention in 1994. After completing his term he was re-elected years later, only to flee a rebellion in 2004 aboard a U.S. plane. Aristide claimed he was kidnapped.
Obama feared destabilizing
Obama was concerned enough about Aristide's possibly destabilizing influence to call South African President Jacob Zuma on Tuesday and discuss the matter, U.S. National Security Council spokesman Tommy Vietor told The Associated Press. A Zuma spokesman had no comment, saying he was unaware of the call.
"The United States, along with others in the international community, has deep concerns that President Aristide's return to Haiti in the closing days of the election could be destabilizing," Vietor said. "President Obama reiterated ... his belief that the Haitian people deserve the chance to choose their government through peaceful, free, and fair elections March 20."
Aides say Aristide, Haiti's first democratically elected president, fears the winner might reverse the long-awaited decision to allow his return. In the past, they had opposed Aristide. Now, both Michel Martelly and Mirlande Manigat stress his right to return as a Haitian citizen under the constitution. Both candidates would want to attract votes from followers of the Lavalas Family party which was barred from participating in the election and of which Aristide still is president.
Manigat, a university administrator and former first lady, even said: "President Aristide is welcome to come back and help me with education."
Glover, the chair of TransAfrica social justice forum, asked why former dictator Jean-Claude Duvalier could return to Haiti unhindered and not Aristide.
"People of good conscience cannot be idle while a former dictator is able to return unhindered while a democratic leader who peacefully handed over power to another elected president is restricted from returning to his country by external forces," Glover wrote on the TransAfrica Forum website.
Prominent lawyers and law professors criticized U.S. government "interference" in Aristide's "constitutional and human right to return from forced exile to Haiti.
"The United States trying to control when any Haitian citizen — especially a former President — can enter Haiti is outrageous," Bill Quigley, legal Director of the Center for Constitutional Rights at Loyola New Orleans Law School said. He is among more than more than 100 lawyers from the United States, Europe and Canada who wrote a letter of criticism to the U.S. State Department.
"I felt compelled to speak out to defend both President Aristide's human rights and the American tradition of rule of law that I teach in my classroom," Quigley said.
On Monday, U.S. State Department spokesman Mark Toner acknowledged Aristide's right to go back to Haiti, but said returning this week "can only be seen as a conscious choice to impact Haiti's elections."
Fraud alleged
Haiti's electoral council barred Aristide's party, Lavalas, from the presidential election for technical reasons that supporters said were bogus. Its members are boycotting Sunday's runoff. The initial Nov. 28 vote was so troubled by fraud, disorganization, instances of violence and voter intimidation that 12 of the 19 candidates including the frontrunners initially called for it to be tossed out.
The Washington-based Center for Economic and Policy Research, a left-leaning think tank, said it should be invalid because of widespread errors and fraud and because nearly three-quarters of registered voters did not vote because the most popular party, Lavalas, was banned.
South African officials have been making increasingly acerbic remarks about delays in Aristide's return.
Chabane told a news conference Thursday that South Africa cannot be held responsible for whether Aristide stays or goes, according to the South African Press Association.
"What I should stress is that we are not sending former President Aristide to Haiti. He was given the passport by the government of Haiti and we can't hold him hostage if he wants to go," Chabane was quoted as saying.
Aristide emerged as a leading voice for Haiti's poor in a popular revolt that forced an end to the Duvalier family's 29-year dictatorship. He has said he will not be involved in politics in Haiti and wants to lead his foundation's efforts to improve education in the impoverished Caribbean nation devastated by last year's catastrophic earthquake.
It would be the second return from exile for Aristide, who first was ousted by a military coup in 1991. Aristide fled Haiti again on Feb. 29, 2004, leaving on a U.S. plane as rebels approached the capital, Port-au-Prince and members of Aristide's party was accused of killing opponents.
The former slum priest has been reclusive in exile, doing university research and polishing his academic credentials with a doctorate awarded by the University of South Africa for a comparative study on Zulu and Haitian Creole. He relaxed by playing table tennis.