The press for change spreading through the Middle East has inevitably put a focus on the lone democratic Muslim-majority country in the area: Turkey. Long a bastion of secular government, it has felt pressure to introduce democratic reforms as well as to confront the effects of a growing Islamic identity. With elections looming in June, Msnbc.com traveled to Istanbul to learn further about the shifting face of this key country at the crossroads of Europe and the Middle East.
Editor's note: Prime Minister Recep Tayyip Erdogan's AKP won a third consecutive term with a strong majority in the June 2011 election.
ISTANBUL, Turkey — The fragrance of oranges mingles with the smell of tear gas in Sinem Yoruk's memories of the night a mob rampaged through her neighborhood.
A gang of 50 men armed with iron bars, knives and pepper spray — and, bizarrely, frozen fruit — damaged seven art galleries and attacked guests as they chatted, drank and smoked in the street.
"There was broken glass everywhere — and lots of oranges," Yoruk recalled.
The incident dominated Turkey's newspapers for days. Many took it as the latest sign of growing intolerance toward Western values in the Muslim-majority country, which is both a meeting point of Europe and Asia and Islam and Christianity.
Yoruk, a 34-year-old gallery owner, is among those who saw something bigger at work in the Sept. 21 rampage, which sent five people to the hospital.
"There has been a huge increase in this sort of bullying attitude," she told msnbc.com.
For many Turks, such incidents highlight a worrying trend in a society that has long held tight to a separation of faith and state.
Mustafa Kemal, called "Ataturk" or "Father of the Turks," sought to create a secular state when he founded the country in 1923 out of the Ottoman Empire's ruins.
However, consecutive election victories by the conservative and Islam-oriented Justice and Development Party (AKP) have raised questions about whether Turkey is heading in a different direction. The key U.S. ally has the second-largest standing army in NATO and has been held up as a role model for democracy movements sweeping the Middle East. At the same time, this emerging power with economic growth rates to rival China's has started exhibiting an assertiveness that unnerves longtime allies. It has also increased its ties with the likes of Iran and Syria.
With voters due to head to the ballot box in June, Turkey stands at a crucial juncture: Will its new ruling class stick to the country's secular roots and continue toward European integration, or turn away from its pro-Western stance and many of its democratic achievements?
More than eight decades after Ataturk and his co-revolutionaries sought to supplant the multi-ethnic but Muslim Ottoman Empire, public figures are increasingly confident about expressing their faith.
Prime Minister Recep Tayyip Erdogan has described himself as a "Shariah-ist" — or a backer of Islamic law. A 2007 U.S. diplomatic cable released by WikiLeaks alleges that the ruling AKP has a "strategy to infiltrate its Islamist agenda into Turkey's secular institutions." Various forms of Shariah have been imposed around the world — including a strict version in Saudi Arabia which features penalties such as stoning and flogging for some offenses.
While alcohol has traditionally been widely available in Turkey, tough new restrictions on sales and advertisements introduced by the government earlier this year are also worrying for those who want religion to stay out of politics.
At the same time, Turkey is lessening its economic and diplomatic dependence on the West.
Ultra-secular establishment
The AKP says the Western world has nothing to fear from a more openly religious Turkey.
"It is impossible that Shariah would be imposed in Turkey," founding member Ayse Bohurler told msnbc.com. "It is not the will of the Turkish people."
For decades, observant Muslim women like Bohurler — who wears a headscarf — were stopped from reaching the upper echelons of society by Turkey's ultra-secular establishment. Many still are — women who wear the head coverings cannot legally work in or study at state-run institutions, including schools. They cannot be judges and have been prevented from taking seats in parliament.
About 99 percent of people in Turkey are Muslim but the country also includes a significant population of ethnic Kurds.
The AKP was first elected to power in 2002. Although the party accepts that Islam plays a role in the daily life of most Turks, Bohurler insists that does not mean the country will become controlled by religious radicals. 
And as she taps away on a shiny white Apple laptop in her offices, the journalist, entrepreneur and intellectual seems tired of trying to allay fears that Turkey is turning away from its secular beginnings.
"You cannot put Turkey in the same package as Saudi Arabia," Bohurler said.
Instead of using Islam as a yardstick, Bohurler said, the AKP should be judged by Turkey's burgeoning middle class, democratic reforms, recent peaceful elections and the stated aim to have "zero problems" with its neighbors.
'Very serious problems'
However, others caution against seeing Turkey as a model for Muslim democracies.
"If people are talking about Turkey being this sort of shining beacon of democracy, this example to other countries, Turkey has some very serious problems it has to overcome," said Firdevs Robinson, a native of Turkey and the former editor of the BBC World Service's Central Asia and Caucasus Service.
Erdogan's increasing intolerance to opposition, dissent and right to protest is a major worry for Robinson and others.
Erdogan has a tendency to sue journalists and cartoonists over articles and images considered damaging, critics say.
"He is becoming more and more angry and more and more authoritarian in his approach," Robinson said.
Following a protest by Turkish Cypriots in January, Erdogan urged authorities to track down and punish march participants.
"We have video records of them," the prime minister said after the march. "They need to be submitted to the court. The placards cursing Turkey should not have been permitted."
Devoted and controversial
Both admired and reviled for his religious devotion, the AKP's charismatic leader is known for his provocative statements.
In September, Erdogan told the Wall Street Journal that "as a religious Muslim I am the prime minister of the secular Turkish Republic and I am the defender of it."
But while serving as mayor of Istanbul in 1998, he was jailed for inciting religious hatred after publicly reading an Islamic poem. It has been translated as: "The mosques are our barracks, the domes our helmets, the minarets our bayonets and the faithful our soldiers."
He has also called the European Union, which Turkey has been negotiating to join since 2005, a "Christian club."
These statements and the prime minister's open expression of his faith make some Turks nervous.
"(Before the AKP) religion was ... not part of politics. Now religion is used as a political weapon," said Ayse Inci Bespınar, a lawmaker from the opposition Republican People's Party (CHP). "Without secularism, democracy is under threat. Today democracy in Turkey is in real danger."
According to the 2007 U.S. diplomatic cable obtained by WikiLeaks, Erdogan has been "frequently accused of trying into infiltrate the higher education system with Islamist-minded professors and administrators."
Titled "The truth behind the AKP's secret Islamist agenda," the document recounts allegations that the prime minister's party seeks to transform "Turkey's secular system into something approaching an Islamic republic" and stage a "take-over of the judiciary."
"Measures by some AKP mayors to ban alcohol on municipal property, establish women-only parks or equip ferries with prayer rooms are seen as Islamic encroachments on the secular system," it added.
However, its Ankara Embassy-based author concluded that "the jury is out" and highlighted that there was only "circumstantial evidence" of such a plot.
Thriving economy
Flocks of seagulls flank ferries crossing the Bosphorus in Istanbul, bobbing for pieces of sesame-covered bread rolls passengers toss into the air. Around this picturesque scene signs of the country's burgeoning economy abound.
Oil tankers dot the waterway, which splits the city and separates Europe from Asia. Russia exports oil to the West through the channel. Warehouses, train cars, cranes and piles of ship containers line the coast.
Factories in towns across the country's vast plateau send shoes, furniture, textiles, cars, televisions and cement to the world. The tourism and construction industries are also thriving.
The 75 million citizens of Turkey have felt the economic improvements in their wallets: Per capita gross domestic product jumped to about $10,000 in 2010, up from $3,000 in 2001, according to the World Bank. The economy grew by about 9 percent in 2010.
And though Europe remains its largest trading partner, Turkey has fostered strong business and diplomatic ties with neighbors in the former Soviet bloc, the Arab world and further afield in Asia.In one indication of warming relations with a country once identified as part of the so-called "axis of evil", Turkey and Syria in 2009 "symbolically" did away with the border between themand abolished visa requirements.
Democratic reforms forced through by the Erdogan's government during his party's first term in office allowed the European Union to open membership negotiations in 2005. But after years of working toward full EU membership, many Turks are losing patience.
With its economy growing at a breathtaking speed and its influence growing, Turkey will play a key role in the region in the years ahead. Istanbul, the cultural and commercial capital which straddles Europe and Asia, offers a glimpse of the country's history as well as its future.
The EU should have long ago understood Turkey's value as a country run by a Muslim democratic government, said Cengiz Aktar, a professor at Bahcesehir University and a prominent commentator.
"Now (the West) is desperately looking for models to replace (Mideast) dictatorships," he said. "Suddenly there are some people saying, 'There was this Turkish model, what was that?'"
Stronger relationships with Syria, Iran and Russia shouldn't alarm, Aktar said. He says Turkey simply diversified as Western economies slowed.
But he acknowledges that these new relationships could be hard for some in the West to accept.
"Turkey is a faithful lover (who) suddenly starts to have affairs with other guys in the region," Aktar said. "And of course, Iran, Syria and (Palestinian Islamist political party and militant group) Hamas are the bad boys of the neighborhood."
Turkey's rejection of United Nations sanctions against Iran was another sign that it no longer walks in lockstep with Europe and the U.S.
And its improved ties with these "bad boys" come amid a distinct and very public cooling of relations with long-time ally Israel.
In 2009, Erdogan stormed off the stage at the World Economic Forum after a spat with Israeli President Shimon Peres. Erdogan wanted Israel to apologize for a deadly raid on a Turkish ship carrying aid to Gaza earlier that year.
Hypnosis?
Ataturk portraits and statuettes dot Nihal Kizil's offices. Like so many other so-called Kemalists, Kizil wears an Ataturk pin on her jacket, in the same way many Americans don the stars and stripes on their lapels.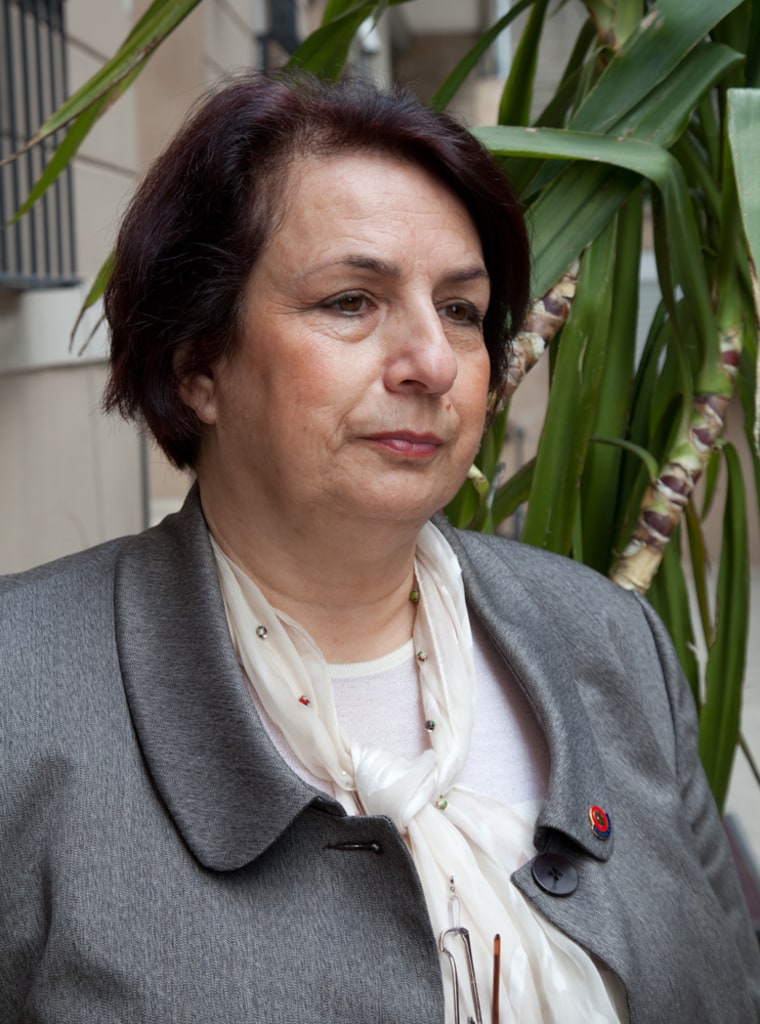 So it comes as no surprise that the educational charity, the Association to Support Contemporary Life (CYDD), is fiercely secular. And this fact has made CYDD a target of the AKP, Kizil alleges.
"They want to kill the organization," said Kizil, the group's vice president.
Eight CYDD members have been charged in the Ergenekon case, a huge investigation into an alleged conspiracy to topple the AKP dating to 2003, Kizil says.
And around 15,000 girls who received scholarships from the charity are being investigated for possible links to terrorist organizations, the group says. The CYDD denies the allegations.
A 2009 police raid of the apartment of CYDD's founder, Dr. Turkan Saylan, a much-loved figure who helped eradicate leprosy in Turkey, sparked outrage around the country. Saylan was undergoing chemotherapy for breast cancer and died five weeks later.
In January, the country's state broadcaster aired a program accusing Saylan of trying to hypnotize girls to convince them to remove their headscarves.
Kizil does not deny that Saylan opposed the AKP, but she balks at the idea that CYDD's founder plotted with generals to overthrow the government.
Military coups
The arrest of several journalists in early March as part the Ergenekon investigation raised fears that the government is becoming increasingly authoritarian and simply trying to silence those who disagree with it.
Dozens of journalists have been swept up in the case. While it is possible that such a plot existed — the military has staged four coups since 1960 — Human Rights Watch has described the arrests as a "disturbing development."
U.S. State Department also noted this trend, stating: "(Turkish) law provides for freedom of speech and of the press; however, the government continued to limit these freedoms in significant numbers of cases."
However, Turkey has never boasted a completely free press. It has long been illegal to "insult the Turkish nation," and journalists have been prosecuted for writing about demands made by the Kurdish minority and the 1915 massacre of Armenians. So recent crackdowns have only made journalists more nervous.
'Why can't we be us?'
Surveying the dozen or so people gathered at a recent exhibition opening at her Elipses Gallery, Yoruk said the crowd is smaller than those she saw before the September attack.
While she says that the AKP's conservative bent likely helped lay the groundwork for the attacks targeting art exhibitions, she said she acknowledges the party's achievements.
"I can't deny the AKP is doing really good things," she said, referring to the booming economy and some of the country's reforms.
But Yoruk is nervous about the party's heavy-handed style along with statements espousing large families and criticizing alcohol consumption.
"I don't like that they are moving towards the East (but) we don't have to go West," she said. "But why can't we be us? Why can't we be democratic?"