/ Source: ARTHUR FROMMER'S BUDGET TRAVEL
Longest. Fastest. Tallest. Steepest. As theme parks across the U.S. throw open the gates for the 2011 summer of fun, these thrill-makers dare us to climb aboard and test our mettle (and the strength of our stomachs). We scoured American theme parks big and small to find the wildest adventures. The question is: Are you ready for the challenges they offer?



The world's first robotic "coaster"
Harry Potter and the Forbidden Journey, The Wizarding World of Harry Potter, Universal Orlando Resort, Fla.
Opened in June 2010, Harry Potter and the Forbidden Journey is the first attraction to use what they're calling "robo-coaster" technology. Riders sit in a pod-like capsule mounted on a robotic arm that twists, pivots and fully immerses the rider in the animation: flying around Hogwarts, coming face-to-face with evil Dementors, and even getting caught up in a Quidditch match. The robotic arm machinery, developed by German engineering firm KUKA, has been used in other theme park attractions (not to mention automobile manufacturing plants), but it has always been stationary. The difference here is that the Forbidden Journey robots move along a track, giving riders a never-before-experienced sensation of flying.
The park: The Wizarding World of Harry Potter opened last June inside Islands of Adventure at Universal Orlando Resort. The land brings the world of J.K. Rowling's books to magical life: Hogwarts Castle; Potter-inspired rides, like the Dragon Challenge coaster and the Flight of the Hippogriff.

When to go: When planning a visit, think early and midweek; Tuesday and Wednesday first thing in the morning (8 or 9 a.m., depending on the season) is the best bet for the shortest queues. tickets $82 for adults, $74 for children 3 through 9.
The world's steepest, tallest water ride
Perilous Plunge, Knott's Berry Farm, Buena Park, Calif.
At 115 feet, Perilous Plunge ranks as the country's tallest water ride. But that's not the scariest part of this flume ride. The drop measures an unbelievable 75-degree angle (only 15 more degrees, and this would be a straight vertical drop). Thanks to an eddy magnetic braking system, the splashdown isn't as ferocious as one might expect, but there's still no escaping a total drenching.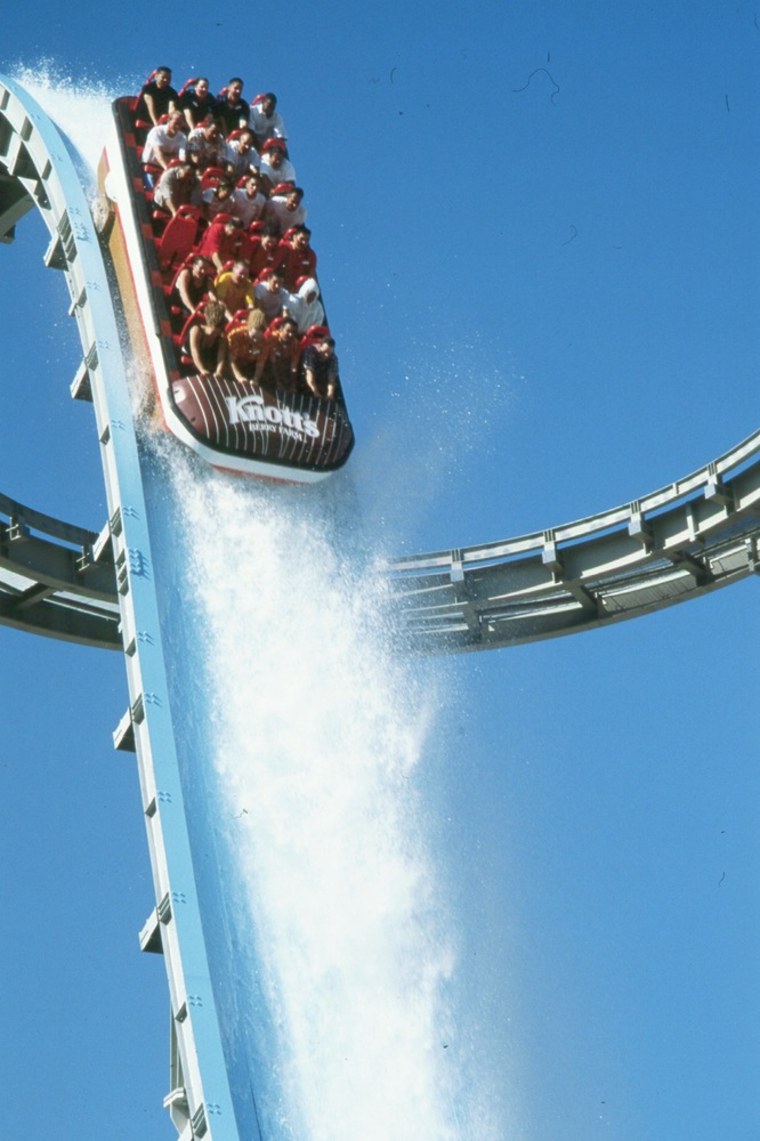 The park: Knott's Berry Farm started out as an actual working berry farm in 1920 — one of the country's first agritourism efforts. The Knotts sold berries, jams and jellies at a roadside stand, eventually offering biscuits and chicken in the 1930s. Today, chicken dinners are still served up daily, but you might not want to grab a bite until after you've gotten off the park's many thrill rides.

When to go: This is one park where holiday-weekend crowds aren't as bad as one would imagine, so park officials say don't rule out a Memorial Day or Labor Day weekend visit; otherwise, think about visiting when California schools are still in session; early June and post–Labor Day weekend are the least crowded times. tickets $46.99 for adults, $24.99 for children and seniors (rates reflect purchases made online; California residents receive a discount-check website for details).

The world's tallest roller coaster
Kingda Ka, Six Flags Great Adventure, Jackson, N.J.
A double-whammy entry in the record books, Kingda Ka is not only the tallest roller coaster in the world; it's also the fastest in North America. At 45 stories, or 456 feet at its highest point, the ride is taller than London's famed Big Ben and only a few feet shorter than the Great Pyramid at Giza! Riders zoom from zero to 128 mph in just over three seconds on launch and then fly over camel humps (briefly experiencing weightlessness), dip, turn, and finally come to a rest in what can only be described as a breathless 59 seconds. Yes, that was your life flashing before your eyes.
The park: Six Flags Great Adventure is comprised of three parks (though each charges separate entrance fees): the main park, a 350-acre animal park called Wild Safari, and the Hurricane Harbor Water Park. Bugs Bunny and other Looney Toons characters can be seen both in person and on the rides throughout Six Flags, and there are countless options for the younger set: spinning teacups, a carousel, and a 15-story Ferris wheel.

When to go: The least-crowded times at Six Flags are weekdays during the summer and any of the regularly scheduled days during the shoulder season in April, May, June and September. In late June, you can play in the park and do some good at the same time, as Great Adventure hosts the Walk in the Park fundraiser for the Children's Miracle Network. Raise $50 and park admittance that day is free. tickets $36.99 for adults, $29.99 for guests under 54 inches (rates reflect purchases made online).

America's tallest free-fall water slide
Summit Plummet, Blizzard Beach, Walt Disney World, Lake Buena Vista, Fla.
The ski-lift-themed Summit Plummet, complete with mounds of fake snow, makes you wonder if it's really a smart idea to slide down the slopes in just your bathing suit. But don't worry: The waters here are heated year-round to a bath-like 80 degrees. Free-fall water slides, like this one, are designed to make the rider feel like they're dropping without any restraint (essentially falling at an extremely steep angle at top speeds). The tallest in the country — and second tallest in the world, after Brazil's Insano — plunges the brave down a 120-foot slide. That's 12 stories, or twice the size of the presidential heads on Mount Rushmore. Travel through a dark tunnel and a 360-foot flume at speeds of up to 60 mph, and make sure to check the digital readout at the end — which shows your exact speed — for bragging rights.
The park: Blizzard Beach is part of the Walt Disney World complex and was the third of their on-site water parks to open. The theme is a ski resort with no powder — this is Florida, after all — so expect to see chairlifts leading to bare slopes.

When to go: The park hosts close to 2 million visitors annually, so there's always a crowd. But your best bet for short lines and relatively uncrowded wave pools is first thing in the morning (9 or 10 a.m., depending on the season), especially on midweek days like Tuesday and Wednesday. tickets $48.98 for adults, $42.60 for kids 3 to 9.

The world's oldest operating roller coaster
Leap-the-Dips, in Lakemont Park, Altoona, Pa.
Leap-the-Dips is not just a ride; it's a piece of history. In fact, this wooden coaster was named a National Historic Landmark in 1996. Built in 1902, the coaster — with a top operating speed of just 10 mph and a peak of 41 feet — stood idle during the late 1980s and into the late 1990s, reopening to its original glory on Memorial Day, 1999.
The park: Situated on Lake Altoona, Lakemont Park opened in 1894 as a trolley park and ranks as the eighth oldest amusement park in the country. (For the record, Lake Compounce, in Bristol, Conn., opened in 1846 and stands as North America's oldest continually operating amusement park.) The charming, old-fashioned family park features a few dozen rides and attractions, including a miniature golf course, paddleboats, go-karts, arcade games and a water park.

When to go: The park can get crowded on weekends, but with its small selection of rides, guests tend to stay at the park for less time, meaning a much greater turnover than the bigger theme parks. Every Thursday night from July to August, the park hosts Wing Offs, as local restaurants compete for the title of best wings (wings $4.00 per dozen, beer $3.50). tickets $5 for adults and children on weekdays, $9.95 for adults and children on weekends, additional tickets required for some rides (from $2.50 per ride).
America's largest collection of coasters (for now!)
Cedar Point amusement park and resort, Sandusky, Ohio
For now, iconic Cedar Point in Sandusky, Ohio, holds the record for the largest collection of roller coasters in the country, with 17 — two wooden and 15 steel. From the fastest double-twisting impulse coaster (the Wicked Twister, with a top speed of 72 mph) to the first coaster in the world to top 200 feet (the Magnum XL-200, which opened in 1989), there's always an off-kilter view of the park and Lake Erie available from the high perches of the coasters. Note: Cedar Point loses its record this year, when Six Flags Magic Mountain reopens its 17th coaster (Road Runner Express) and debuts its 18th roller coaster, Green Lantern: First Light, on Memorial Day. The 4-D coaster will feature a never-before-seen vertical zigzag pattern track, with eight riders sitting back-to-back in an independently rotating passenger vehicle.
The park: Cedar Point opened in 1870, with the first coaster debuting in 1892. Since then, the park has been considered the destination for coaster enthusiasts from across the globe, thanks to its great variety of thrill rides and gorgeous lakefront setting. There are also a number of stomach-churning alternatives to coasters, including the Power Tower, which drops at speeds faster than free fall.

When to go: To avoid crowds, stick to weekdays in summer and spring, and nights and Sundays during the fall. If you don't mind massive crowds, head to Cedar Point during the annual Wheels of Thunder weekend (August 9 to 11). Famous NASCAR drivers like John Sauter and Matt Crafton motor over to the park for racing-themed fun, like race car simulators and driver memorabilia. tickets $46.99 for adults, $21 for guests under 48 inches tall or over the age of 62 (children 2 and under are free), but guests who stay at one of the resort hotels — like the beachfront Hotel Breakers (from $99 per night for up to four people) receive a discounted rate of $29.99.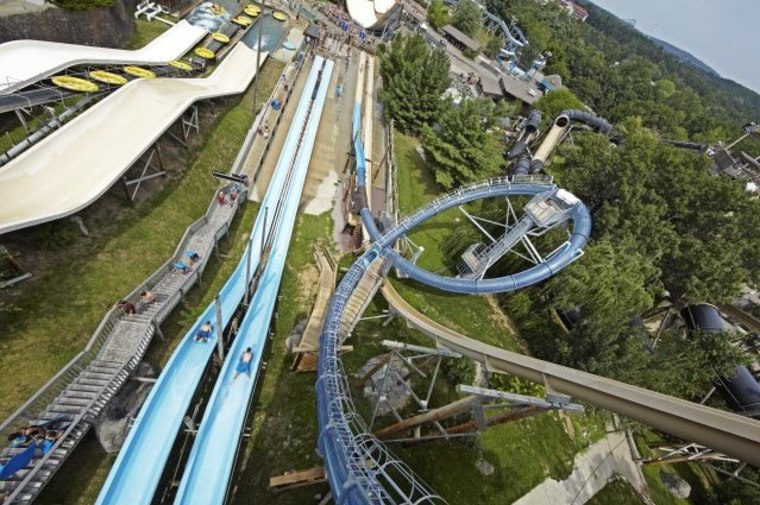 America's first looping water slide
Scorpion's Tail, Noah's Ark Waterpark, Wisconsin Dells, Wis.
The designers of this watery thrill decided it wasn't enough to simply send riders hurtling through an enclosed plastic tube. No, they designed a capsule-like entrance where the rider steps in, the attendant closes the door, and then the floor drops out, plunging the rider down the long, curving tube. Oh, and it all starts 10 stories up. The stomach-lurching ride runs 400 feet over the course of five to seven seconds (exact time depends on the weight of the passengers — the heavier you are, the faster you fall) and includes a nearly vertical, coaster-style loop — the first of its kind in the States.
The park: Noah's Ark is the country's largest water park, covering 70 acres in Wisconsin Dells. The area is home to the largest number of water parks in the country, at nearly two dozen. Two huge wave pools and 49 water rides are just the start of the park's attractions, which also include four children's splash areas, a 4-D movie theater, a mini golf course, bumper boats, arcade games and even a spooky haunted cavern.

When to go: Each morning, the park opens in two waves, with the front half opening at 9 a.m. and the back half opening at 10 a.m. Those who brave the early crowd can be first into the back section of the park, staking out a spot at the wave pool for the day. Late May, when the park first opens, is probably the least-crowded time to go, as most of the local schools don't let out until the first week of June. tickets $32.99 for adults, $28.79 for seniors and children 47 inches and below (rates reflect tickets purchased online).


America's longest duration roller coaster
The Beast, Kings Island, Mason, Ohio
The Beast is a huge, well, beast of a coaster, covering a 35-acre, densely wooded area in the park, which lends a dark and eerie feel to the ride. The record-breaking running time — 4 minutes, 10 seconds — is about a minute and a half longer than most of its counterparts, steel or wood. And, with a track length of about 1.4 miles (7,359 feet), the Beast also ranks as the longest wooden roller coaster in the world. Two huge vertical drops of 135 and 141 feet, dark tunnels, and speeds of up to 65 mph make this wooden coaster just about as scary as they come.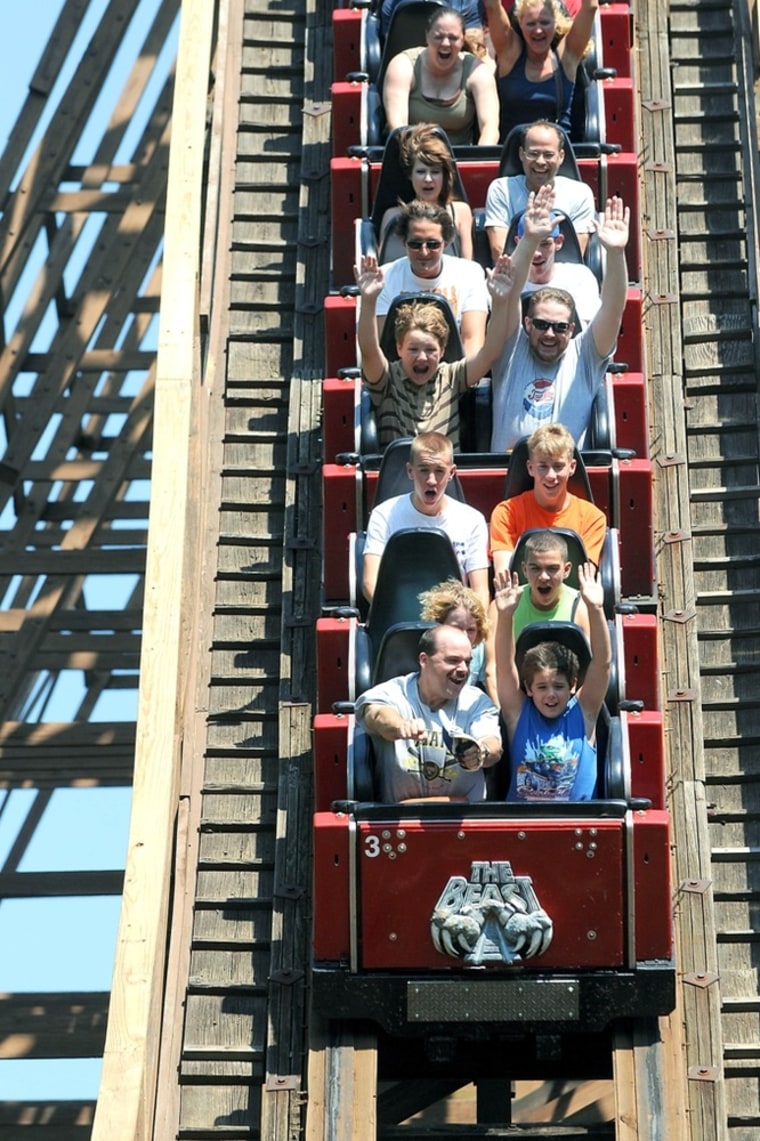 The park: In 2011, Kings Island opens the world's largest animatronic dinosaur park, Dinosaurs Alive!, with more than 60 life-size beasts. The park also includes a Snoopy-themed play area called Planet Snoopy for younger children. The on-site Boomerang Bay Water Park, included in the price of admission, includes the surf-able Pipeline Paradise and the huge, resort-like Great Barrier Reef wave pool, complete with chair-side waitress service.

When to go: Since Kings Island is open until 10 p.m. most evenings (and midnight on Saturdays during July), there's no reason to rush over right at opening. Rather, plan to arrive about 3 p.m., when the crowd clears out. Otherwise, the best times to visit are weekdays (excluding Fridays) and any day that the park is open during its shoulder season: April, May, and October (Sundays, especially, in October tend to be quiet). tickets $35.99 for adults, $31.99 for children and seniors (rates reflect tickets purchased online).

The world's longest water coaster
Wildebeest, Holiday World & Splashin' Safari, Santa Claus, Ind.
At a third of a mile long, the Wildebeest ranks as the world's longest water coaster. It all starts with a huge four-story drop, before plunging into six more drops and two tunnels, at top speeds of 25 mph. Seated with three of your closest friends in a toboggan-style boat, wearing just your swimsuit, that's pretty darn fast. The best part of all might be the uphill conveyor belt ride, meaning there's no leg-crushing climb to the top, like most other water rides in the country.
The park: A ticket grants admission to both Holiday World & Splashin' Safari, the attached theme park, which is divided into four holiday-themed lands (Christmas, Halloween, Fourth of July, and Thanksgiving). Opened in 1946, Holiday World was the first themed amusement park in the world, and it features a handful of coasters and family-friendly rides like bumper cars, spinners and a huge tree house to climb on. Splashin' Safari offers high-volume wave pools, tube rides, and, new in 2011, an entire splash area called Safari Sam's SplashLand that is devoted to the little ones.

When to go: As with most parks in the Midwest, hitting the spring and autumn shoulder seasons is always the best bet for less-crowded conditions, as are weekday mornings, when the park opens at 9:30 a.m. (get in early, and you can be first in line to enter the Splashin' Safari, which opens at 10:30 a.m.). tickets $42.95 for adults, $32.95 for seniors and those under 54 inches (kids ages 2 and under are free), parking is free, as are soft drinks, sunscreen and use of inner tubes.

Related articles from Budget Travel

10 natural wonders to see before they disappear
10 of our favorite girlfriend getaways
The ultimate guide to the best travel apps
The 20 best-kept secrets of Washington, D.C.