/ Source: NBC, msnbc.com and news services
Survivors and rescuers combed through destroyed towns and neighborhoods on Thursday, looking for belongings and victims after dozens of tornadoes ripped through the South overnight.
The death toll continued to climb in Alabama, and at least 298 people in six states perished in the deadliest outbreak in nearly 40 years.
People in hard-hit Alabama, where at least 210 deaths occurred, walked through flattened, debris-strewn neighborhoods and told of pulling bodies from rubble after the storms passed.
"We have neighborhoods that have been basically removed from the map," Tuscaloosa Mayor Walter Maddox said after surveying his city.
President Barack Obama on Thursday signed a disaster declaration for Alabama to help residents clean up the devastation. The declaration, which covers eight counties, means federal aid will be available to those who seek it.
Obama was planning to visit Alabama on Friday. "We will stand with you as you rebuild," he said in a message to victims from the White House.
The death toll seems out of a bygone era — before Doppler radar and pinpoint satellite forecasts were around to warn communities of severe weather. Residents were told the tornadoes were coming up to 24 minutes ahead of time, but they were just too wide, too powerful and too locked onto populated areas to avoid a horrifying body count.

"These were the most intense super-cell thunderstorms that I think anybody who was out there forecasting has ever seen," said meteorologist Greg Carbin at the National Weather Service's Storm Prediction Center.

"If you experienced a direct hit from one of these, you'd have to be in a reinforced room, storm shelter or underground" to survive, Carbin said.

The storms seemed to hug the interstate highways as they barreled along like runaway trucks, obliterating neighborhoods or even entire towns from Red Bay to Bristol, Va. One family rode out the disaster in the basement of a funeral home, another by huddling in a tanning bed.
Several of the twisters were several times more severe than a typical tornado, which is hundreds of yards wide, has winds around 100 mph and stays on the ground for a few miles, said meteorologist Harold Brooks at the Storm Prediction Center.

"There's a pretty good chance some of these were a mile wide, on the ground for tens of miles and had wind speeds over 200 mph," he said.
Trying to count the tornadoes
The center received more than 170 tornado reports around the region, but some tornadoes were probably reported multiple times and it could take days to get a final count.
Brooks said 50 to 60 reports — from the Mississippi-Alabama line, through Tuscaloosa and Birmingham and into Georgia and southwestern Tennessee — might end up being a single tornado. If that's true its path would be one of the longest on record for a twister, rivaling a 1925 tornado that raged for 219 miles.
"It happened so fast it was unbelievable," said Jerry Stewart, a 63-year-old retired firefighter who was picking through the remains of his son's home in Pleasant Grove, a suburb of Birmingham. "They said the storm was in Tuscaloosa and it would be here in 15 minutes. And before I knew it, it was here."
He and his wife, along with their daughter and two grandchildren, survived by hiding under their front porch. Friends who did the same weren't so lucky — Stewart said he pulled out the bodies of two neighbors whose home was ripped off its foundation.
Samantha Nail surveyed the damage in the blue-collar subdivision of Pleasant Grove where hers was the only home still intact. The storm slammed heavy pickup trucks into ditches and obliterated tidy brick houses, leaving behind a mess of mattresses, electronics and children's toys scattered across a grassy plain where dozens used to live.

"We were in the bathroom holding on to each other and holding on to dear life," Nail said. "If it wasn't for our concrete walls, our home would be gone like the rest of them."
The death toll in Alabama stood at 210 as of Thursday night, the Alabama Emergency Management Agency said.
With as many as one million people without power in Alabama, Gov. Robert Bentley said 2,000 National Guard troops had been activated and were helping to search devastated areas for people still missing.
The National Weather Service and forecasters did a good job of alerting people, he added, but there was only so much that could be done to deal with tornadoes a mile wide.
"You cannot prepare against an F5," the most powerful category on a scale for measuring wind intensity, Bentley said.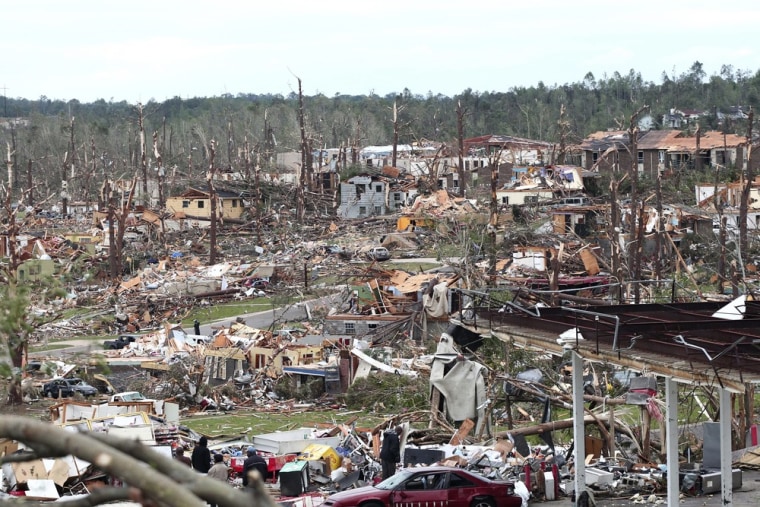 Five other southern states reported deaths as well: 33 in Tennessee, 33 in Mississippi, 14 in Georgia, five in Virginia and one in Kentucky. Virginia officials lowered the death toll there, which earlier was listed as eight.
The fierce storm system spread destruction from Texas to New York, where dozens of roads were flooded or washed out. The governors of Alabama, Mississippi and Georgia each issued emergency declarations for parts of their states.
The severe weather was continuing Thursday. The was issuing short-lived tornado warnings — advising people to "take cover now" — as the twisters formed.
By early Thursday, these had been sent out for parts of New York, Maryland, Virginia, North Carolina, South Carolina, Georgia, and Florida.
New Jersey saw heavy rain and high winds before the storm blew out to sea.
In New York, a flash flood warning was in effect for a much of the greater metropolitan area — including Manhattan — through this evening.
Slamming TuscaloosaOne of the hardest-hit areas was Tuscaloosa, a city of more than 83,000 and home to the University of Alabama. At least 36 people died there as a mile-wide twister tore through.
Video taken , flinging huge pieces of debris through the air.
"When I looked back, I just saw trees and stuff coming by," said Mike Whitt, a resident intern at DCH Regional Medical Center in Tuscaloosa, who ran from the hospital's parking deck when the wind started swirling and he heard a roar.
On Thursday morning, he walked through the neighborhood next to the hospital, home to a mix of students and others, looking at dozens of homes without roofs. Household items were scattered all over the ground — a drum, running shoes, insulation, towels and a shampoo bottle. Streets were impassable, the pavement strewn with trees, pieces of houses and cars with their windows blown out.
Dr. David Hinson was working at the hospital when the tornado hit. He and his wife had to walk several blocks to get to their house, which was destroyed. Several houses down, he helped pull three students from the rubble. One was dead and two were badly injured. He and others used pieces of debris as makeshift stretchers to carry them to an ambulance.
"We just did the best we could to get them out and get them stabilized and get them to help," he said. "I don't know what happened to them."
The hospital had seen 600 storm victims through Thursday morning, and 100 had to be admitted.
Because the city's emergency management building was destroyed, authorities are using Bryant-Denny Stadium at the University of Alabama as a command post.
Around Tuscaloosa, traffic was snarled by downed trees and power lines, and some drivers abandoned their cars in medians.
University officials said there didn't appear to be significant damage on campus, and dozens of students and locals were staying at a 125-bed shelter in the campus recreation center.
The university canceled students' final exams and postponed commencement ceremonies for graduating students.
Alabama also saw the shutdown of . The Browns Ferry nuclear power plant, one of the biggest in the country, will be down for days and possibly weeks but the backup power systems worked as designed to prevent a partial meltdown like the disaster in Japan.
Death in Mississippi
In Kemper County, Miss., sisters Florrie Green and Maxine McDonald, and their sister-in-law Johnnie Green, all died in a mobile home that was destroyed by a storm.
"They were thrown into those pines over there," Mary Green, Johnnie Green's daughter-in-law, said, pointing to a wooded area. "They had to go look for their bodies."
In Smithville, Miss., at least 13 people died as devastating winds ripped open the police station, post office, city hall and an industrial park with several furniture factories. Pieces of tin were twined high around the legs of a blue water tower, and the Piggly Wiggly grocery store was gutted.

"It's like the town is just gone," said Jessica Monaghan, wiping away tears as she toted 9-month-old son Slade Scott. The baby's father, Tupelo firefighter Tyler Scott, was at work when the warning came on the TV.

"It said be ready in 10 minutes, but about that time, it was there," Monaghan said. She, Slade and the family's cat survived by hiding in a closet.


At Smithville Cemetery, even the dead were not spared: Tombstones dating to the 1800s, including some of Civil War soldiers, lay broken on the ground. Brothers Kenny and Paul Long dragged their youngest brother's headstone back to its proper place.

Unlike many neighboring towns, Kenny Long said, Smithville had no storm shelter.

"You have warnings," Long said, "but where do you go?"

Some fled to the sturdy center section of Smithville Baptist Church. Pastor Wes White said they clung to each other and anything they could reach, a single "mass of humanity" as the building disintegrated around them.

The second story is gone, the walls collapsed, but no one there was seriously hurt. The choir robes remained in place, perfectly white.

The storms came on the heels of another system that killed 10 people in Arkansas and one in Mississippi earlier this week. Less than two weeks earlier, a smaller batch of twisters raced through Alabama, touching off warning sirens, damaging businesses and downing power lines in Tuscaloosa, but there were no deaths there then.