/ Source: The Associated Press
Jimmy Jones Jr. has to bury his 2-year-old daughter, and may have to trade in his motorcycle to pay for it.
With not much else to his name, the 20-year-old father said that may be the only way he can afford funeral arrangements for Alissa, who died Monday in the rubble when two brick buildings collapsed in a small town in central Arkansas.
Jones Jr. talked briefly about his daughter Tuesday, sitting in a Morrilton park where he last played with her two days before. He rolled up his shirt sleeve to show a tattoo of Alissa's image on his left arm. And he thought of his friends with young children.
"I hope they never have to go through this," he said.
Rescuers found Alissa's mother, Erin Coffman, among the rubble after a bridal boutique that collapsed and knocked down an adjacent cosmetics shop. Both buildings date back to the 1930s, according to county property records. Coffman was hurt, but alive, Jones Jr. said.
Jones Jr. said Coffman was holding the door of the bridal boutique open while Alissa played on the sidewalk outside, when the building began to collapse. The two buildings were reduced to rubble in about 17 seconds, authorities said.
"Seventeen seconds is a very long time for buildings to collapse," said Brandon Baker, Conway County's director of emergency management. "If it was a fast collapse, they would all be trapped inside."
Witnesses say Alissa Jones didn't show any signs of life by the time she was pulled out of the brick-and-metal pile.
Investigators were working to determine whether construction in one of the buildings was to blame for the collapse, though they hadn't pinpointed the exact cause Tuesday afternoon. Jones Jr. said a friend who went into the boutique days before had seen part of one wall removed.
Stewart Nelson, the mayor of Morrilton, a city of some 6,700 about 50 miles northwest of Little Rock, said several layers had been added to the roof of the building housing the bridal boutique over the years. But the latest renovations to the aging building, constructed in 1932 according to property records, "probably cinched it," he said.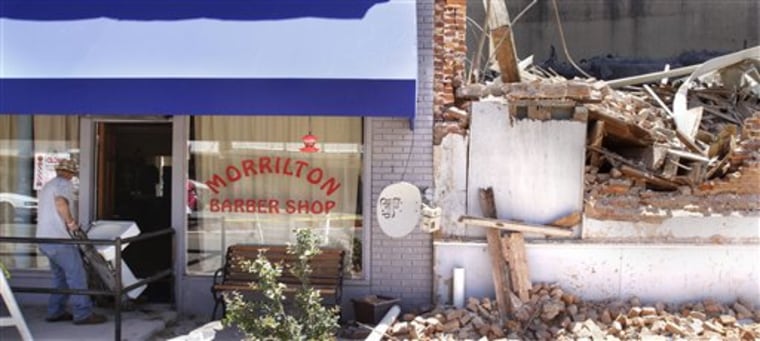 City inspector Greg Woodard said he walked through the property several weeks ago at the request of someone who wanted to rent the boutique and turn it into a martial arts studio. The city never received a formal application for a permit to allow major renovations, Woodard said.
Nelson said the city only checks buildings if owners planned to make major changes. City fire chief Earle Eichenberger said his department had checked for fire hazards early last year, but did not have the authority to inspect the building for structural problems.
"We expect the property owner to take responsibility for being certified," Nelson said.
Bryan Andrews, a Center Ridge, Ark. man who purchased the bridal boutique building in April, and his attorney, Howard Yates, declined to comment.
City officials said Monday's accident could make it necessary to require regular inspections. Jimmy Jones Sr., 40, Alissa's grandfather, wasn't satisfied.
"It was an unsafe environment for them to be working in there," he said. "That mayor didn't do his job."
Several nearby buildings remained closed Tuesday. Nelson said the city might require adjacent buildings to be inspected before they open again. People placed flowers at a cross near the remnants of the buildings.
A few blocks away, her father stared out at an empty swing set where he played with Alissa on Sunday. He and Coffman were not married, and he said he saw his daughter about once a week.
A few of the 10 people inside the buildings at the time of the collapse made it out unscathed. At least six were treated at a local hospital.
Alissa's family will make formal funeral arrangements on Wednesday, said Richard Neal, the county coroner and a director of Bob Neal & Sons Funeral Home in Morrilton. So far, people have donated about $1,000 to help pay for the costs.
That likely won't be enough, Jones Jr. said. So he plans to trade in his bike, a 2005 Kawasaki Ninja that his parents bought for him just a few weeks ago.
"He's stepping up," his father said. "He's a good kid."