/ Source: msnbc.com staff and news service reports
Violent weather swept across the Eastern seaboard, dropping heavy rains that flooded towns from New England to Georgia, knocking out power and killing at least three people in the Atlanta area.
Caroline Floyd, lead meteorologist at The Weather Channel, wrote on its website that Saturday would be "another day of thunderstorms in the Northeast."
She said they could occur across central and eastern Upstate New York, Vermont, central and eastern Pennsylvania, Virginia and Maryland.
Thunderstorms were also expected on the Southeast coast "from the Carolinas to South Florida," Floyd said.
However she added that much of New England would have a dry but cloudy day and temperatures were expected to warm up Sunday in the Northeast.
Intense thunderstorms stalled over central Vermont, pushing rivers over their banks and ripping up streets. About 200 people were forced from their homes Friday.
Churning brown water from the rising Winooski River and a tributary flooded into the streets of Vermont's capital city, Montpelier, sending business owners with inundated basements scurrying to move merchandise to higher ground.
"It looked like the river was right there on my porch," said Darlene Colby, 47, who was woken up by police around 1 a.m. Friday.
She gathered a bag for belongings for herself and 25-year-old son and spent the rest of the night at a shelter.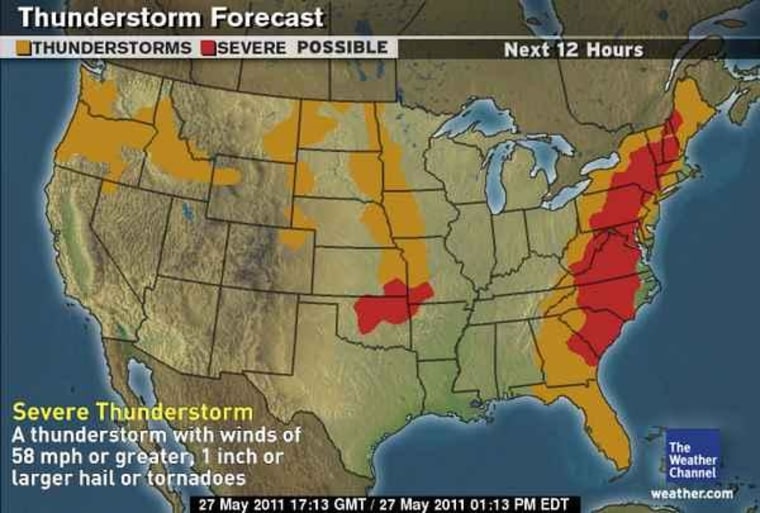 School was canceled for the day in Montpelier and a number of other communities in central Vermont, and state workers were given a delayed opening.
Plainfield, just east of the capital city of Montpelier, got 5.22 inches of rain, St. Johnsbury got 4.74 inches, and Montpelier got 3.89 inches, the National Weather Service said.
There was also flash-flooding in parts of northern New Hampshire, with some homes evacuated in the Littleton area and a few roads washed out.
In Georgia, two Decatur women were killed in Atlanta when a tree fell on a truck, police said. Atlanta station WSB-TV reported that a 19-year-old man was killed in Mableton when a tree fell on him while he cleared debris from a driveway.
Power was knocked out to more than 200,000 customers statewide, utilities said. High winds toppled trees in the Macon and Columbus areas. A flash flood warning was issued for portions of Fulton and DeKalb counties in the Atlanta area.
The storms delayed flights leaving Atlanta, home to one of the world's busiest airports, for more than two hours.
Twisters strike
In eastern Pennsylvania, a tornado that touched down Thursday in Schuylkill County was the second twister to hit the area this week, the National Weather Service said.
Another tornado hit Franklin County in south-central Pennsylvania. The weather service said the twister had top winds of 90 mph and traveled 200 yards, but no one was injured.
A third twister, also an EF-1, hit Crawford County, bringing down trees and wires and damaging about 10 buildings north of Springboro, county emergency officials told the Erie Times-News.
In the western Pennsylvania town of Seward, high winds toppled a circus tent, injuring five people, including three children.
About 120,000 customers of PPL Electric Utilities lost power across the state. Power was restored to about 72,000 by Friday evening, but the company said the hardest-hit areas might not see electricity until Sunday.
In eastern New York, about 65,000 utility customers lacked power. Most of the New York outages Friday were in the Binghamton area.
Toppled trees and flooded roads were reported Thursday in the Lake Champlain community of Willsboro, and a lightning strike was blamed for setting a home on fire Thursday evening. No one was injured.