/ Source: NBC, msnbc.com and news services
Groups of youths attacked shops and damaged a police car in north London on Sunday as police sent in reinforcements to prevent more rioting on the scale that laid waste to another area of the British capital 24 hours earlier.
Scattered incidents broke out on Sunday evening in Enfield, a few miles north of the deprived London neighbourhood of Tottenham, which was hit by some of the worst riots seen in London for years on Saturday night after a protest over the fatal shooting of a man by armed police a few days earlier turned violent.
Police Commander Christine Jones said the police had "extra resources" on duty across the capital on Sunday.
"Anyone else who thinks they can use the events from last night as an excuse to commit crime will be met by a robust response from us." she said in a statement.
Three shops were damaged, and two of them looted, in Enfield and the rear window of a police car was smashed, police said, adding that several people had been arrested.
NBC News staffer Zoya Kahn described a heavy police presence in the area.

Local pharmacist Dipak Shah told the BBC he and his brother had barricaded themselves in their shop after 15 youths smashed the window and tried to break in.
"It was very threatening. It felt as though they could have actually killed or maimed somebody," he said.
A Reuters photographer at the scene said a jeweller's shop window was broken but that riot police had flooded the centre of the suburb and youths, who had earlier hurled missiles at police, had dispersed.
Amid rumours there could be more flare-ups on Sunday, police Commander Adrian Hanstock told Reuters there was "a lot of ill-informed and inaccurate speculation on social media sites" that could inflame the situation.


In Saturday's violence, several buildings were set ablaze. TV footage showed the double-decker bus in a fireball and mounted police charging through the streets trying to restore order. Police said 26 officers received injuries, most if not all apparently minor, and made 55 arrests, including four Sunday. The majority of arrests were for burglary; other offenses included violent disorder, robbery, theft and handling of stolen goods.
At least 200 rioters threw Molotov cocktails and battled police in the economically deprived Tottenham area Saturday, setting patrol cars, buildings and a double-decker bus on fire. It was some of the worst disorder seen in the British capital in recent years.
The protest came after a 29-year-old father of four was killed after an apparent exchange of gunfire with police on Thursday. Demonstrators gathered gathered outside Tottenham Police Station to demand "justice" for Mark Duggan.
'An absolute war zone'
Hours later, rioters smashed windows and looted buildings including banks, shops and a supermarket. Firefighters were called to "dozens" of blazes overnight, Sky News reported.
Mounted police and riot officers on foot in turn charged the crowd to push them back.
One person at the scene, who gave his name to the BBC as Tim, said: "It's an absolute war zone."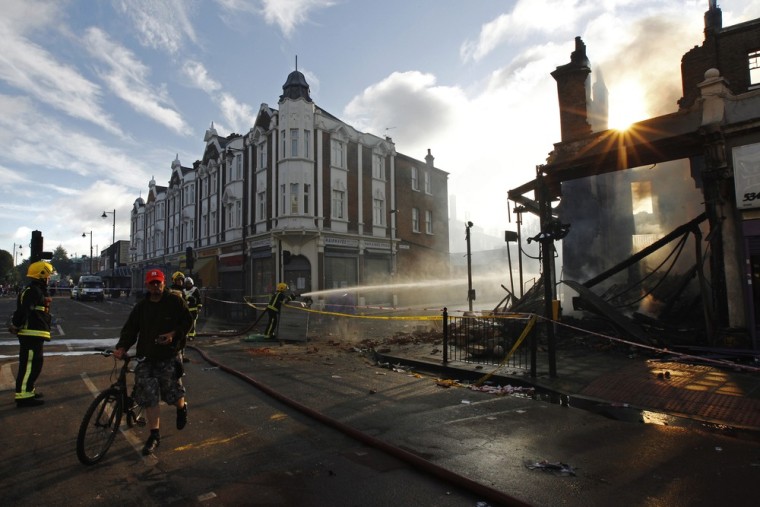 Firefighters initially could not reach a blazing shop blocked by the disorder. A woman who lives above the shop told reporters she was briefly trapped with her baby by the blaze and mayhem.
Looters were seen pushing carts full of stolen goods, the Telegraph reported. Some of the rioters were said to look as young as 7 to 10 years old. They were fleeing with looted TVs and stereos, the Guardian said.
Police dealt with pockets of trouble more than 10 hours after the rioting began, according to NBC News.
Scotland Yard police Commander Adrian Hanstock told reporters that a peaceful vigil has been hijacked by "mindless criminal thugs."
Earlier Sunday, police Commander Stephen Watson described the unrest as "distressing."
In a statement, he said that police "are aware of raised tensions ... which are understandable following the tragic death."
On the north side of Tottenham High Road on Saturday night, one rioter told the UK's Channel 4 News that he was "here to tell the police they can't abuse us, harass us. We won't put up with it, this is just the beginning, this is war, and this is what you get — fire."
The BBC reported that its TV news crew and satellite truck came under attack from youths. Sky News also said it was forced to temporarily withdraw camera crews from the area as the situation became increasingly volatile early Sunday.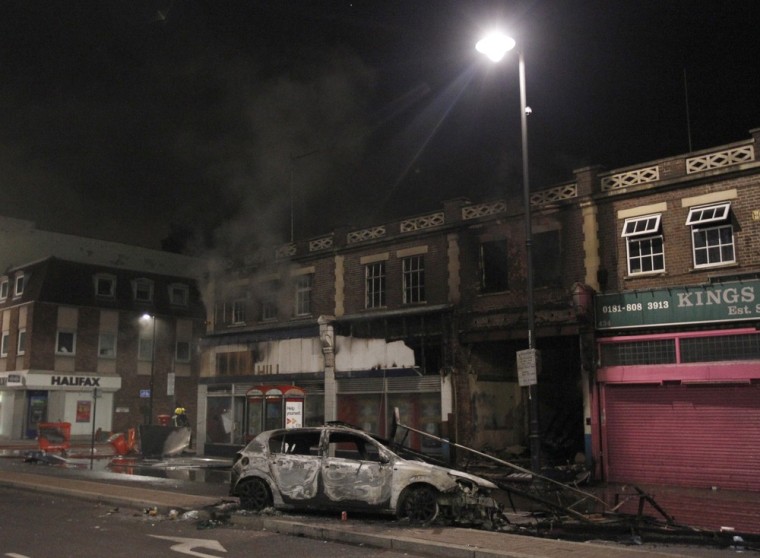 A spokesman for British Prime Minister David Cameron branded the rioting as "utterly unacceptable."
"There is no justification for the aggression the police and the public faced, or for the damage to property," the spokesman told the BBC.
Widespread looting was also reported Sunday morning in the nearby Wood Green district of north London.
Duggan, whose death sparked the violence, had been in a taxi when it was stopped by armed officers as part of a pre-planned operation on Thursday. One police officer escaped unhurt after a bullet struck his radio. Duggan's death is being investigated by the independent police watchdog.
Racial tension
Tottenham has a large number of ethnic minorities and includes areas with the highest unemployment rates in London. It also has a history of racial tension with local young people, especially blacks, resenting police behavior including the use of stop and search powers.
The disorder was very close to where one of Britain's most notorious race riots occurred just over 25 years ago.
In 1985, police officer Keith Blakelock was hacked to death on the deprived Broadwater Farm housing estate during rioting in which around 500 mainly black youths rampaged through the streets, assaulting police, looting and setting fires.
Classford Stirling, a youth worker from Broadwater Farm, said there had been growing anger recently over stop and search practices by police. "It wasn't just black kids. It was the youth in general who are frustrated at the way the police are treating them," he told BBC TV.
"Everybody's now thinking of the way Mr Duggan was shot and they want answers. It's very difficult to turn round and say to them this is the wrong way because they believe this is the only way that they're going to get attention."
London also saw riots at the end of last year when protests against government plans to raise tuition fees for university students in the center of London turned violent with police and government buildings attacked.
During the most serious disturbances last December, rioters targeted the limousine belonging to heir-to-the-throne Prince Charles and his wife Camilla, kicking its doors, cracking a window and reportedly jabbing Camilla with a stick.