/ Source: msnbc.com news services
British Prime Minister David Cameron was to hold crisis talks on Tuesday after three nights of riots, looting and arson by masked, hooded youths that wrecked shopping centers in many parts of London and spread to three other cities.
Neighborhoods across the capital faced a massive clean-up of smashed glass, bricks, bottles and gutted buildings as police reinforcements reclaimed the streets from the youths who had coordinated the looting via mobile phones and social media.
The rioting -- the worst in Britain for decades -- spread to districts across London, and what police called copycat violence broke out in Bristol in the southwest, Birmingham in the Midlands and the northwest port of Liverpool.
Get the latest updates on this story from breakingnews.com
Late on Monday, as the violence died down, cars piled high with goods drove at high speed through London streets. Witnesses were told of numerous cases of car theft by groups of looters.
London police said early Tuesday that three suspects were detained and arrested for attempted murder of a police officer in the Brent area of north London, after an officer was struck by a car and hospitalized.
The officer and a colleague, who suffered minor injuries, had stopped a number of cars in the belief that the occupants had been involved in the looting of a nearby electrical store.
Police say in a statement the officer was seriously hurt as one of the cars drove away from the scene. It was later stopped and the three people inside were arrested.
In the poor eastern district of Woolwich, passersby felt the crunch of broken glass underfoot and saw shattered shop fronts and streets strewn with stolen goods, tailors' dummies and other debris.
Police said they had arrested 334 people in London and about 100 in Birmingham.
At one point, the London fire brigade said it was running out of vehicles to tackle fires started by the rioters and police said they had called in 1,700 reinforcements to help London police cope with fast-moving groups of looters.
Cameron broke off his holiday in Italy on Monday to fly home. He was due to chair a meeting of Cobra, the government's crisis committee, at 9 a.m. to work out a strategy to prevent more violence and consider why the riots broke out and spread so fast, taking the authorities by surprise.
Cuts in services
Some commentators have blamed the rioting partly on cuts in social services being imposed as a result of the government's tough austerity policies to reduce a large budget deficit. Economic growth is sluggish.
Many looters were from areas of high unemployment and said they felt alienated from society.
"We ain't got no jobs, no money ... We heard that other people were getting things for free, so why not us?" asked E.Nan, a young man in a baseball cap surrounded by other youths in Hackney, a multi-ethnic area in east London and one of the worst affected areas.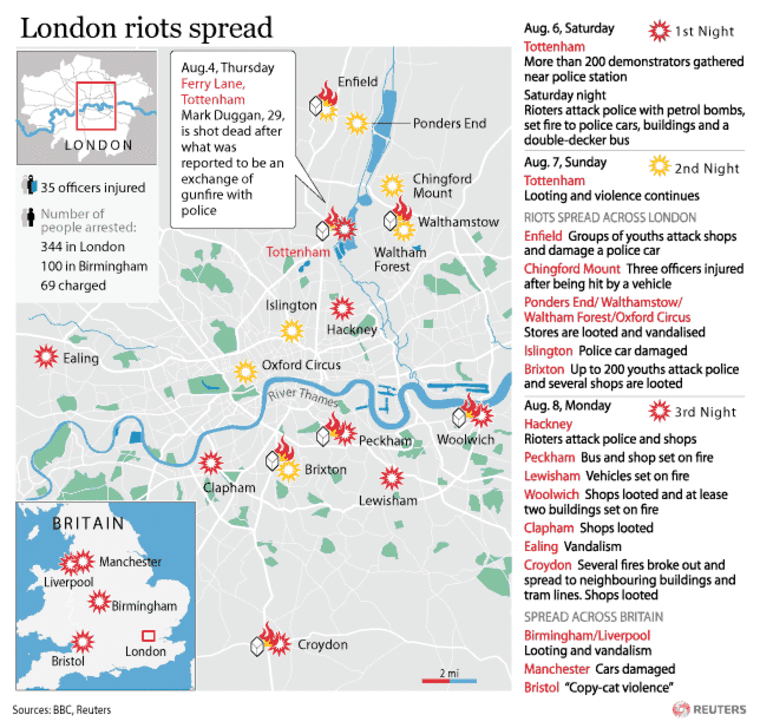 Hooded youths in Hackney pushed burning rubbish bins down a street toward police on Monday, laughing as they ran back when police charged them. Others smashed their way into a shop and ran off clutching bottles of whisky and beer.
Reuters witnesses saw similar scenes in Woolwich, Clapham in the south and Ealing in the west. In Ealing, one resident told Reuters about 150 hooded youths had walked down his road smashing car windows in a display of "mindless vandalism."
"It's very sad to see ... But kids have got no work, no future and the cuts have made it worse. These kids are from another generation to us and they just don't care," said Hackney electrician Anthony Burns, 39.
"You watch. It's only just begun."
Government officials branded the rioters criminals and said the violence would have no effect on preparations for the 2012 London Olympic Games -- though television images of blazing buildings and rioting were likely to dent the capital's image.
"It was needless, opportunistic theft and violence, nothing more, nothing less. It is completely unacceptable," said Deputy Prime Minister Nick Clegg.
Cameron has resisted calls to slow the rate at which he is cutting the budget deficit in order to lessen the impact on youth services and other facilities. He was likely to come under new pressure to do more for poor districts of the capital.
The first riots broke out on Saturday in London's northern Tottenham district, when a peaceful protest over the police shooting of a suspect two days earlier was followed by outbreaks of looting.
Further disturbances followed on Sunday, and on Monday, emboldened by the inability of the police to concentrate their forces in every trouble spot, looting spread rapidly.