/ Source: NBC, msnbc.com and news services
Dominique Strauss-Kahn became a free man Tuesday when a judge ended the sexual assault case against him at the request of prosecutors, who said the hotel maid who accused the former International Monetary Fund chief couldn't be trusted.
Though evidence showed Strauss-Kahn had a sexual encounter with Nafissatou Diallo in his hotel suite more than three months ago, prosecutors said the accuser was not credible because of lies she has told, including an earlier false rape claim.
State Supreme Court Justice Michael Obus said he would dismiss the case, but there was one more legal twist to get through: He first wanted an appeals court to hear a request from Diallo's attorneys to keep the case alive by appointing a special prosecutor. The criminal case ended about two hours later, when the higher court agreed with Obus that there was no legal basis for removing the district attorney from the case.
The case drew global attention and left both the accuser and the accused — a one-time contender for the French presidency — with tattered reputations.
Strauss-Kahn arrived at court in a six-car motorcade and was greeted by protesters wielding signs carrying such messages as "DSK treats women like property" and "Put the rapist on trial — not the victim." The shouting could be heard inside the courtroom.
His accuser, Nafissatou Diallo, was not in the courtroom when Obus issued the ruling.
He appeared resolute inside. He smiled and shook hands with his biographer as his wife, journalist Anne Sinclair, sat nearby.
The couple left court without speaking to reporters, but Strauss-Kahn later issued a statement describing the case as "a nightmare for me and my family."
"I want to thank all the friends in France and in the United States who have believed in my innocence, and to the thousands of people who sent us their support personally and in writing. I am most deeply grateful to my wife and family who have gone through this ordeal with me," he said.
"We will have nothing further to say about this matter and we look forward to returning to our home and resuming something of a more normal life."
Later, he appeared outside the posh Tribeca town house where he was held under house arrest until July — when prosecutors first publicly admitted they had doubts about the woman's credibility. He summed up the statement in French and was mobbed by reporters.
A news conference with the district attorney was postponed after a 5.9-magnitude earthquake in Virginia was felt in New York City.
'Compelling and unwavering'
On Monday, the Manhattan district attorney's office filed a court document that described lies and inconsistencies that they said shattered Diallo's credibility. They said they could not proceed with the case and would recommend all charges be dismissed.
Early in the sexual assault case against Strauss-Kahn, prosecutors held out his accuser as its strongest point. Her account was "compelling and unwavering," complete with "very powerful details" and corroborated by a medical exam, they said.
When they moved Monday to drop the biggest case on their docket, the woman was portrayed as its fatal weakness. She "has not been truthful on matters great and small" and has an ability to present "fiction as fact with complete conviction," and medical and DNA evidence is "simply inconclusive" as proof of a forced sexual encounter, they wrote.
"Our grave concerns about (her) reliability make it impossible to resolve the question of what exactly happened" between the hotel maid and the former International Monetary Fund leader, they wrote.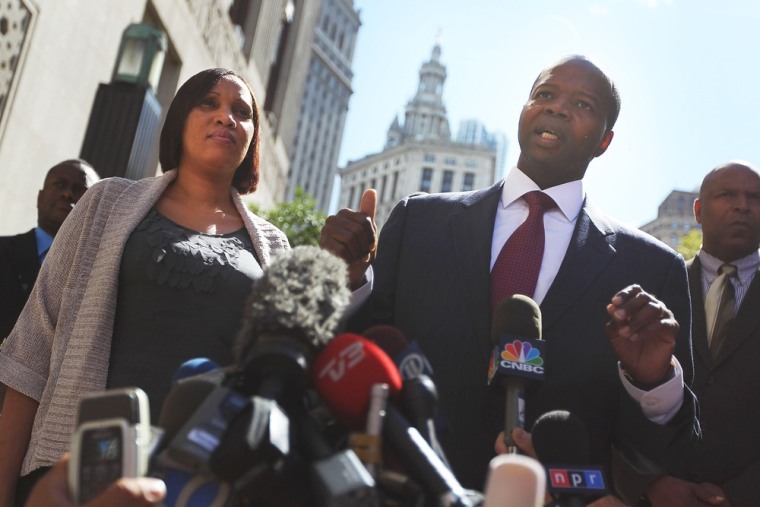 With that, the Manhattan District Attorney's office asked a judge to put an end to a case that created a cross-continental sensation.
Still, efforts to shed light on what transpired in Strauss-Kahn's luxury suite May 14 are bound to continue in civil court, where Diallo has sued Strauss-Kahn.
Before his arrest, Strauss-Kahn was seen as the Socialists' leading contender for next year's French presidential elections.
France's Socialists on Tuesday lauded the move to drop the attempted rape case, but few expect Strauss-Kahn to jump back into politics very soon.
French Socialist Party chief Martine Aubry called it "an immense relief" that the prosecutors are abandoning the case.
"We were all waiting for this ... for him to finally be able to get out of this nightmare," she said on France-Info radio.
His Socialist Party has scrambled for a new candidate who could unseat President Nicolas Sarkozy in April-May elections.
Some French voters appeared eager Tuesday to move forward with the presidential campaign and let Strauss-Kahn recover from the last few months in peace.
"Maybe he'll have a political future as a minister or something like that if the Socialists win but not as president, not as a candidate in the next elections," said banker Victor Diosi in Paris.
Conflicting accounts
Echoing and expanding on concerns they had raised previously, prosecutors in New York said Monday in court papers that Diallo repeatedly gave false information to investigators and grand jurors about her life, her past and her actions following her encounter with the French diplomat.
She gave three different versions of what she did right after the alleged attack and showed that she was a troublingly convincing liar by telling a phony tale of a previous rape, prosecutors wrote. She also was evasive about nearly $60,000 that other people had moved through her bank account and insisted she had no interest in getting money from Strauss-Kahn — once telling prosecutors no one could "buy" her — only to sue him within three months, they said.
Prosecutors met briefly Monday with Diallo and her attorney, Kenneth Thompson, who emerged blasting their decision.
DA Cyrus Vance "has not only turned his back on this innocent victim, but he has also turned his back on the forensic, medical and other physical evidence in this case," Thompson said.
Strauss-Kahn lawyers William Taylor and Benjamin Brafman, meanwhile, said he and his family were grateful for prosecutors' decision.
"We have maintained from the beginning of this case that our client is innocent," they said in a statement. "We also maintained that there were many reasons to believe that Mr. Strauss-Kahn's accuser was not credible."
Strauss-Kahn, 62, was arrested after Diallo, 32, said he chased her down, grabbed her crotch and forced her to perform oral sex. Strauss-Kahn's lawyers have said anything that happened wasn't forced.
The case pitted the word of a promising French presidential contender, known in his homeland as "the Great Seducer," against that of an African immigrant and widowed mother who had come to clean his plush suite at the Sofitel hotel.
After trumpeting the strength of the case early on, prosecutors told a judge last month it had taken a serious hit because the maid had told them a series of worrisome falsehoods, including a fabricated tale of being gang-raped in her native Guinea and a shifting account of what she had done right after her encounter with Strauss-Kahn. After telling a grand jury she had hovered in a hallway, she later said she had returned to a nearby room and then to Strauss-Kahn's, they said.
They elaborated on those and other concerns in Monday's 25-page filing. Diallo had a recorded phone conversation, with a jailed man in her life, in which "the potential for financial recovery" from Strauss-Kahn was mentioned, prosecutors wrote. And she was evasive about nearly $60,000 that other people had deposited in her bank account, initially failing to disclose it to prosecutors and later saying she'd let the jailed man to use her account to make deposits and have her withdraw cash to give to a person she thought was his partner in a clothing and accessory business, prosecutors said.
Diallo has told interviewers the man used the bank account without telling her. As for the phone call, Thompson said, she mentioned Strauss-Kahn's money only to say that her alleged attacker was influential.
Overall, she has acknowledged some lies and said other remarks were misinterpreted. But she says none of that should keep prosecutors from pursuing the case.
Strauss-Kahn's semen was found on her uniform dress, his DNA was identified on pantyhose and underwear she was wearing, and a gynecological exam found an area of "redness," according to prosecutors. But they said none of that was incontrovertible proof of a sexual assault.
In asking for a special prosecutor, Diallo's lawyer said the DA's office has "sabotaged" the case, accusing prosecutors of leaking damaging and false information about Diallo to reporters, among other claims. Many echo issues he had raised in asking Vance last month to step aside.
Special prosecutors are most often appointed when a DA has a personal conflict of interest, such as when a DA's office staffer is arrested or the DA represented a defendant while in private practice. Thompson notes that one of Brafman's partners is married to one of Vance's top deputies.
Vance's office has said there's no basis for recusing it from the case. Legal experts had given Thompson's request slim chances.
Meanwhile, Diallo sued Strauss-Kahn on Aug. 8, seeking unspecified damages and promising to air other allegations that Strauss-Kahn accosted and attacked women in other locales.
His lawyers called her suit a meritless claim that proved she was out for money.
Investigators are probing another attempted rape accusation against him in France.
The Associated Press generally doesn't name people who report being sexually assaulted unless they agree to be identified or publicly identify themselves, as Diallo has done.