Msnbc.com asked readers to share how the events of Sept. 11, 2001, forever changed their lives and the lives of those around them. Here are some of their stories. (Some entries have been edited for length and clarity.)
Through the eyes of a child
Six-year-olds often times forget their own last names, but I remember Tuesday, September 11, 2001, like it was last week. I remember wearing my favorite jumper and my mother braiding my hair. I remember eating scrambled eggs off a yellow plate. And then I remember the radio anchor said, 'Wow! Have you guys seen what's on TV?' My mother flipped it on, just in time to see the second plane collide with the South Tower. We saw the fireball burst from the building. The six-year-old that I was screamed and covered my ears. That day at school, few of us understood that our lives had changed. Many of my fellow first-graders thought it was something from a movie, a big joke. But I remember walking past the teacher's lounge, and hearing them all crying and praying, and I knew it was no joke. It was real.
When I watch the footage of that horrible day, I am filled with emotions — anger, pain, misery. Part of me wants to be filled with hate. But then I think of the way I remember America coming together on September 12th. I remember seeing 'God Bless America' signs on the way to school — every five feet. When the first soldier from my city died, the principal lined all 500 elementary school students outside, proudly holding flags, as the procession passed on its way to the cemetery. I remember the determination to overcome this evil — determination felt in every chorus of 'America the Beautiful.' And when I remember that, I can't feel hatred.
When the passengers of Flight 93 realized what was happening, they called their wives, their husbands, their mothers, their children, to say 'I love you' one last time. The hijackers couldn't stop them from loving. Every message that was sent out was one of love. Even as they hurtled to the ground, the hijackers lost. They meant to spread hate. They meant for love to be overpowered. They thought they could destroy us. How wrong they were.
Rachel Faulkner
Greenley, Colo.
'In my heart always and forever'
On September 11, 2001, I was working as a paramedic in Manhattan when the first plane hit WTC tower. My coworker and I responded to the call — it came over as a helicopter or small plane that hit WTC tower. When we arrived, the only thing going through my head was 'Where are my kids right now?' and 'Where is my husband who worked on the 95th floor of the south tower?' When the South Tower collapsed, I lost both my husband and my coworker all on the same day. On this day my world was turned upside down, not only for me but for the four children that got left behind. My oldest was 6 when all of this happened and I was newly pregnant with twins, who were born in May 2002.
I was lucky my husband called me and we talked. I was able to talk to him for a few minutes and I kept telling him I would be there to get to him but never made it. At least we were able to say goodbye. We were on the phone together when the tower collapsed.
My oldest son is now 16. He remembers the day as if it was yesterday. I have now remarried and moved my family to California. Still, 10 years later we are trying so hard to move on from all this. ...  I will never ever forget all the people who were lost on this day and I will never forget this day. My husband is in my heart always and forever.
Nikki Roberts
San Jose, Calif.
A memorial for future generations
A few years ago I had found that steel beams from the trade centers were being distributed to communities so that permanent memorials could be built. Without hesitation I wrote my letter to NYC, waited, then went to NYC on July 12th to pick it up. Already here in Erie we have the "Erie 9-11 Memorial" project, which is to build a memorial with the centerpiece of an 18-foot column from one of the World Trade Center towers. We are well underway as a nonprofit and raising private donations.
People ask me why I did this. My answer is, I don't know. I had no immediate friends or family involved in any of the four incidents of Sept. 11th. I usually am a tougher type of personality. But whenever I think about the events of that day, standing in front of a TV for most of that day, I just get teary eyed and weepy. My wife understands this, but somehow the definition of exactly why seems to elude me. Maybe its because I'm afraid that after our generation is gone, 9/11 will be forgotten. But we in our generation know how the NYC skyline changed that day, we know how the guarding of America changed, and we know that the way America thinks, acts and does business was changed forever.
The purpose of our memorial in Erie is so that future generations will have the opportunity to read a timeline of that day, to look at pictures, to see the steel column, and to somehow remember that this was what their parents or grandparents way back when were talking about.
Mark Aleksandrowicz
American spirit endures
On Sept. 10th, 2001, America was impenetrable. We bragged about secret missile defense systems on the Pentagon, fantastical things from our imagination that seemed all too possible from a nation that was virtually invincible. I turned on the news the morning of Sept. 11th to find static. Every major channel's signal was down, and PBS was lending its local signal to one of the larger networks. In seconds it became vividly clear why. The experts swore that all would be well, that the towers were built to withstand anything. In retrospect, they said the same thing of the Titanic.
We all watched in disbelief as the towers our neighbors and loved ones worked at fell down. In the aftermath all was silence. The skies in our NJ suburb became an eerie void as the planes grounded. Life itself had been muted, the color of the world was drained. The skyline across the water bisected, the city downwind of the towers was blacked out in an enormous cloud of smoke and debris. We walked the streets in surgical masks, avoided large crowds, called out sick from work, and for a time the fear in the air was thick enough to choke on. And then followed an unprecedented sense of brotherhood.
City dwellers treated one another with respect and dignity, something that might not strike some as odd, but something that stands out as a bit of a small miracle to those of us who grew up there. American flags sold out at stores, hospital blood drives had lines that wrapped the building two, or even three or four, times. Military recruiters couldn't sign our young friends up nearly as quickly as they lined up. It turns out that the Pentagon wasn't some invincible fortress, but the American spirit that built it is. Now our enemies know that well.
Denis Foley
What if ....?
I live in NJ overlooking NYC skyline. My husband worked for Baseline Financial Services on the 78th floor of 2 World Trade.
At 8:47 the phone rang, my husband called to tell me that a plane hit the other building. We were fighting for the entire weekend before about me using his new sports car and hadn't spoken to each other in four days. I tried to talk to him but he said I can't talk to you right now; I said "whatever" and hung up on him.
At 9:05 my friend Debbie called and told me about the other plane. I didn't have Internet access or television. I immediately tried to reach Brian. I called his cell and office. The phone was ringing off the hook. My sister and I decided we were going to go and find him in Manhattan. I was leaving work when he called. He was on the street and had left between the hits. He told me he would be home soon. So I rushed to get home.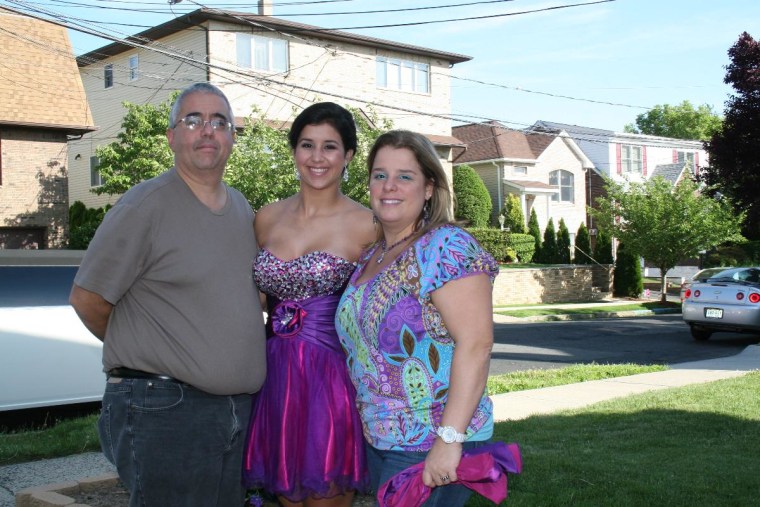 The second plane hit my husband's floor; it came in on his side of the building. His three friends and coworkers didn't survive. This has changed our lives. Brian takes the time to be with us! He is more available to both of us and especially our daughter. We now participate in more charity work than we ever have in our lives. We also volunteer on a regular basis now. We appreciate our lives together and don't take anything for granted. Not that things are perfect and we never fight, but we decide not to sweat the small stuff.
I don't know what would have happened if my husband didn't come home. He won't let me do the "what if's" but I appreciate him and our life together. We are celebrating our 23rd wedding anniversary this year and, we renewed our vows three years ago and I hope for the rest of my life I get to be with him and laugh and live.
Cynthia Branco
The ugly backlash
Before 9/11, I was the son of a retired U.S. Army First Sergeant who served 24 years for our country. My immigrant parents came to this country where my father joined the military to assure citizenship for himself, his new bride, and his soon to be expanding family. Before 9/11 my sister was in the United States Army. Before 9/11 my brother was in the United States Army Reserve. Before 9/11, in October of 1998, I joined the United States Air Force, and before 9/11 I thought my country valued my family's service.
After 9/11 I found out that I can no longer fly without being "Random." After 9/11 I found out that my fellow citizens will not even give me a job interview, despite my college degree. I found out that should I wish to be employed I had best seek the most liberal of employers or rejoin the military. After 9/11 I found out that my service meant nothing; all that mattered is my name.
My name is Mohamed A. Ali II.
Mohamed Ali II
'Our Flag was Still There'
I went to work as a psychotherapist helping others cope with their feelings about the attack before anger started building that evening as I followed the continuing coverage on TV and the Internet. The images I was seeing repeatedly burned themselves into my memory while my rage keep building. My rage grew the next day and by the 13th I was feeling sick from it. So I sat down at my computer as an artist and composed what was to become "911 and Our Flag was Still There." It took me about six hours to do the initial composition and, when I reached that point, the rage was gone from me and was now peering out at me from my screen. It took another six weeks to finish the piece and produce it on stretched canvas.
The piece has been in numerous art exhibits and a 7-foot-wide copy is on permanent display at ISWest's corporate headquarters in California.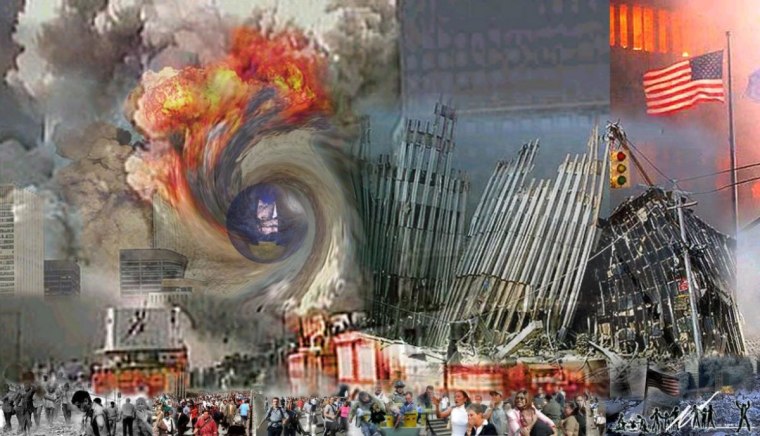 One thing in common among all the responses to the work is that the piece brings the person back to where they were that morning and they remember.
It was clear to me in 2002 that the piece belonged in New York and it was not until 2008 when the National 911 Memorial & Museum put out a call for artists to submit 911-related artwork that I found a way to get it there. Today the piece is included in the museum's digital archive and the artist has a sense of closure as a result.
In May when justice was finally served, I put together the piece that waited until its time had come. I called it "Days of May" and it bookends "911 and Our Flag was Still There." It is also in the museum's digital archive.
Ben Cohen
Thousand Oaks, CA

Taken away too soon
I was there — I worked on the 92nd floor of 1WTC. I was trading foreign exchange for Carr Futures — and had worked the day shift for the entire summer (7 a.m. - 5 p.m.). Sunday night, Sept. 9, I switched back to covering the European shift (12 midnight - 9 am). On the 11th, I finished up with two colleagues at around 8.30 a.m. We took the express elevator down to the 62nd floor and then the long ride down to ground level. I was just entering the Brooklyn Tunnel when the first plane hit — right on the 93rd floor. By the time I got to the Verazzano Bridge the second plane had hit. I watched the rest on TV from home — in shock along with the rest of America.
My company lost 69 people — all who were in the building perished. If I was another 5 minutes in the office I, too, too would have been gone.
Every year its a painful reminder of the friends I have lost. There were 69 friends I lost that day — and each one was taken way too soon.
Benjamin Feuer

Dad helped build Twin Towers
My story begins back when the Twin Towers were just being built. My father's occupation was that of an iron worker. His company was chosen to do the railings and stairs to the towers. When my father could he would take me downtown to see how far they had gone in the construction. I would get to run around on those stairs that were built. I remember going to the observation deck after the completion and looking out and thinking this is what it feels like to be on top of the world. 
That horrible day my husband and I awoke to the news of a plane going into one of the towers. My heart seemed to have stopped and I was trying to process how something like this could be happening. I called my parents and told them to put on the television. I quickly got myself and the baby dressed to go over to my parents.
When I arrived my father being that he was there when the building were constructed told me that he prayed that everyone would leave the building. I asked why and what he meant by that; he gave me the most shocking news anyone could get. He said that they would not be able to stand after the immense collision from the planes and the fuel would do the rest. He then went on to explain that when the towers were attached years earlier, they attached the structure from the bottom and that because of the construction of the steel beams they were able to handle the explosion. The construction of the steel beams after the 40th floor were done differently because they needed to be able to handle the wind. The terrorists had finally done what they meant to do. It took them years of planning but they finally brought the war to our soil.
My father, being a veteran of World War II and being one of the first units sent in after the bombs were released in Japan, felt like he was at war all over again. The only problem was he was in the comfort of his own home and not feeling safe. I remember leaving to go to work and just crying the entire way and feeling like the world had stopped in time. Only a few short months later my father passed away and I feel that day a big piece of him died with those buildings. He gave years of himself making those towers be a special part of New York. It was just to much for him to bear that they were now gone. That day, the people that were killed, and the people who sacrificed themselves, will never ever be forgotten in my family.
Patricia McDonnell

Safe no more?
Ever since the morning of 9/11, the first thing I do when I wake up now is turn on my local NPR station to see if the world that I know is still there. That's what left me that morning, a sense of continuity.
I believe that morning I joined most of the other people in the world who have lived for decades, if not centuries, not knowing from one day to the next if they will be safe — if family will be safe. And with the subsequent wars I, as an American, experienced what most of the rest of the world has experienced for decades — not approving of what my government is doing in my name.
Carol Dennis

Heroes' footsteps
My paternal grandfather was FDNY for 20 years in the early 20th century. His (and my father's) hometown unit, Squad 288/HazMat 1 of Maspeth, Queens, NY, was hit inordinately harder than most companies in FDNY on 9/11.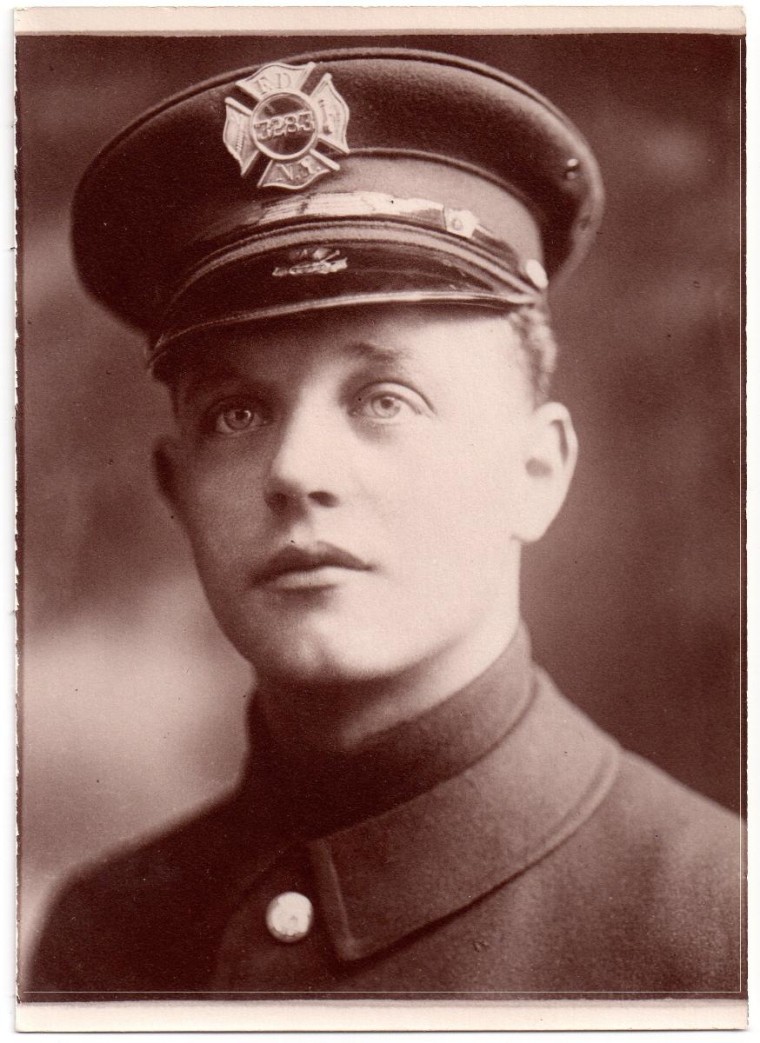 Approaching the 10th anniversary, I thank my Grampa Walter as well as all who currently serve in FDNY and other city and rural fire districts for continuing to fight the battle. As firefighters, we do not comprehend race, creed or other such irrelevant criteria. We care about life and the protection thereof. Period.
I am both proud and grateful to be a part of the post-9/11 fire service, particularly in following in the footsteps of those who gave all.
Jim Marquardt
Dramatic turn for game show winner
I remember sitting in the bathtub of my one-bedroom apartment where I lived with my then-husband. I remember hearing the television in the background, and the children crying about their missing parents. I remember rocking back and forth, and sobbing, uncontrollably. These children had no parents. Their parents were gone. They could never hug their kids again. Their lives were over.
However they had lived them (their lives) would be written in history. Were they unhappy? Were they in love? Did they ever live in a different state? Did they visit Europe? They had no second chance. I was unhappy. I wasn't really in love. I never lived anywhere but where I was. I had never even been to Europe. But I was alive, here in my home, in Philadelphia where I lived my entire 30 year life, in my bath in my small apartment.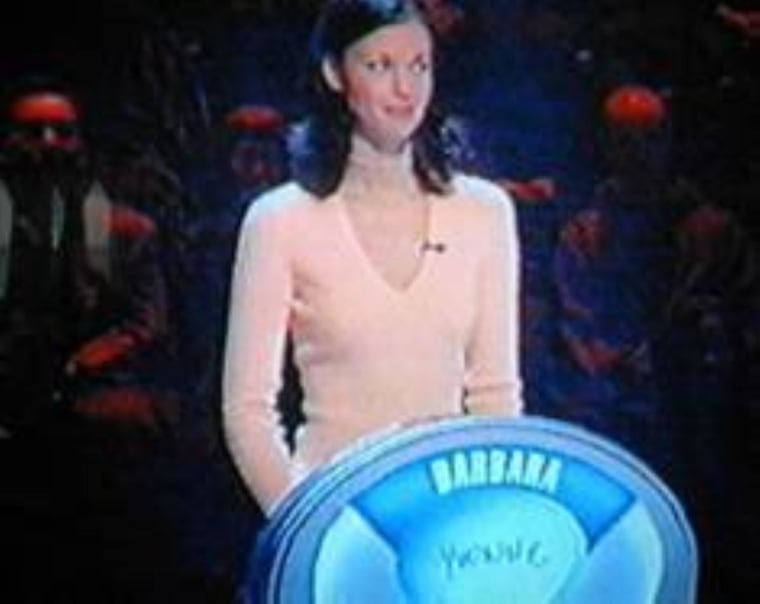 I could see my tears before me splash into the water below. I felt then and there that I needed a change; that my life could be taken and I would have nothing to show for it. I changed, in that bathtub, on Sept. 11th, I changed.
Two weeks later I tried out for a game show. Five weeks later I was on a plane flying out to L.A. to tape the show at NBC studios. I won. The man I beat was from Atlanta. Two months later I had the guts to ask my husband for a divorce and told him that as much as I loved him, I couldn't stay in Philly forever. I needed to grow. I only had one life, and I needed to change.
A year and a half later I was living in Atlanta. I started dating the man that I defeated on that game show. I started a career there, and a whole new life. Eight years later I am SVP of my company, with two beautiful redheaded children. I have visited France, Switzerland and Italy, and will be flying back to Europe the week before Sept. 11th to visit Belgium and Holland with my family. I am living the life I always wanted to live. It's a positive that came from the ashes of despair, and it's how I honor those lives that were lost.
Barbara Palumbo
Eye on bin Laden
For over a decade I have not been able to stop compulsively reading news about this evil man. I read some of his offensive and chilling "Letters to Americans." OBL followed me into nightmares, into my classes, and into the lives of people who I encountered in Central Asia and Russia in the course of my work.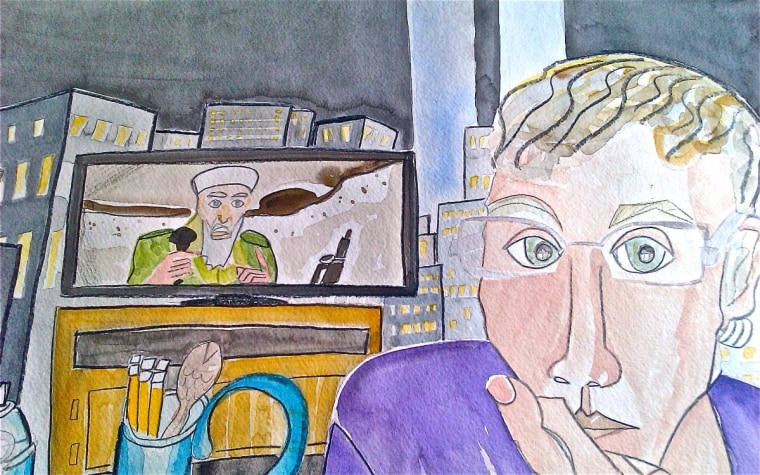 I was in Poughkeepsie on the morning of 9/11, and watched the news with students at a Vassar College dorm. Some of their parents worked in the towers. It was a terrible, frightening day. I am satisfied that he was killed and drew this portrait to commemorate the occasion. Experiencing the grim joy of revenge frightened me personally, and I'm not sure it means a victory over his violent and misogynist ideas, which still have so many followers.
Michaela Pohl
Innocence lost
I thought about the woman who had gone to work that morning just like me, sitting in her office just like me doing what she did all week long, except this day a plane flies into her building. For a very long time after the attacks and the digging at the towers I truly believed they would come upon a "pocket" of people and they would all be alive. But as the days went on and that fantasy never came true and watching continuously the reports of the attacks and recovery, my life's perspective changed. Instead of focusing on "providing" for my daughter, I decided I was going to share in her life.
I took off work to go to her school functions and activities. I totally let go of the "career" thing and now face life with a sense of blessing. None of those people thought they would not see their loved ones again, but they didn't. My heart still hurts everytime I remember the attacks and the lives lost and the innocence lost. I am stronger in my belief that America MUST stand strong against any threat to the well-being of humanity. I am a stronger and prouder American. God Bless America!
Hazel Mae

'Mike taught me to live life with a smile'
One of the nicest guys you would ever want to meet lost his life that day on Flight 175 that was hijacked into the second tower.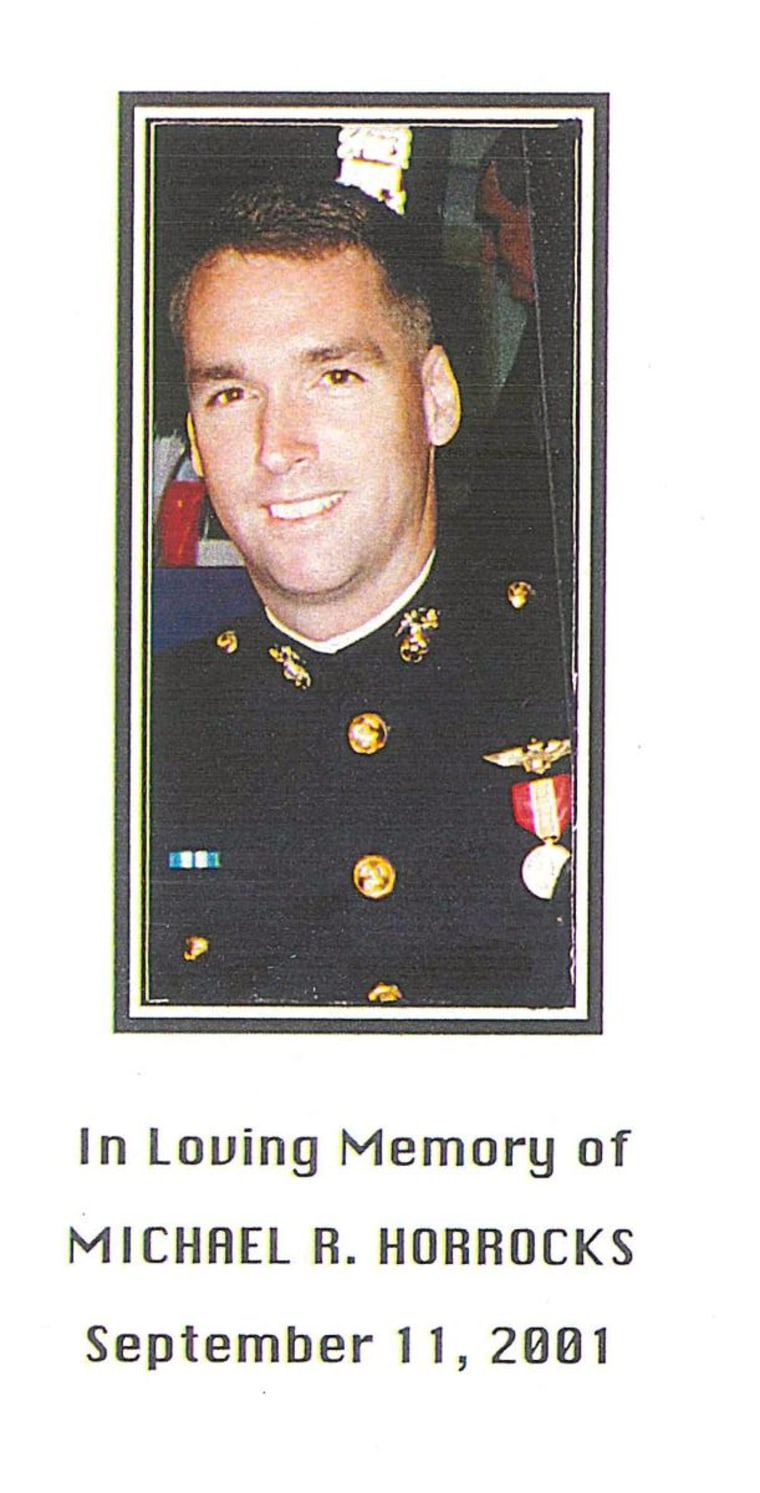 He was Mike Horrocks and a friend to many wherever his life took him. I was lucky enough to sit right next to him at our high school reunion just a few weeks before the attack. After spending the evening talking and laughing with him I told my husband I really missed him and wished he lived closer.
We had visited NYC with our smalll boys just a few months before the attack and the only item that my 6-year-old wanted to bring home was a small replica of the towers. I have that on my window sill right by my kitchen sink and everytime I'm there looking at it, I try to remember Mike and his family and appreciate all that I've been blessed with. Mike taught me to live life with a smile. Much love to his family and friends on this remembrance of that day.
Christy Ricker