/ Source: msnbc.com staff and news service reports
Florida authorities said Thursday that Casey Anthony was polite and cooperative during a meeting with her probation officer and pledged to meet the conditions of her one-year probation for check fraud.
The 25-year-old Anthony, who has remained hidden since a jury acquitted her of killing her daughter, met with the officer for more than an hour Wednesday evening at an undisclosed location as she begins her probation. But citing death threats against her, state officials said they will not reveal her location, including the county where she will serve her probation for the unrelated charge.
"She told the probation officer that she intended to do well on probation, she was polite and cooperative," said Gretl Plessinger, a spokeswoman for the Florida Department of Corrections.
Since the acquittal, Anthony has received death threats and remains at risk, state officials said.
"The court made a pretty strong statement, talking about the fact that she is among the most hated women in America," Plessinger said.
While under state supervision, Anthony will be required to report to her probation officer once a month, get permission to travel outside the county where she lives and actively seek work or enroll in school, Plessinger said.
Anthony has not yet made a request to go to school, although in the future she may choose to enroll in an online school, according to Tampa Bay Online.
Anthony dropped from public view following her release from jail on July 17, and her lawyers confirmed she had moved out of state. But earlier this month, a judge ordered her to return to report for a year of probation for check fraud.
Anthony's attorneys argued she already had completed it while in jail awaiting her murder trial. The Fifth District Court of Appeals disagreed with the argument that enforcing the probation order would violate the constitutional prohibition on double jeopardy.
Circuit Judge Stan Strickland said in January 2010 that Anthony should serve probation after her release from jail. She had pleaded guilty to stealing checks from a friend. His instructions never made it into a written order and corrections officials interpreted the sentence to mean Anthony could serve the probation while she was in jail.
In an order this month, Strickland clarified that Anthony must begin her probation now that she is out of jail. He then recused himself from the case and turned it over to Judge Belvin Perry, who presided over Anthony's murder trial. Perry upheld Strickland's order, and Anthony's attorneys appealed last week to the Fifth District Court of Appeals in Daytona Beach. The appeals court denied a request that would have stopped her from being forced to start probation by the end of the week.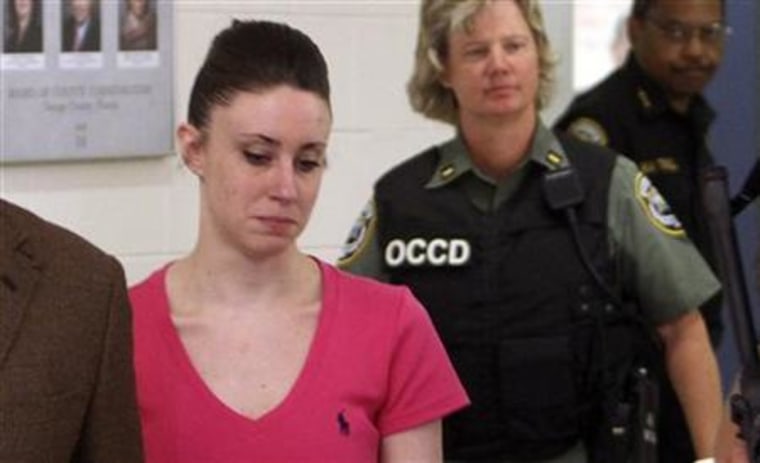 As part of her probation, Anthony must report no later than the fifth day of each month to her probation officer, whose identity is also being kept under wraps. She will be required to pay $20 a month toward the cost of her supervision.
Despite worries about her safety, Anthony will not be escorted by police to and from her home to her meetings, reported Tampa Bay Online.
Anthony agreed to warrant-less searches and drug screenings. She cannot consume alcohol in excess and must stay away from anybody engaged in criminal activity.
"We want to make sure that she is treated like other offenders," Plessinger said. "If she violates these court orders, we will immediately notify the court, but we will take security measures ... as the court has laid out."