/ Source: The Associated Press
Night after night this summer, troops from the Army's historic Old Guard have left their immaculately pressed dress blues, white gloves and shiny black boots at home to slip into Arlington National Cemetery in T-shirts and flip-flops to photograph each and every grave with an iPhone.
The sometimes eerie task to photograph more than 219,000 grave markers and the front of more than 43,000 sets of cremated remains in the columbarium is part of the Army's effort to account for every grave and to update and fully digitize the cemetery's maps. The Old Guard performs its work at night to escape the summer heat and to avoid interrupting funerals.
Last year a scandal over mismanagement at the nation's most hallowed burial ground revealed unmarked and mismarked graves. Congress then mandated that the cemetery account for the graves of the more than 330,000 people interred in the cemetery. Markers may bear more than one name, such as a service member and spouse.
The photos taken at night are matched with other records to find discrepancies that need to be fixed, and officials say it's too early in the process to draw any conclusions. Military officials hope they can eventually use the photos to create an online database for the public. Four million people annually visit the cemetery.
The Old Guard troops typically escort remains and fire three-volley salutes at military funerals. When taking photos, they have middle-of-the-night run-ins with rabbits, foxes and deer in the cemetery, which is situated on the estate where Confederate Gen. Robert E. Lee once lived. Using head lamps to light their way, they've tripped in shallow holes and brushed aside countless spider webs. They've paused at seeing freshly dug graves prepared for the next day's funerals.
One soldier, Spc. Raymond Piron, 22, of Detroit, says he was working one night in an old section of the cemetery when he felt something tap him on the shoulder. He turned around, but he was alone.
Before this summer, Spc. Craig Green, 21, of Dover, Del., a broad-shouldered, tough-looking Iraq war veteran, says that when it came to walking cemeteries at night, "you couldn't pay me to do it."
At least one of the soldiers, Sgt. Yvens Saintil, 26, of Philadelphia, who has done two tours in Iraq, says he has friends buried in the cemetery. He has taken time to find their graves and pay respects, even though his duties didn't include photographing their graves.
"At first I was kind of sad a little bit, but it's just part of the mission to continue your mission," Saintil says while standing in the columbarium shortly after sunrise on a recent morning.
The mission is called Task Force Christman, in honor of Pvt. William Henry Christman, an Easton, Pa., native and Civil War soldier who was the first soldier buried at Arlington. The troops executing it are from Delta Company of the 1st Battalion of the 3rd U.S. Infantry Regiment, known as the Old Guard — the Army's official ceremonial unit, which provides escorts to the president and helps put on military funerals.
With an average of 27 funerals conducted daily at the cemetery, leaders from the Old Guard decided to slip about 60 troops in each night and send them home before the cemetery opened at 8 a.m. Initially, the men wore basic Army utility uniforms, but they later switched to comfortable civilian clothes after it was determined the photos were of better quality without the light reflected off the patches on their uniforms.
The troops have walked Section 60, where loved ones commonly leave whiskey bottles and children's art at the graves of those killed in Iraq and Afghanistan, and Section 27, where about 1,500 black soldiers from the Civil War were laid to rest. They've seen monuments small and large — including one more than 14 feet tall marking President William Howard Taft's grave. They had to sit on each other's shoulders to get a good shot.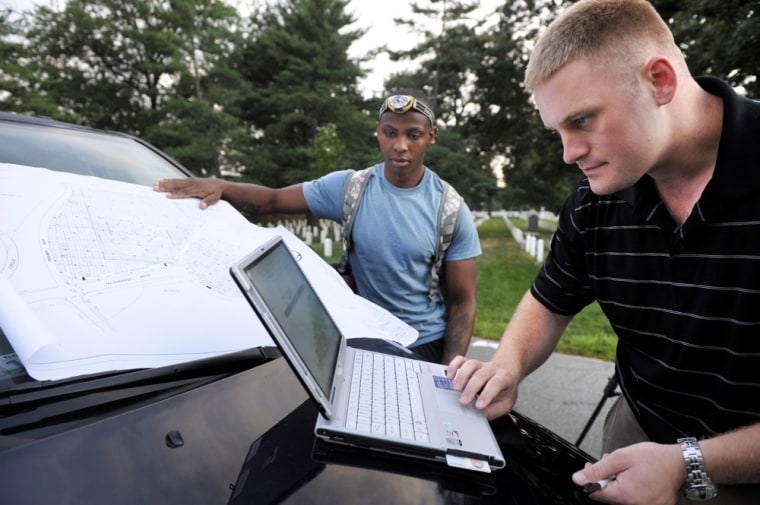 They've captured the grave marker of astronauts, combat nurses, Medal of Honor recipients and unnamed infants born to service members.
In the early hours on Wednesday, one of the last nights of their three-month mission, the troops were in Section 15, a relatively flat part of the cemetery where two sons of Confederate Lt. Gen. James Longstreet share a tombstone. They needed to re-shoot the photos in the section because the graves there had been numbered in a way that had made their earlier photos difficult to categorize.
Sometimes, the men worked in silence as one soldier shown a light on a grave while another squatted to photograph it. Other times they chatted about football, or debated the best flavor of Gatorade.
In June 2010, the Army's inspector general released a scathing report on mismanagement at the cemetery, which prompted the Army to immediately bring in new managers and instigate efforts to rectify the problems. Among other things, the IG said it found 117 gravesites marked as occupied on maps but without a headstone or a burial card. Ninety-four gravesites were marked on the maps as unoccupied, but each had a headstone and a burial card. Some gravesites were not reflected on the burial maps.
Criminal investigators have been looking into the burial of eight sets of cremated human remains in a single location, improper burial reservations and possible contract fraud. Just last week, the cemetery said that Army criminal investigators had identified a figure skater in a photograph found in the urn with the multiple remains, meaning it could confirm the identity of the remains and notify the family.
The troops say they take seriously their role in restoring order to the cemetery. They reported to cemetery managers any problems, such as a few graves with duplicative headstones, so the issues could be resolved.
"It's something that's important that needs to be done so that family members can come out here and understand where they need to go to find their loved ones," said Spc. Matthew Caruso, 24, of Staatsburg, N.Y. "It's a good feeling, but it can be pretty stressful and it's a lot of hard work and a lot of walking."