August was a wild month for the stock market, and the bad news — for skittish investors, at least — is that September may not be much better.
Experts say August and September can traditionally be volatile months anyway, and the economic news this summer gave traders plenty more reason to send the markets into major upheaval.
"You had three things going on: The evidence of potentially a double-dip, the debt ceiling and the downgrade, and similar fiscal issues in Europe," said Russ Koesterich, global chief investment strategist with iShares.
The debt ceiling fracas in Washington may have provided the most theater, as politicians bickered until the last possible moment before approving a plan to raise the nation's debt ceiling and cut spending over the long-term.
Subsequently, ratings agency Standard & Poor's downgraded its rating on the U.S. long-term debt, creating another frenzy of activity.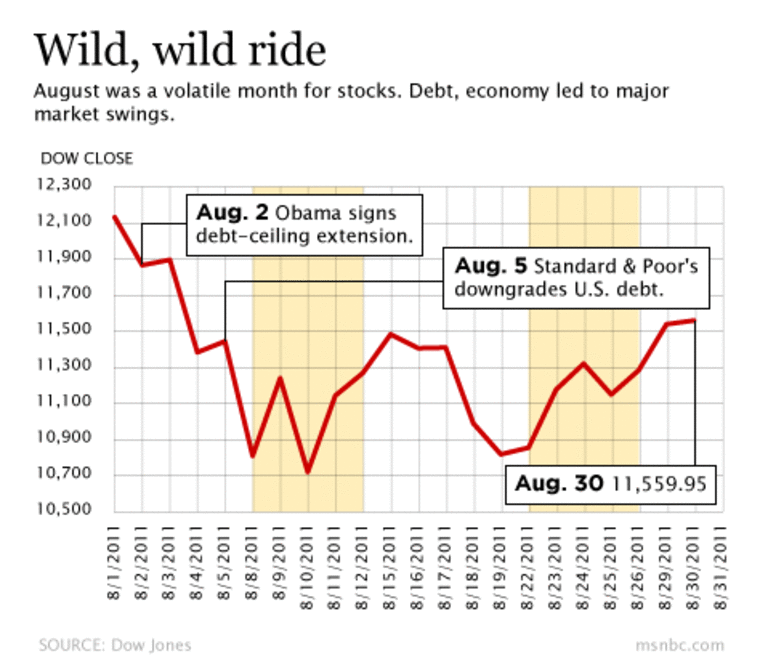 But experts say investors were likely most spooked by indications that the already anemic U.S. economic recovery had slowed further.
"I think that really was just a radical shock to investors," said Jim Paulsen, chief investment strategist with Wells Capital Management.
In another era, Paulsen believes traders would have been better able to endure the slow and uneven shape of the nation's economic recovery from the recession, which officially lasted until mid-2009.
But ever since the fall of 2008, when the financial crisis hit, Paulsen thinks Americans have suffered from what he terms "Armageddon hypochondria," in which every bit of dour economic news seems to spark panic.
"Really, all we do is we look around the corner every day and think something's going to hit us," Paulsen said.
The Dow Jones Industrial Average fell by around 2,000 points from a high in mid-July to a low in mid-August, although it has since gained back nearly half of those losses.
During that time, everyone from mutual fund managers to everyday Americans saving for retirement had to endure a roller coaster ride in which the Dow dropped — or sometimes rose — by hundreds of points in a single trading session.
Market volatilityThe VIX, a measure of the market's volatility, briefly surged to the highest level since the fall of 2008, slightly exceeding the level it reached around the "flash crash" in May of 2010.
Jeffrey Hirsch, editor-in-chief of the Stock Trader's Almanac, said August can often be a wild month in part because many traders go on vacation. That means there are fewer people to buy up stocks when prices start to fall, exacerbating any downswings.
It wasn't always this way. Between 1901 and 1951, August was the best month for stocks because that was when the harvests came in, according to the Stock Trader's Almanac. But as the country became less dependent on farming, August lost some of its luster.
On average, the Dow has ended August up 0.1 percent, according to the almanac. The worst August was in 1998, when the Dow Jones Industrial Average fell by 15.1 percent. The best year was in 1982, when the Dow gained 11.5 percent, according to the almanac.
Unfortunately, Hirsch said things tend to get worse, not better, in September. That's when traders return from vacation and start taking a stark look at their portfolios, and perhaps make big changes. On average, the Dow has fallen 0.9 percent in September.
This year, economic worries are likely to add to those woes, potentially pushing the markets down further.
"I'm concerned. September's got an even worse record than August," Hirsch said.
Koesterich, of iShares, believes concerns about a double-dip recession may be overblown, but that doesn't mean traders won't continue to react wildly to each bit of news.
In the U.S., investors will be watching closely for the next batch of economic indicators, including Thursday's manufacturing index and Friday's employment report.
Even on a daily basis, stocks have been erratic. The news Tuesday that consumer confidence fell to its lowest level in two years initially sent stocks lower, amid worries that could mean that Americans won't be buying as many shoes and school supplies for back-to-school. But the Dow ended the day up slightly.
In Europe, Koesterich said investors are watching for signs of economic trouble in bigger European nations such as Germany, France and Italy.