/ Source: NBC News and news services
President Barack Obama bestowed the Medal of Honor on Thursday to a former Marine who in 2009 made five death-defying forays into a "killing zone" in Afghanistan's Ganjgal Valley to save three dozen American and Afghan troops.
In recounting the heroic deeds of Dakota Meyer, 23, Obama reminded participants in a White House ceremony what Meyer said about recovering his fallen team.
"Every member of your team is as important as the other," Obama said.
In front of congressional and military leaders and Meyer's family, friends and colleagues, the president said the tale of the former Marine from southern Kentucky would serve not only as a lesson of bravery but also as a reminder to all:
"No matter who you are or where you come from, you can do great things as part of the American family."
The ceremony followed a Wednesday night beer the one-time farm boy shared with Obama outside the Oval Office ahead of the ceremony.
Obama retold the story Thursday that during six hours of ferocious fighting after an ambush by insurgents on Sept. 8, 2009, Meyer saved 13 Marines and Army soldiers and 23 Afghan soldiers, killed at least eight insurgents and carried from the battle zone the bodies of four fallen comrades — despite being wounded himself.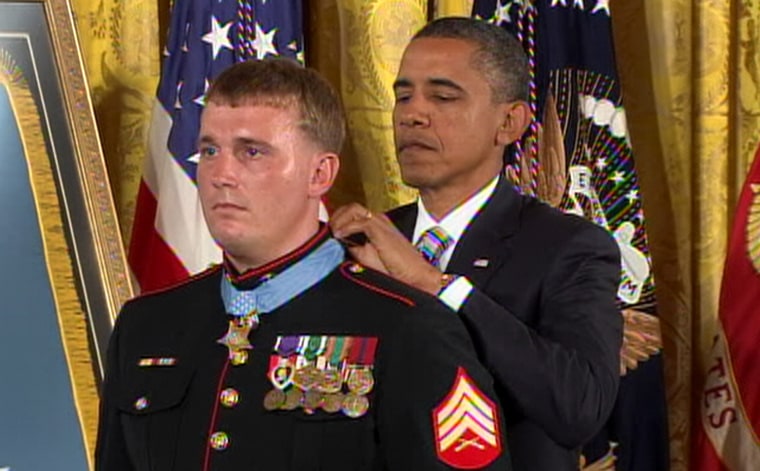 "You did your duty, above and beyond," Obama told Meyer after reciting his dramatic story.
Obama noted Meyer, who was only 21 years old at the time, had to disobey orders to do it.
Speaking to Meyer's work ethic, Obama called him "one of the most down-to-Earth guys you will ever meet."
When the White House first called to talk to Dakota about the award, he was working on a construction job and didn't want to take the call immediately. The White House called back during Meyer's lunch break.
"If I don't work, I don't get paid," Obama said Meyer told him when the two finally did talk.
"He gets his job done," Obama said.
Meyer is modest in retelling the story for the past two year, Obama said.
"But, as you've said, you do it for a simple reason —retelling the story — because it helps you to honor those who didn't come home, and to remind your fellow Americans that our men and women in uniform are over there fighting every single day."
'Furthest thing from a hero'
Dakota at the time was serving as a member of Marine Embedded Training Team 2-8, Regional Corps Advisory Command 3-7, in Kunar Province in support of Operation Enduring Freedom, Obama said. He is the third living recipient — and first Marine — to be awarded the Medal of Honor for actions in Iraq or Afghanistan.
Obama said Meyer represents the "best of a generation that has served with distinction through a decade of war" that began shortly after terrorist attacks on the U.S. on Sept. 11, 2001, which the nation remembered on the 10th anniversary last weekend.
On behalf of Congress, the president placed the nation's highest military honor around Meyer's neck, patted his back and shook his hand as the audience in the White House East Room applauded.
Dakota, originally from Columbia, Ky., earlier told NBC News he is being recognized for the worst day of his life.
"Hero! I'm the furthest thing from a hero," he said. "Every man and woman who serves is a hero," he said, adding that he would accept the award "on behalf of the Marine Corps and the guys who died."
Meyer and the other Americans had gone to the valley to train Afghan military members.
They wanted to "talk to these village elders, try to convince them to support the government," Meyer said, as he recounted the day's events.
"The village was known to be bad. We went in there; they left me back at the trucks," he said of his four comrades.
Suddenly, the lights in the village went dark, and gunfire erupted. About 50 Taliban insurgents perched on mountainsides and taking cover in the village ambushed the patrol.
"There was so much gunfire it sounded like static going over you," he said.
"I didn't think I was going to die, I knew I was. I was just going to keep fighting until they got me. I wasn't going to sit there and lay down and let them win. That was the only thing on my mind was how to get those guys out. I would've done it again."
'Leave no man behind'
The forward team called for air support that wasn't coming.
"We had requested to go in three times before this and we were told no by the leadership in there," Meyer said.
Meyer and another Marine, Staff Sgt. Juan Rodriguez-Chavez, who received the Navy Cross for his actions that day, decided "we might as well go in there and help them," Meyer said.
"My brothers were there getting killed," Meyer said. "They were in under heavy fire and I knew I could go in there and help do something. I wasn't going to sit back and just watch it."
They jumped into an armored Humvee, and headed into battle with Chavez at the wheel and Meyer at the gun turret.
They began by evacuating wounded Marines and American and Afghan soldiers to a safe point. On one of the trips, shrapnel opened a gash in one of Meyer's arms.
On the third trip, Obama said, insurgents ran up to the Humvee and Meyer fought them off.
On his fifth trip, a UH-60 helicopter arrived at last to provide overhead support. Troops aboard the chopper told Meyer they had spotted what appeared to be four bodies. Meyer knew those were his friends, and he didn't want to leave them there.
He found his comrades all together, dead and lying in a ditch, stripped of their radios and weapons. They included:
1st Lt. Michael Johnson, a 25-year-old from Virginia Beach whom Meyer had heard yelling on the radio for air support.
Staff Sgt. Aaron Kenefick, 30, of Roswell, Ga.
Corpsman James Layton, 22, of Riverbank, Calif.
Edwin Wayne Johnson Jr., a 31-year-old gunnery sergeant from Columbus, Ga.
A fifth American — Army Sgt. Kenneth W. Westbrook, 41, of Shiprock, N.M. — was fatally wounded in the ambush.
Meyer and two other soldiers dodged bullets and rocket-propelled grenades to recover the bodies.
He described his feelings to NBC News.
"You didn't die but you died with them, part of you did," he said. "Leave no man behind is more than just words."
'I'm still angry about it'
Meyer told NBC News his comrades didn't have to die.
"Army commanders didn't provide artillery fire or reinforcements when requested," he said.
The deaths prompted an investigation, and two Army officers were reprimanded for being "inadequate and ineffective" and for "contributing directly to the loss of life."
"I'm still angry about it, but what are you going to do about it," Meyer told NBC News.
At Meyer's request, memorial services will be held for the five while he receives his award Thursday.
Will Duke, an organizer of the Columbus, Ga., memorial service for Sgt. Johnson, a father of three who served nearly 13 years in the Marine Corps, said Meyer's request speaks volumes for his character.
"I can tell by his actions, not only the actions he took in earning the Medal of Honor in Afghanistan but also the actions he is taking now," Duke said. "Essentially by requesting these memorial services for his fallen comrades, he's saying this is about them."
Meyer is back to pouring concrete at his construction job in Greensburg, Ky.
His father, "Big Mike" Meyer, told NBC News that his son is sleeping better at night now than when he first got home. "I don't think he'll ever get over it completely," Mike Meyer said.
Service and honors
In 2006, Meyer was ambling through his high school cafeteria when he came upon a Marines recruiter. Curious, the beefy senior struck up a conversation but told the military man he was hoping to play college football after graduation.
"Yeah that's what I would do, because there's no way you could be a Marine," the recruiter told him.
Meyer walked away, the taunting words ringing in his ears. He returned five minutes later, ready to enlist.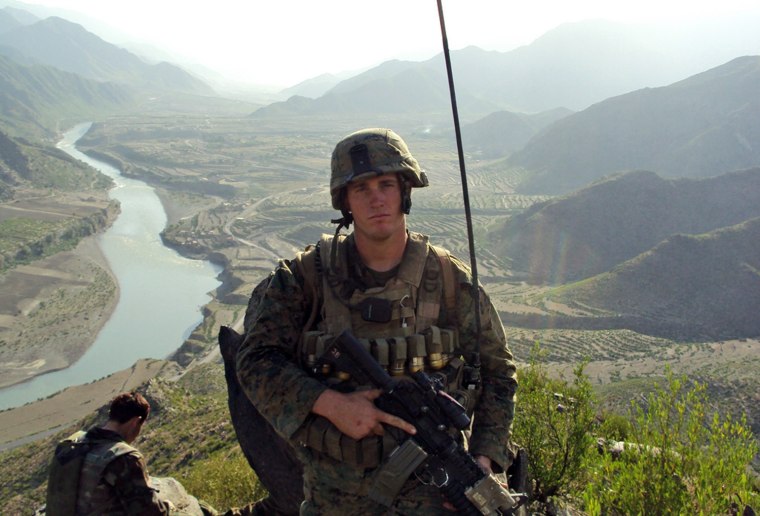 The White House said Meyer, who graduated from Green County High School, completed his basic training at Parris Island Recruit Training Depot later in 2006. He served in Iraq in 2007 and Afghanistan in 2009-10.
He serves in the inactive ready reserve of the U.S. Marine Corps Reserve as a sergeant. He is an infantryman and scout sniper also trained as a combat lifesaver. At the time of his deployment to combat duty in Afghanistan he was serving as a turret gunner and driver.
His military decorations include: a Purple Heart Medal, Navy and Marine Corps Commendation Medal with "V" device for valor, Navy and Marine Corps Achievement Medal, and Good Conduct Medal. His other awards and decorations include the Combat Action Ribbon, National Defense Service Medal, Afghanistan Campaign Medal with one bronze campaign star, Iraq Campaign Medal with one bronze campaign star, Global War on Terrorism Service Medal, Sea Service Deployment Ribbon, NATO ISAF Afghanistan Medal, and a Rifle Expert Badge (3rd Award) and Pistol Expert Badge (2nd Award).
Meyer has partnered with the Marine Corps Scholarship Foundation in an attempt to raise $1 million by next May and has challenged Americans to match that money to help wounded Marines educate their children.
"Education paves the path for our future, and the money we raise will lead to a brighter future for the sons and daughters of many Marines," Meyer says on the group's website.