Some hotel rooms have a view. Others have mini-bars. Then there are those one of-kind rooms that actually have their own special history. Today it's possible to stay in the very places where something notable happened. True, in most cases it's something infamous, but nevertheless, pop culture and history aficionados still make the pilgrimages to these places so they can say, "I slept in the very room where (fill in the blank).
The true Heartbreak hotel?
We start in Clinton, Oklahoma at the Best Western Trade Winds Courtyard Inn. Here, you'll find a hotel room fit for a King. Literally. That's because this was a favorite, convenient stop for Elvis Presley throughout the 1960's, when he and his storied entourage would drive from Memphis to Las Vegas. Presley stayed in the same room, #215, several times during this period and today the room is maintained as a mini-Elvis shrine with memorabilia and 1960's furnishings.
Do not disturb!
In the mood for love? The Oatman Hotel in Arizona (Built in 1902) is where Clark Gable and Carole Lombard spent their honeymoon on March 18, 1939. Married earlier that day in Kingman, Arizona, the famed couple stopped here along Route 66 on their way back to Hollywood and spent the night. The small hotel has 10 rooms available, but it's the Gable/Lombard "honeymoon suite" that draws the most attention. More love: In the movie An Officer and a Gentleman, Richard Gere and Debra Winger spent a famous cinematic night together. You can too, right where they did, at the Tides Inn in Port Townsend, Washington. Room #10 is where the scene was shot, and today of course it's called the Officer and a Gentleman room. The Tides Inn is reachable from Seattle by ferry across the Puget Sound, and the area also features some other recognizable locations from the movie.
It's only rock and roll.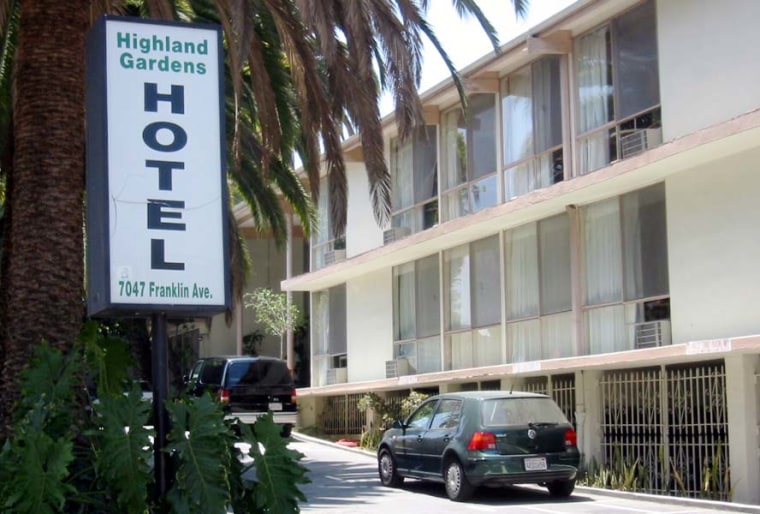 Of course, Rock and roll excess is inextricably linked with several infamous hotel rooms, starting with room #8 at the pretty Joshua Tree Inn in the Southern California desert. It was here on September 18, 1973, that seminal country-rock musician Gram Parsons (a veteran of the Byrds and the Flying Burrito Brothers), OD'd at the age of 26. Fans today leave many notes behind the bedroom mirror; an actual artifact that was in the room the night he died.
A couple hours north of Joshua Tree, in Hollywood, is where singer Janis Joplin met her fate on October 4, 1970. Back then it was called The Landmark Hotel, and it was here in room #105 that Joplin OD'd on heroin just two weeks after Jimi Hendrix died in London.
Blues fans may want to visit the Ramada Inn Union Square in San Francisco. On January 22, 1949, jazz great Billie Holiday was busted here in a raid on Room #203. Holiday, then just 29, was in town for an engagement she was arrested for being in possession of opium. Holiday was eventually acquitted on June 3, 1949 after her defense team convinced the jury that she had been framed. Today, a plaque and assorted artwork has been placed in the lobby of the hotel in homage to the great singer.
The east coast boasts an infamous rock and roll hotel room, too. At the legendary Chelsea Hotel in New York on Oct 12, 1978, Sex Pistol bassist Sid Vicious murdered his girlfriend Nancy Spungen in room #100 of this bohemian artist retreat that's played host to everyone from Dylan Thomas to Bob Dylan.
Busted!
Beyond rock and roll, other celebrities have also left their marks on specific hotel rooms. Remember back in 1979 when carmaker John DeLorean was set up and videotaped by the FBI in a cocaine sting operation? Today you can actually stay in the room where it happened. It's room #501 at the Sheraton Hotel at LAX airport. As for how they taped the transaction, the video camera had been placed in a gutted-out television.
Marilyn… Pretty in Pink.
Marilyn Monroe fans will love the Ballantines Hotel in Palm Springs, California. After all, today you can stay in the very room that Marilyn used to love staying in from the late 1940's on. Each room here is cleverly (and elaborately) themed after celebrities, movies, etc. and Room #103 (The "Pretty in Pink" suite) was Marilyn's special hideaway in the desert. The poolside room is decorated with Marilyn images and even has its own 1000 piece Marilyn Monroe jigsaw puzzle.
The Babe slept here
If you're a baseball fan and you're travelling in New England, you'll want to make plans to stay at the charming Cranmore Mountain Lodge in North Conway, New Hampshire. In the 1940's, this charming bed and breakfast inn was owned and run by baseball legend Babe Ruth's daughter. Because of that connection, the Bambino spent many vacation days up here after his baseball career was finished. His favorite room, #2, has been maintained with all of the original furnishings that were there for the Babe and remains a popular stop for baseball fans the world over.
Red Rum, anyone?
And on a last frightening note, Stephen King fans get ready. Late in the summer of 1973, author Stephen King, flush from success of his first novel Carrie (his second, Salem's Lot had been written by now as well) moved his family to Colorado. After discovering this hotel (about 70 miles north of Denver), he checked in to room #217 and was immediately inspired. While staying here in this room, he came up with the idea for The Shining. (Though in the chilling novel, the Stanley Hotel became a fictional hotel known as The Overlook, near a mountain town called Sidewinder.) The book would eventually go on to become a movie starring Jack Nicholson, Shelly Duvall, Danny Lloyd and Scatman Crothers, but it was not shot here. Director Stanley Kubrick had wanted to use the hotel but there was not enough snow, so he used exterior shots of Timberline Lodge on Mt. Hood, Oregon. (All of the interiors were shot in England.)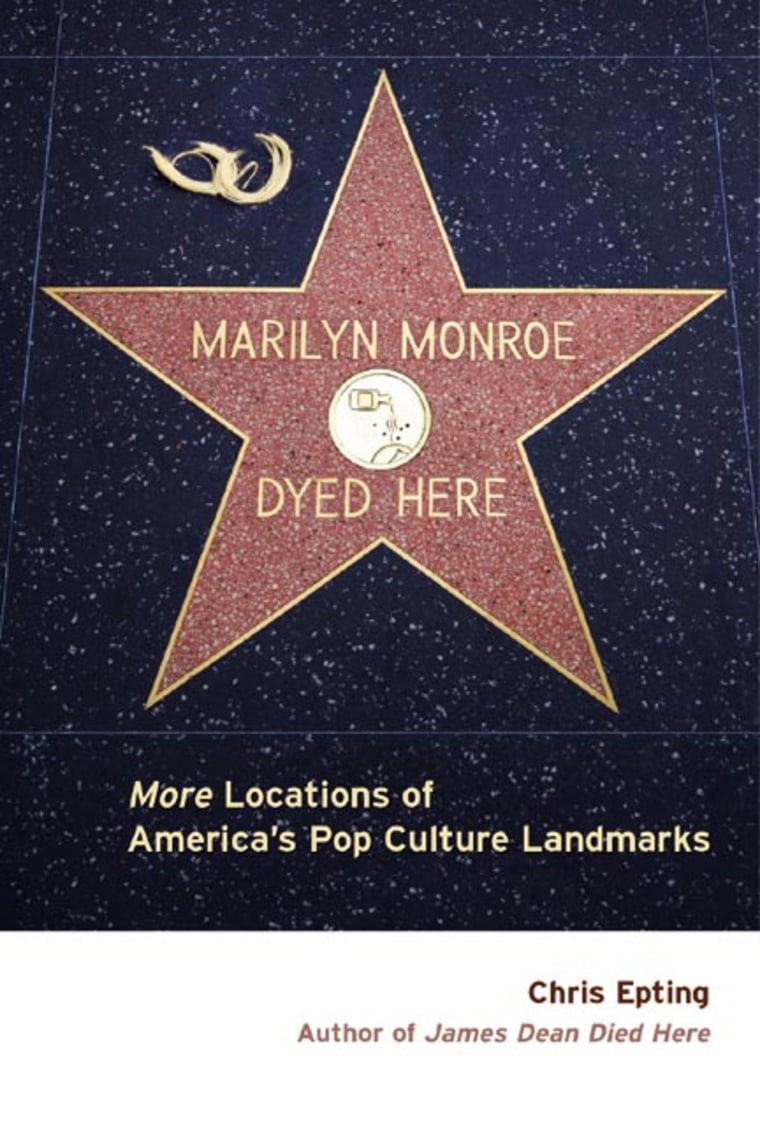 Chris Epting has created many popular advertising campaigns over the last 20 years. He is also the author of six books including Roadside Baseball and James Dean Died Here, The Location's of America's Pop Culture Landmarks. Marilyn Monroe Dyed Here, More Locations of America's Pop Culture Landmarks comes out this May from Santa Monica Press.