North Korean leader Kim Jong-il visited a model high-income farm on Wednesday after dining on Peking duck and hearing China's communist leaders exhort him to heed the winds of capitalism and to soften his nuclear ambitions.
The reclusive leader of the Stalinist North later rolled out of Beijing by train later, ending a visit carried out under the utmost secrecy in which he met Chinese President and Communist Party chief Hu Jintao, Central Military Commission chairman Jiang Zemin and Premier Wen Jiabao.
Talks were dominated by requests from leaders of the world's fastest-growing major economy to pay attention to the need for economic reform and to soften his stand toward the United States over his ambitions to possess nuclear weapons, South Korean media said.
In meetings with his counterpart, military chief Jiang, and parliament leader Wu Bangguo, Kim sought help in persuading the United States to drop what he called its hostile policy and meet his longstanding demand for security guarantees, South Korean newspapers said.
His rare overseas trip comes a week after U.S. Vice President Dick Cheney visited China with new evidence of the North's possession of nuclear arms and warning that time was running out to end the stalemate.
Chinese officials and North Korean media have been silent on the visit.
But after about an hour-and-a-half in Hancunhe village, Kim boarded his train bound for Pyongyang, South Korea's Yonhap news agency said.
Security was tight at the model farm village of Hancunhe in suburban Beijing that is home to an exhibition on Jiang's privatization theories.
Learning at grass roots
After it was designated a model region in 1978, the village pursued rapid modernization to raise the living standards of farmers, and annual per capita income has reached $918, Yonhap said in a report on Kim's visit.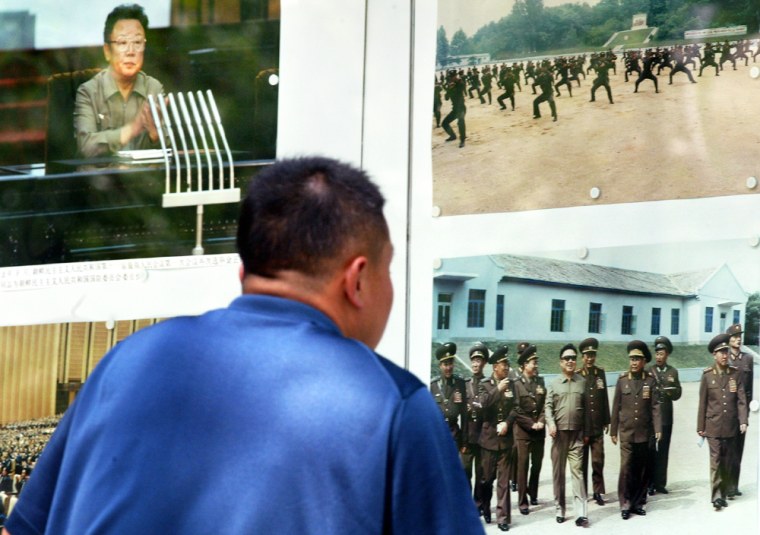 The trip underscored Kim's emphasis on modernizing farming in his isolated and impoverished state, where peasants have suffered famine several times since the mid-1990s and recent market reforms are only starting to show results, analysts say.
Kim joined Jiang for a lunch of Peking duck on Tuesday at the famed Quanjude restaurant near Tiananmen Square, Yonhap said.
Discussions on the North's economy figured prominently, and Kim reportedly asked China's leaders for help with reforms and for aid, South Korean media said.
Kim may stop in the northeastern rust belt city of Shenyang on his way home to discuss economic development and cooperation, South Korea's Chosun Ilbo newspaper said.
"It's known that Kim expressed a strong interest in reforming the North Korean economy," the Chosun Ilbo said, quoting unidentified sources as saying China would give active support.
Premier Wen who directs the booming China economy suggested Kim visit South Korea and "directly witness the winds of capitalism," the South's Munhwa Ilbo newspaper said.
Ending the nuclear crisis is critical to unlocking outside aid to the North Korean economy, including from China, the North's closest friend and host of two rounds of inconclusive six-party talks aimed at breaking the nuclear impasse.
However, Kim may calculate that an arsenal of nuclear weapons is the only way to guarantee the survival of his government, giving him leverage with the United States as he presses for security guarantees to prevent any possible U.S. invasion.
Kim voiced doubts in a meeting with Jiang about whether he would win the security guarantees he wants in return for stopping his nuclear weapons programs, the Munhwa Ilbo said.
Jiang told him the possibility of a U.S. invasion was slim and suggested Kim change his tough line, it said.
Kim voiced Pyongyang's willingness to settle the nuclear crisis at the next round of six-party talks comprising the two Koreas, China, Russia, the United States and Japan, South Korean media said.
In the last round of talks in February, the six agreed to meet again before June and to start working-level talks before that to discuss the dispute. No progress has been reported since.