REDMOND, Wash. — NBC News has acquired full control of msnbc.com and its digital network from Microsoft Corp. and is immediately rebranding the site as NBCNews.com.
Many details of the arrangement remain to be worked out, and financial terms weren't disclosed.
But NBC News President Steve Capus said the site — one of the news industry's earliest and most successful online operations — would become part of NBC News Digital, a new division led by Vivian Schiller, the former president and chief executive of National Public Radio. Schiller joined NBC News as chief digital officer last year.
"Some really talented journalists have passed through the doorway of msnbc.com and taken us to the point where we have something that is an outstanding set of properties, and we value them to such a degree that we decided that we wanted to own them outright," she said.
In the short term, msnbc.com will reflect the homepage of NBCNews.com. Eventually, it will become the address of MSNBC TV, giving MSNBC TV its own dedicated address and ending an arrangement under which the news site shared the MSNBC name with an increasingly commentary-driven channel.
Charlie Tillinghast, the site's president and publisher, said NBC News would benefit from "proper brand alignment between the TV properties and their Web counterparts — NBC News and NBCNews.com, MSNBC cable and msnbc.com and TODAY show and TODAY.com."
"We've had great success combining TV, desktop, mobile and iTV (Internet TV) where the value is greater than the sum of the parts," he said. "That requires both the brand alignment and product integration that is possible only with a wholly owned unit."
For now, visitors should see little difference. "It'll have a new name and a new URL, but everything else will be the same," Tillinghast said.
Capus said that even though the name would change, the site's focus on hard news and original reporting would stay the same. The site has won the highest awards in online journalism, including last year's National Headliner Award for best television-affiliated website.
"There's nothing wrong with what's there," he said. "There's nothing that needs to be fixed."
Instead, the new arrangement "plays to our strengths," he said.
"NBC News has the most diverse portfolio of offerings of any news organization in the country, period," Capus said. "We were in a joint venture in the area with the biggest growth in the news and information space, and we would like to control our own future."
Two-year transition planned
The deal ends 16 years of a 50-50 joint venture between Microsoft and NBCUniversal, which is now majority-owned by Comcast Corp. The arrangement married NBC News' exclusive news and video content with Microsoft's technological expertise.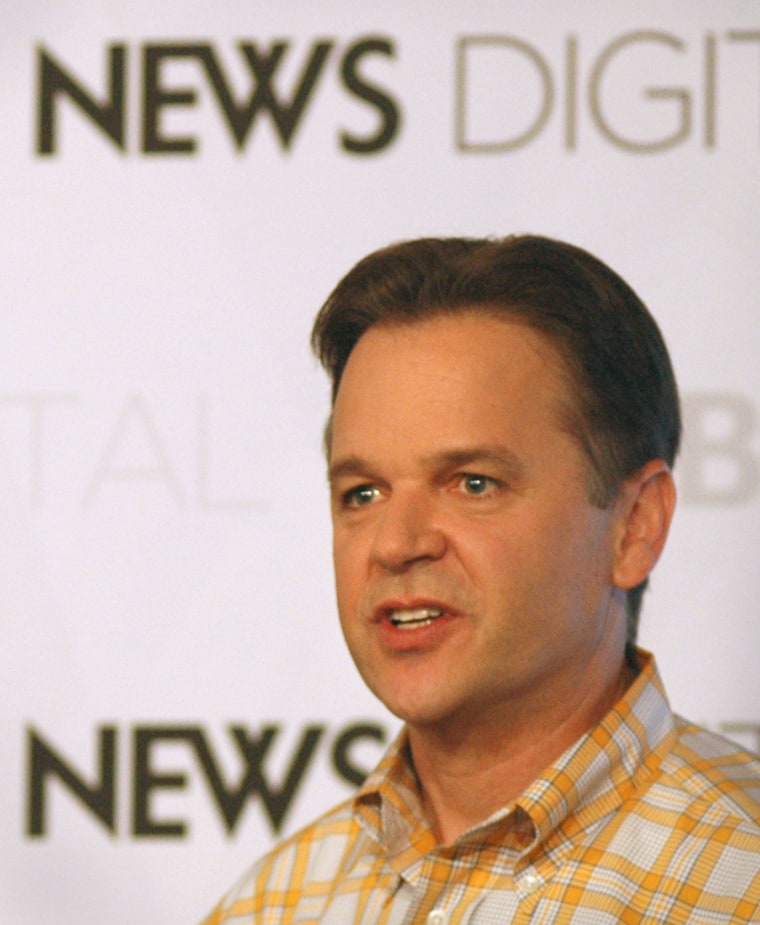 The ties are deep, and untangling them will take at least two years, the network said.
During that time — and perhaps beyond — NBCNews.com will continue to provide news for MSN.com, Microsoft's Web portal, which will contribute traffic back to the network, said Meghan Pianta, a spokeswoman for NBC News.
Microsoft also will continue to sell NBCNews.com's advertising inventory for an undisclosed period, which Capus said should minimize disruption in ad revenue.
For NBC News, the advantages are clear, industry analysts and company executives said. It will control its own digital future through a digital network that was visited by 49.9 million people in June, according to figures from the online analytics company comScore.
In addition, while msnbc.com has never publicly reported revenue figures, independent industry studies have called it the most profitable news website in the United States. NBCUniversal will now collect those profits.
For Microsoft, moving on "allows us to go out and innovate," said Bob Visse, general manager of MSN.com.
Under the joint venture, NBC News was the exclusive news provider for MSN.com, which now will be able to negotiate partnerships with other news organizations in order to appeal to the widest possible audience.
MSN.com has begun hiring for a new news operation — as yet unnamed — that will launch in the fall, he said.
"If you start thinking about what we're going to be doing in Windows 8 and the Bing app and what we're going to be doing ... across the multiple platforms, it makes a lot of sense for Microsoft," Visse said.
"We're talking about using technology and using data to solve information delivery and news delivery in new and innovative ways," he said. "It's really difficult for us to do that when we have an exclusive, single-source relationship with one news provider."
Reorganization modeled on TODAY.com
The biggest job likely will be to merge the Web staff with the NBC News staff. The website's headquarters and about half of its staff are based on Microsoft's campus in the Seattle suburb of Redmond. NBC News' headquarters is in New York.
Jim Brady, president of the Online News Association, is attempting something similar as editor-in-chief of Digital First Media, which manages more than 800 news properties coast to coast, including the San Jose Mercury-News, The Denver Post and The Salt Lake Tribune.
"Putting together disparate staffs is always difficult, because you have long-established practices of doing things," Brady said. "The hard part of merging any news organization is getting them pulling in the right direction."
Capus said he was confident the transition would go smoothly, pointing to the launch of TODAY.com last year as a blueprint for success.
"One of the best brand extensions that's ever been created is TODAY.com," Capus said. "It is the model for how you can integrate businesses like this."
TODAY.com drew 17.4 million unique visitors in June, according to comScore — more than a third of overall traffic to the MSNBC Digital Network.
"The TODAY show believes that (TODAY.com) is its website and promotes it that way, markets it that way and participates with it that way," said Jennifer Sizemore, vice president and editor-in-chief of the digital network.
Sizemore said rebranding msnbc.com as NBCNews.com would give NBC News correspondents, producers and editors a similar sense of ownership.
Separate brands for cable, Web
When msnbc.com launched in 1996, it did so simultaneously with MSNBC TV. In 2005, Microsoft sold its 50 percent stake in the television channel to NBCUniversal but remained half-owner of the website.
In recent years, MSNBC TV has shifted toward political commentary favorable to Democratic and liberal causes, creating a potential clash between that mission and the website's goal of producing a nonpartisan news report.
"No one will dispute that we have a bit of a brand confusion right now with cable as a commentary product and msnbc.com as a comprehensive news site," Sizemore said.
As early as spring 2010, company executives were exploring changing the site's name to avoid the brand confusion. "Both strategies are fine, but naming them the same thing is brand insanity," Tillinghast wrote in a confidential memo that was leaked to The New York Times.
"They're two different beasts," said Hanson Hosein, a former foreign correspondent for NBC News and the Canadian Broadcasting Corp., who runs the digital media program at the University of Washington.
"Cleaning up the brands and the brand confusion makes a lot of sense" for NBC News, Hosein said.
At the same time, it's also the right move for Microsoft, he said.
"Because MSNBC the cable channel has become such a defined voice, (Microsoft executives) may be concerned about the editorial brand of MSNBC bleeding into their brand," he said.
'Digital innovation center' planned for Washington
Capus said Tillinghast would remain head of the renamed operation. Prominent subsidiaries such as BreakingNews.com, the community-driven social site Newsvine.com and the microlocal site EveryBlock.com are unlikely to undergo major changes, he said.
The site will remain based at Microsoft's campus temporarily while NBC News seeks new office space in the Seattle area, Sizemore said.
That could be at the new NBC News Digital Innovation Center, which Schiller said the network plans to establish in the region. The center will serve not only NBC News but possibly other divisions of NBCUniversal, as well, she said.
"We'll continue to have a strong presence in Seattle," Schiller said. "There's true innovation going on there, and we take that seriously."