/ Source: The Associated Press
Ten companies with billions of dollars in U.S. contracts for Iraq reconstruction have paid more than $300 million in penalties since 2000 to resolve allegations of bid rigging, fraud, delivery of faulty military parts and environmental damage.
The United States is paying more than $780 million to one British firm that was convicted of fraud on three federal construction projects and banned from U.S. government work during 2002, according to an Associated Press review of government documents.
A Virginia company convicted of rigging bids for American-funded projects in Egypt also has been awarded Iraq contracts worth hundreds of millions. And a third firm found guilty of environmental violations and bid rigging won U.S. Army approval for a subcontract to clean up an Iraqi harbor.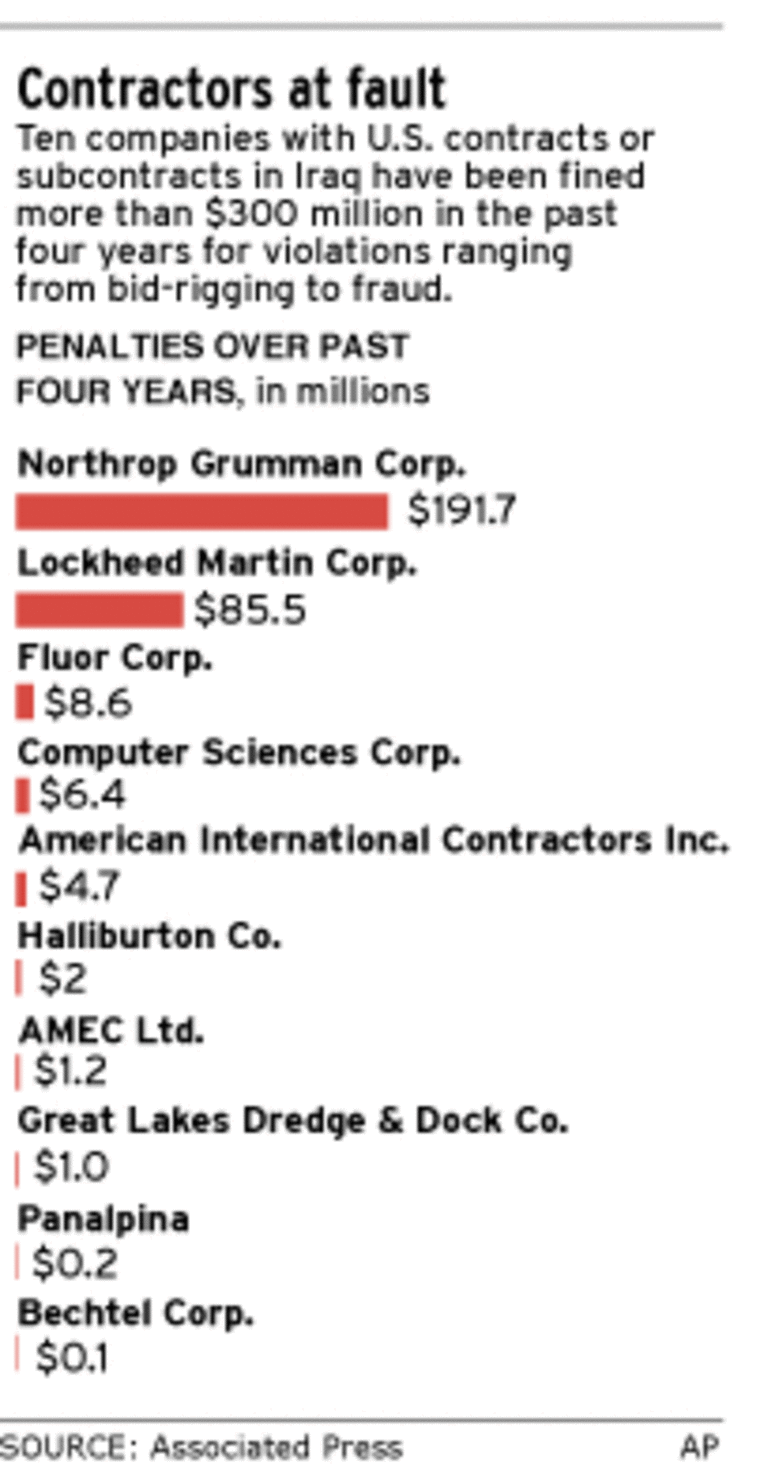 Seven other companies with Iraq reconstruction contracts have agreed to pay financial penalties without admitting wrongdoing. Together, the 10 companies have paid to resolve 30 alleged violations in the past four years. Six paid penalties more than once. But the companies have been awarded $7 billion in Iraq reconstruction contacts.
"We have not made firms pay the price when they screw up," said Peter W. Singer, a former Pentagon official who worked on a task force overseeing military and contract work in the Balkans.
"But it's not the company's fault if it has a dumb client. I'm not blaming the companies, I'm blaming the government," said Singer, now a fellow at the Brookings Institution, a Washington think tank.
Regulation changes make contracts legal
The contracts are legal because the Bush administration repealed regulations put in place by the Clinton administration that would have allowed officials to bar new government work for companies convicted or penalized during the previous three years.
Spokesmen for the companies defended the contracts, saying the penalties often were for violations committed years ago or by subsidiaries unrelated to the ones working in Iraq. Spokeswoman Pamela Blossom said AMEC, the convicted British firm, wrote new company ethics rules after its punishment.
"None of the people involved are with the company any more," said Blossom, whose firm paid $1.2 million in fines for contract fraud on projects in California and Missouri. "We're a much better company now."
Federal regulations require government contractors to have a "satisfactory record of integrity and business ethics." The government can ban unethical companies from getting new contracts through a process called debarment.
Companies often avoid debarment by agreeing to settle misconduct cases and pay penalties without admitting guilt. AMEC was the only one of the 10 punished Iraq contractors ever debarred, and it was banned for just one year.
If a U.S. company is not on the list of banned firms, it can compete for Iraq work, said Army Maj. Gary Tallman, a spokesman for the Iraq contract management office.
"If they pay their fine or do what they have to do to get off a debarment list, they are back in good standing and eligible to compete," Tallman said.
The Clinton administration tightened contracting rules shortly before leaving office in 2001, instructing officials that repeated violations of federal laws would make a company ineligible for new contracts. Officials still would have been able to award contracts to punished companies for overriding reasons such as national security.
The Bush administration suspended the new rules during its first three months in office, and revoked them in December 2001. Business groups had objected to the Clinton changes, arguing it was unfair to deny contracts for reasons unrelated to how well a firm could do the work.
Costly penalties
The two largest government contractors in Iraq, Bechtel Corp. and Halliburton Co., have paid several penalties in the past three years.
Halliburton paid $2 million in 2002 to settle charges it inflated costs on a maintenance contract at now-closed Fort Ord in California. Vice President Dick Cheney's former company did not admit wrongdoing.
Halliburton took in $3.6 billion last year from contracts to serve U.S. troops and rebuild the oil industry in Iraq. Halliburton executives say the company is getting about $1 billion a month for Iraq work this year.
Federal authorities also are investigating whether Halliburton broke the law by using a subsidiary to do business in Iran, whether the company overcharged for work done for the Pentagon in the Balkans and whether it was involved in an alleged $180 million bribery scheme in Nigeria. The company admitted in 2003 that it improperly paid $2.4 million to a Nigerian tax official.
Bechtel paid more than $110,000 to the Environmental Protection Agency and the Energy Department in 2000 and 2001 to settle alleged safety and environmental violations. Bechtel has prime construction contracts in Iraq worth more than $2 billion.
"We were chosen on ability and cost," Bechtel spokesman Howard Menaker said.
Bechtel also hired three subcontractors in Iraq that have been fined more than $86 million in the past four years, though none had been banned from getting new contracts. Bechtel spokesman Francis Canavan said the company would reject subcontractors that are on the no-contracts list.
Other punished contractors include:
- American International Contractors Inc., which paid $4.7 million in fines in 2000 after pleading guilty to bid rigging on a U.S.-funded water project in Egypt. AICI has part of a $325 million contract to rebuild Iraq's transportation systems, has a share of a $500 million contract for emergency construction needs in the Pentagon's Central Command region, which includes Iraq and Afghanistan, and is in a partnership that has a $70 million construction contract at Al-Udeid air base in Qatar, used to support troops in Iraq. An AICI official who spoke to the AP declined to comment or give his name.
- Fluor Corp., which paid $8.5 million to the Defense Department in 2001 to settle charges it improperly billed the government for work benefiting its commercial clients. The company did not admit guilt. Fluor and AMEC created a joint venture that has $1.7 billion in contracts to rebuild Iraq's electricity, water, sewer and trash removal infrastructure.
- Great Lakes Dredge & Dock Co., which paid a $969,000 fine in 2002 for environmental damage in the Florida Keys National Marine Sanctuary. Bechtel awarded the company a subcontract to clear the Iraqi port of Umm Qasr. Great Lakes Dredge & Dock also pleaded guilty to price fixing on Army Corps of Engineers contracts in 1988. A company spokesman did not return messages seeking comment. Bechtel's Canavan said Bechtel told the Corps of Engineers it planned to hire Great Lakes Dredge & Dock when it applied for the contract.
- Northrop Grumman Corp., whose Vinnell Corp. subsidiary was awarded a $48 million contract to train the new Iraqi Army last year. Northrop Grumman has been penalized $191.7 million in the past four years, including $750,000 paid to the Pentagon in 2000 in a case involving allegations of providing faulty replacement parts for the JSTARS airborne surveillance system. A Northrop Grumman spokesman referred questions to the U.S. Army Corps of Engineers, which said it excludes only companies banned by the federal government.