/ Source: The Associated Press
Bare breasts, drunken revelry and almost anything else is tolerated along Bourbon Street, but after dark, the city is saying street preachers are forbidden.
Two weeks ago, a small group of street preachers were arrested during a gay pride festival, perhaps the first people to be booked under a nearly year-old ordinance against aggressive solicitation on Bourbon Street. Those who crafted the law say it's a public safety measure to help with crowd control and discourage con-artists, but the street preachers believe it's a violation of their First Amendment rights.
Specifically, the law bans loitering on Bourbon to spread "any social, political or religious message between the hours of sunset and sunrise."
"Have you ever been on Bourbon Street? There on Bourbon Street, you have nude pictures trying to entice people in. That would be my definition of aggressive solicitation," said street preacher Ruben Israel, a familiar sight on Bourbon during Mardi Gras and the gay Southern Decadence festival held over Labor Day.
So far, the city is standing by the ordinance, which applies only to Bourbon Street — not the entire French Quarter.
"You can literally take one step off of Bourbon Street, and you can do what you do," said City Councilwoman Kristin Gisleson, who authored the October 2011 ordinance.
She said it was created in part to make sure people keep moving along the crowded, raunchy strip. The misdemeanor carries a maximum penalty of six months in jail and a $500 fine.
John Hill, chairman of a gay, lesbian, bisexual and transgendered rights group, said the preachers at Southern Decadence were a nuisance, but they have a right to free speech.
"My gosh, it's certainly a waste of their time. But they certainly have a right to say it," said Hill, the head of Forum For Equality Louisiana.
Not all gays agreed, though. Joe Traigle, who described himself as an equality activist, said those motivated by hate or raising money need to have boundaries.
"I think this is a boundary that is very, very, respectable," said Traigle, a former state revenue secretary.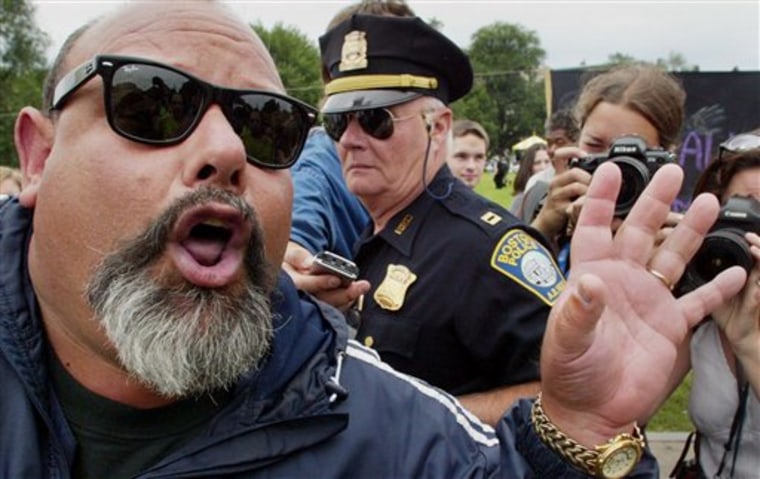 With its rows of music clubs, restaurants, bars and strip clubs, Bourbon is the hub of tourist activity in the French Quarter. It's the seedy side of the city's oldest neighborhood, where more than 350 bars and other places selling alcoholic drinks are crammed into less than 1 square mile.
Bourbon is well known for flesh-flashing, street musicians who perform for tips and bars that trumpet potent drinks. These are acceptable to the tourist trade, but the hassling was not.
Some con-artists were "ticketing" people for "not having enough fun" and asking for a $20 donation, said attorney Robert Waters, owner of Rick's strip club on Bourbon and chairman of the Quarter group that sought the ordinance.
Waters said tourism data shows more than 80 percent of tourists — 7 million out of a 9 million total visitors last year — end up on Bourbon.
"If you're on the street where you have this enormous flow of humanity you have to keep moving and can't stop and create a roadblock," Waters said.
During the first two nights of Southern Decadence, Israel said he and his colleagues preached until midnight. But on Sept. 1, eight preachers were booked with violating the ordinance. A ninth was arrested for resisting an officer and other charges.
Israel said he wasn't arrested because officers picked out only preachers holding signs.
Although the ban was in effect during Mardi Gras, Israel said police weren't enforcing it. He said officers told him it would be that way for Southern Decadence as well.
"They told us the law wasn't going to happen. They said not to do this, not to do that. But they said nothing about this particular law," said Israel, who leads a group, Bible Believers, which he said has 72 chapters in the U.S.
Israel, of Los Angeles, has preached for 30 years at Mardi Gras, the Kentucky Derby and anywhere else he considers the activities sinful. He targets drunkards, homosexuality and Mormons.
His website describes Mardi Gras as "really one massive event for peeping toms with the street functioning as nothing more than a big window for perverts."
Police didn't respond to an AP request for information on whether the Southern Decadence arrests were the first under the ordinance, but the recent arrests have attracted the attention of free speech supporters.
An attorney for street preacher David Johnson, who was not part of Israel's group but often speaks along Bourbon Street, said he had written the City Council, telling them the ordinance was discriminatory.
"We're hoping that they (city officials) do the right thing without litigation. We certainly reminded the city of its constitutional obligations," said lawyer David French, of the Washington-based American Center for Law and Justice.