/ Source: The Associated Press
Chechen President Akhmad Kadyrov was buried Monday in a traditional ceremony in his home village, a day after the Moscow-backed leader was killed by a bomb blast that put in jeopardy Russia's efforts to stabilize the war-ravaged region.
Thousands of mourners flocked to Tsentoroi, the settlement in southeastern Chechnya that is home to the Kadyrov clan. Hundreds of people gathered around pallbearers carrying Kadyrov's body, covered by a white woolen shroud.
The blast ripped through a stadium grandstand where Kadyrov and other dignitaries were sitting during Victory Day celebrations Sunday in the Chechen capital, Grozny, marking the anniversary of the Nazi defeat in World War II.
Six people were killed and 57 wounded, Chechnya's Deputy Minister of Emergency Situations, Akhmed Dzheirkhanov, said.
The Grozny emergency medical center had reported Sunday that 24 people were killed and 46 wounded, but Dzheirkhanov said rescuers from the center had counted some of the wounded as dead. He did not confirm Russian media reports of a seventh death overnight.
Rebels suspected
Nobody claimed responsibility, but suspicion inevitably fell on separatist rebels, who are fighting Russian soldiers as well as Chechen police and security forces employed by the regional government and what was Kadyrov's administration.
Former rebel military leader and Chechen president Aslan Maskhadov condemned the bombing, according to a separatist Web site that quoted him as saying he suspected it was planned by Russian security services "to liquidate the marionette government."
The bombing — which thwarted heavy security in place for official ceremonies nationwide on an important holiday — underlined the difficulties Russia faces in controlling the violence in Chechnya despite a massive troop presence. It was expected to spark new violence between Kadyrov's camp and his enemies, who had long pledged to eliminate him.
The U.N. Security Council and Secretary-General Kofi Annan on Monday denounced the "terrorist attack" and offered condolences to the victims and their families, as well as the Russian government.
"Such acts can never be justified," a council statement said. "They can only delay the return to peace and justice in Chechnya."
Outside help?
The top federal prosecutor in southern Russia, Sergei Fridinsky, suggested that those responsible for the explosion had help from someone with access to the stadium because of the level of security.
"An outsider could not have come and set off an explosive device," he said in televised comments, adding that investigators would question people involved in security for the event.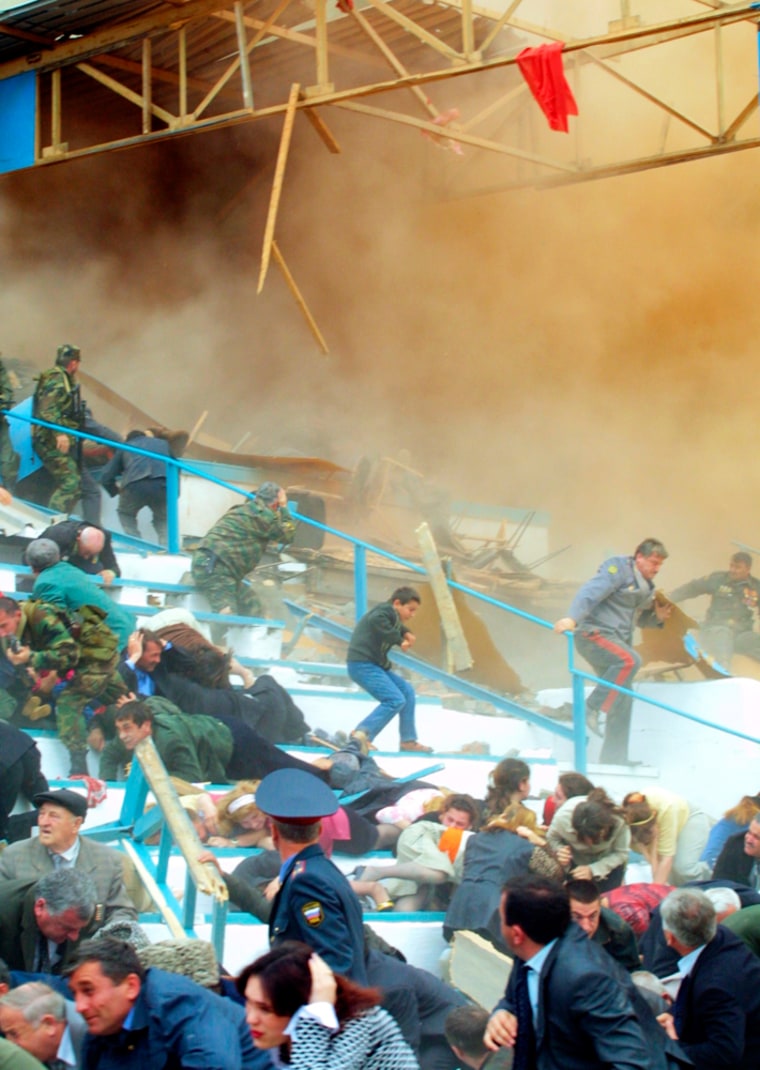 Funerals were held elsewhere for other victims, including Khusein Isayev, the head of Chechnya's State Council and Reuters photographer Adlan Khasanov.
Among the wounded was the top Russian military commander in Chechnya, Col.-Gen. Valery Baranov, who had a leg amputated. Baranov was conscious and in "satisfactory" condition, Russia's regional representative Vladimir Yakovlev said.
Fridinsky said no suspects had been identified or detained. Russian media had reported Sunday that five people were detained.
The blast was caused by an explosive device made out of two artillery shells, one of which did not detonate, and that a third device made of plastic explosives was found nearby, he said.
The bomb, which Fridinsky said was put in place some time ago, was planted under the seats where Kadyrov and other dignitaries were watching the ceremonies.
President broke with rebels
The ITAR-Tass news agency reported that the bomb was planted under the concrete floor of the VIP podium, and that investigators were trying to identify people who had worked on the three-month renovation of the stadium, completed just before the holiday.
Kadyrov, a 52-year-old former separatist who broke with rebels and with sided with the Kremlin in 1999, around the time the second of the two wars that have wracked Chechnya in the past decade began, had survived previous assassination attempts.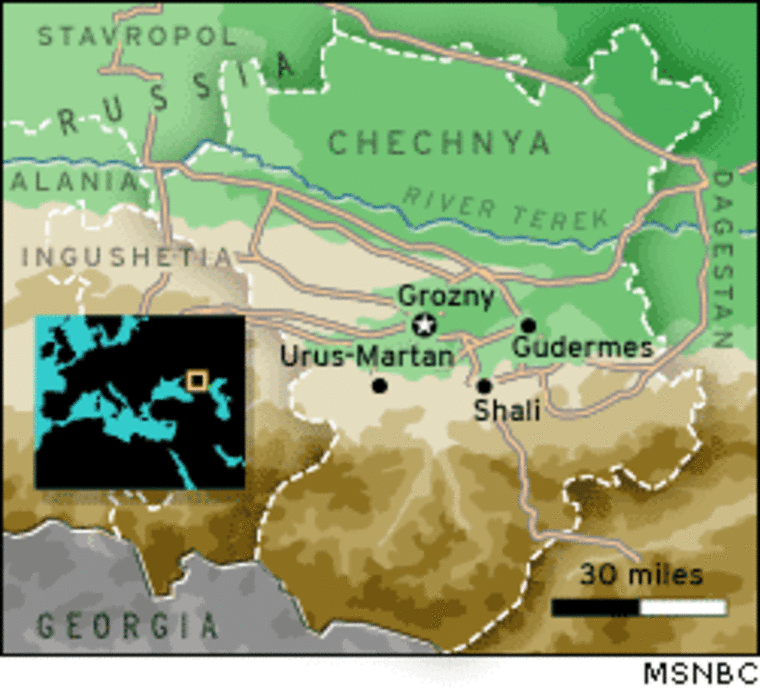 Previous major attacks in Chechnya have been followed by massive operations to find the perpetrators, with troops and security forces carrying out intrusive searches and detaining scores of people.
Kadyrov's security service, run by his younger son Ramzan, has been accused of being behind civilian disappearances and killings. Both Kadyrovs denied the accusations.
Chechen Prime Minister Sergei Abramov took over as acting president and Russian news agencies reported Monday that he appointed Ramzan Kadyrov as first deputy chairman of the government. News reports said officials promised a new presidential election in the region within four months.
But the death of Kadyrov — the key figure in Putin's efforts to wrest control over Chechnya from the rebels and lend legitimacy to Russia's rule — clouded the future.
"This will lead to quite serious changes in the system of rule in the republic, because the system that was formed was built in accordance with (Kadyrov's) methods of controlling the situation," said Shamil Beno, a former separatist Chechen official who now works as human rights activist in Moscow, said on Echo of Moscow radio.
Kadyrov — who was distrusted by many Chechens — was appointed by the Kremlin as Chechnya's administrator in 2000 and elected president last October in a vote widely criticized as fraudulent.
While Kadyrov and the Kremlin depended on one another, they had a sometimes prickly relationship: Kadyrov blamed Russian forces for violence against civilians and government auditors accused his administration of misappropriating funds earmarked for reconstruction.