/ Source: The Associated Press
More than 300 Iraqi detainees, some weeping and waving to friends, were released from the Abu Ghraib prison on Friday, a day after Defense Secretary Donald H. Rumsfeld made a surprise visit and insisted the Pentagon did not try to cover up abuses there.
One bus carrying 40 prisoners left the jail and drove to an American military base in west Baghdad, where tribal leaders awaited some of them. One by one, prisoners got out, kneeled, and prayed beside the bus. Others left on the same bus, bound for other Baghdad neighborhoods.
Hundreds of relatives of those detained had stood outside the prison since early morning, waiting for their release. U.S. Marines blocked off both lanes of a highway as the first bus left the prison compound. At least five other buses left the prison.
After spending over nine months in the prison, Hussein Sami did not complain of physical abuse. However, he said he and other prisoners were under psychological pressure, with guards repeatedly shouting and insulting inmates. The prison was also unsafe because Iraqi insurgents sometimes targeted it with mortar rounds.
Sami arrived at his house in the Dorah neighborhood of Baghdad, and family members slaughtered a sheep in celebration. He claimed he was never told why he was arrested. He left his father and brother behind at Abu Ghraib, Sami said.
Another former prisoner, Mohammed al-Musawi, complained that he was humiliated by guards at least once during his 11-month incarceration.
"They forced me to take all my clothes off and female prison guards were whispering and laughing at me, " Musawi said while sitting in a room with tribal leaders. He was arrested in Baghdad's Huriyah neighborhood, for allegedly taking part in an attack on a U.S. tank.
Periodic releases
Both men spoke inside the U.S. military's Camp Thunder in west Baghdad after a short bus journey from Abu Ghraib.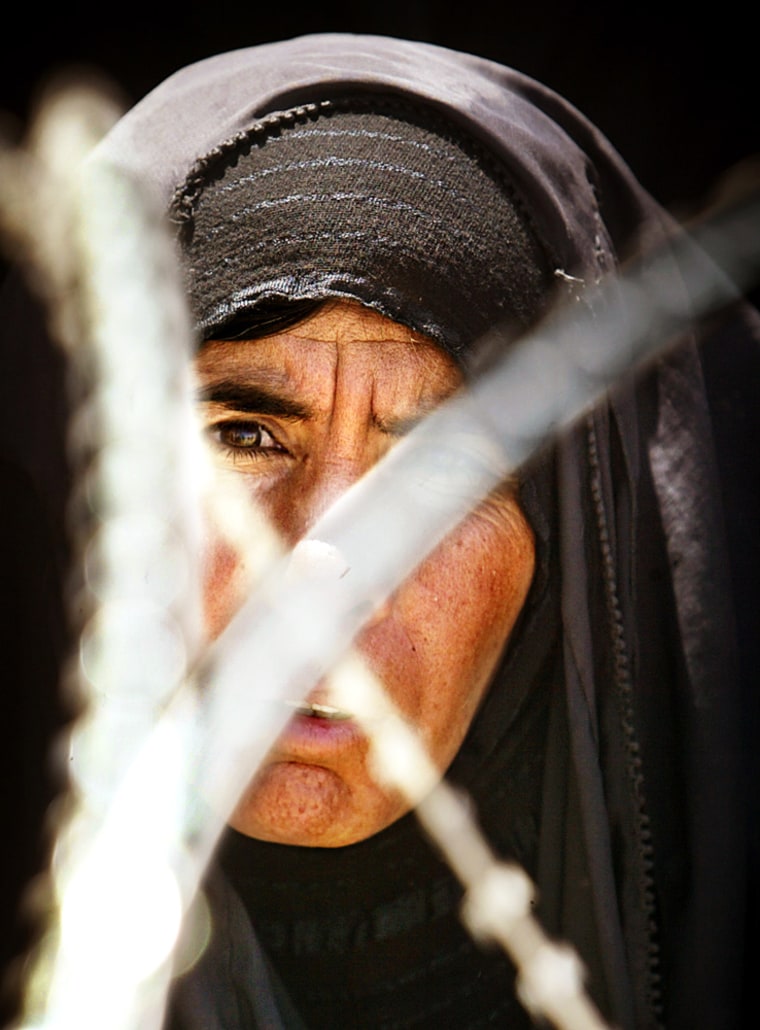 The coalition periodically releases prisoners from the notorious Saddam-era jail on the western outskirts of Baghdad where abuses of prisoners by American soldiers have erupted into a major scandal and damaged the credibility of the U.S.-led coalition governing Iraq. Three military police guards face court-martial.
During his visit Thursday, Rumsfeld encouraged prison commander Maj. Gen. Geoffrey Miller to thin out the prisoner population as quickly as possible. Miller said 300 to 400 detainees per week are either released outright or transferred to the Iraqi justice system.
Rumsfeld called the controversy surrounding the prison a "body blow for all of us" and said the people who did wrong will be punished.
The more than 3,000 Iraqis at Abu Ghraib are "security detainees," or people suspected of roles in insurgent attacks on coalition forces, Miller said.
All prisoners under U.S. control will have been moved out of the old prison building by the end of the month, and a new complex of outdoor camps will be built to provide better living conditions.