Fidel Castro marched hundreds of thousands of Cubans past the American diplomatic mission on Friday to denounce new "cruel and brutal" measures aimed at reducing the flow of dollars to his cash-strapped regime.
The new steps ordered by President Bush last week included restrictions on money transfers and family visits, increased efforts to transmit anti-Castro television to Cuba and appointment of a coordinator to plan a transaction from socialism to capitalism.
Speaking before a massive sea of civilians, students and soldiers, Castro was angry and defiant — repeating his warning that the nation stood ready to defend its sovereignty with "every last drop of blood."
Castro, who is convinced American strategy to remove him from power could include a military component, also sent a personal message to Bush, "My only regret is that I won't be able to see your face because you will be thousands of miles away while I will be in the front lines fighting alongside my people."
New definition of the 'Cuban family' particularly irksome
Most Cubans ignored the regime-change elements to Bush's proposals. Instead, they worried about how it will affect their daily lives.
One protester, Liliana Rodriguez, a 26-year old sociologist who works two jobs and attends graduate school, focused on "a disturbing disregard" for the Cuban family.
"Who is Bush to decide who belongs to my family?" said Rodriguez in a reference to restrictions on family travel back to the island.
Under the new plan, Cuban Americans would only be allowed to visit and send financial aid to immediate relatives -- eliminating aunts, uncles, nieces, nephews and cousins from the family tree. 
In addition, Cuban Americans will be restricted to one 14-day visit every three years. Each traveler must obtain written permission from the U.S. Treasury Department before making plane reservations.
Once here, the visitor who spends more than can $50 a day on room, meals and transport will be breaking the law. The current daily allowance is $164.
Coincidentally, this comes at a time when Havana, capitulating to pressure from Cubans living abroad, finally agreed to loosen its own visa controls and allow people with valid Cuban passports to travel home without requesting specific permission.
Rodriguez, who works with parents of disabled children and teaches sociology at a community college, is convinced the measures will further splinter the many Cuban families already having to cope with separation and exile.
A Cuban-American colleague, Nelson Valdes, who teaches sociology at the University of New Mexico, shared her indignation.
"What constitutes a 'family' is something no government can regulate," he said. "It is outrageous that a conservative president that claims to support family values dares to say that my uncles, my cousins, my nieces are not my family and cannot be visited…the issue is no longer political. It is personal!"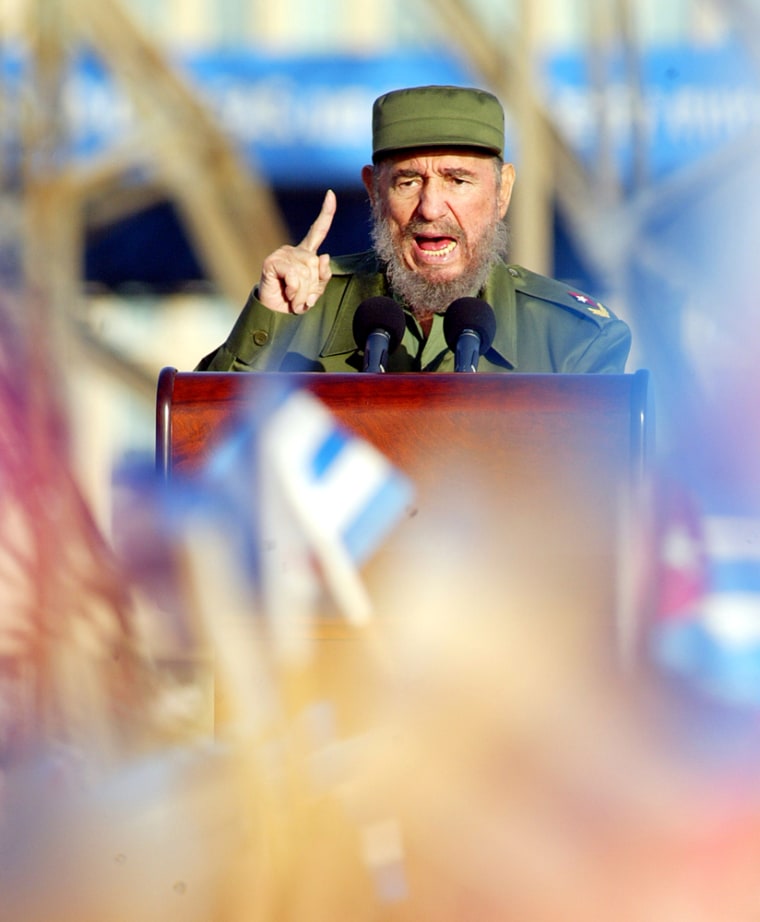 Helping the opposition
While the new measures may force Cubans to further tighten their belts, Bush also set aside $59 million to help the opposition hasten Castro's end.
Part of that fund aims to support family members of jailed dissidents, launch information campaigns in third countries to curb international tourism to the Caribbean island, and finance democracy-building efforts.
Up to $18 million will cover the cost of deploying U.S. military planes to fly near Cuban airspace in order to bombard the island with anti- Castro radio and television propaganda.
The high-tech flights will aim to bypass Cuba's effective jamming devices, located on the roof of the Havana Libre Hotel, the former Hilton.

That military aspect has people on edge, fearing tensions could easily escalate.
Victor Hugo Mendoza, who has spent 30 years working as a street cleaner, wondered, "Why the provocation? What happens if Fidel sends our planes up too? What happens if Fidel decides to retaliate and knock Miami radio off the air?"
Even Castro's domestic critics think the plan misses its mark.
Elizardo Sanchez, who monitors Cuban prison abuses after spending 8 years himself behind bars, described the measures as "well intentioned but counter-productive."
Oswaldo Payá, initiator of a daring petition drive calling for a national referendum, politely told the White House to butt out, saying that neither the U.S. government or Cubans living abroad would play a role in any transition.
Election- year politics?
There also have been criticism of the proposals in the United States.
Senator Max Baucus (D-Montana) said the administration harbors an "absurd and increasingly bizarre obsession with Cuba," while Robert Menéndez, a Democrat who represents New Jersey exiles in the House of Representatives, blasted Bush for "playing election-year politics with the lives of the Cuban people."
The lawmaker suggested Bush was pandering to South Florida's 450,000 registered Cuban-American voters, the majority of whom support strengthened sanctions.
Even a group of Havana high school students, who boarded buses at 2 a.m. bus Friday to ensure their place at the front of Castro's march, believed election-year politics was the reason for the new measures.
"It's all about November and who gets the Miami vote," said high school junior Yaimara Gonzalez, who also expressed disdain for John Kerry, the Democratic Party candidate. "Kerry will screw us too if he thinks it will get him elected."