/ Source: Arthur Frommer's Budget Travel
"'Tis a different place altogether than when I was a young lad, so it is." My taxi driver was talking about how his "dear auld Dublin" had gone from an unassuming, scruffy town to a cosmopolitan city of juice bars, fusion restaurants, and Mercedes-Benz dealerships. In the heady '90s, Ireland was the fastest-growing economy in the European Union—today, it's the E.U.'s second most expensive country after Finland—and Dublin was the epicenter of the boom. Like so much in Irish culture, eating out was transformed.
Temple Bar, a cobbled enclave of boutiques and pubs next to the River Liffey, is often described as Dublin's Left Bank. It's also Dublin's most overpriced place to eat. One blessed exception is Café Gertrude, with its buttercup-yellow walls, pine floorboards, and folk guitar playing on the stereo. The tables, all 14 of them, turn over briskly, and the menu is simple stuff: potato cakes grilled with herbs and onions and topped with bacon, smoked cheddar cheese, and salsa; and chicken breast focaccia sandwiches with roasted sweet peppers and mozzarella, grilled until gloppy. Desserts, like the hot apple-and-cinnamon crumble, are deservedly popular.
Since opening last summer, the Market Bar has been hopping every night. The premises are stunning: a former sausage factory with 100-foot warehouse ceilings, located a block from the Asian Market. The menu is tapas, so figure on ordering three small dishes (about $7 each) for two people. Options include zarzuela (Pernod-infused fish stew with mussels, calamari, and salmon);  escabeche of mackerel (the fish is pickled and served in a tomato sauce); and chorizo stew. 
Steps from Trinity College is an unpretentious find on a street otherwise known for its bookstores. In the evenings, Caifé Trí-D (3-D Café) is a gathering place for trendy young Dubs in search of some Gaelic conversation. Ceapairí and fillteáin (sandwiches and wraps) come in winning mixtures, such as sharp Dubliner cheese and tomato relish. Try Brie and cranberry sauce on toasted brown bread, and you'll be dying to re-create it in your own kitchen. As always, the little things make a huge difference, like how the soups come with a slab of chunky, homemade soda bread, and how a $3.25 order of iced tea buys an ice cream parlor–style goblet with a silver teapot and enough tea for two refills. If you can't express gratitude Irish style—"Go raibh maith agat!"—then "Thanks" will do nicely.
James Joyce made Davy Byrnes, off busy Grafton Street, a haunt of Ulysses hero Leopold Bloom (the novel describes it as a "moral pub" and a "nice quiet bar"). Locals—joined by literary tourists—flock here for food that's a cut above the rest. Start with a bowl of hearty soup (perhaps tomato and basil or seafood chowder). Although seafood—oysters, prawns, cod, salmon—is a specialty, the traditional fare is as good as any Irish granny's. Try the sautéed lamb's liver and bacon or the classic beef-and-mushroom pie with mashed spuds, cauliflower, and cabbage.
The Vaults is perhaps the most dramatic dining space in town. In the original storage underbelly of Dublin's largest train station, the restaurant is a cavernous maze of stone archways with black leather chairs and sofas clustered around dark-wood tables. There are alcoves everywhere, making the enormity feel quite private. Even the portions of finger foods are big: About two dozen spicy chicken wings are $9. More sophisticated dishes include a sublime duck confit floating in a pool of Madeira jus with garlic creamed potatoes.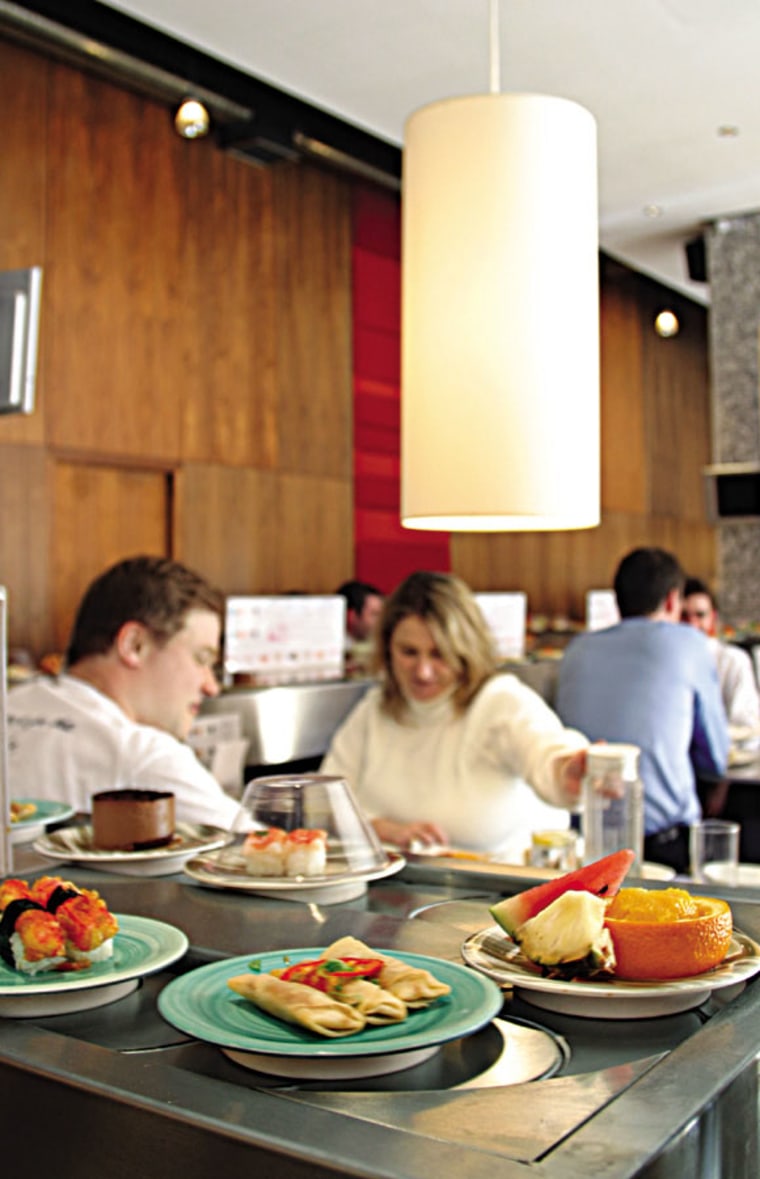 At Aya @ Brown Thomas, an annex to Ireland's poshest department store, take a seat at the country's first conveyor-belt sushi bar. Chefs prepare dishes in the open while you choose from a neverending procession of raw fish, salads with carrot-and-ginger dressing, and spring rolls. Prices dive during "Happy Time"—generally any time other than 7 p.m. to 9 p.m.—when you can have five plates and as much green tea as you like for $18.
Situated against the backdrop of a skylit Georgian courtyard at the city's most elegant mall, Mimo exemplifies contemporary chic with silver pendant lights, wooden bars buffed to a sheen, and enormous vases of orchids. Sink into an espresso-colored leather banquette and order the salad of marinated mushrooms piled atop crisp green beans and drizzled with lemon-and-thyme dressing. It's also hard to resist the open-faced goat cheese crostini sandwich with wild honey, caramelized figs, and beets.
With its ocher walls, plank floors, and little black tables, Boulevard Café, although in the center of Dublin, could have been plucked out of the Mediterranean. The two-course set lunch is the best value at $15, with coffee or tea. Starters include a grilled tian of plum tomato and goat cheese on a tomato-bread crouton with salsa verde; among the entrées is pan-fried loin of pork with mashed potatoes and sautéed mushrooms in a light rosemary jus. Servers know when to appear with what you need—"Parmesan shavings?"—and when to leave you alone.
Fitzers, at the free National Gallery, is self-serve, but it's no humdrum cafeteria. Under a soaring atrium, it's cool and minimalist, with milk-colored stone floors and blond-wood furnishings. The penne with smoked bacon, mushrooms, and red peppers arrives in a silky red cream sauce. Tasteful touches—weighty silverware, dollops of hand-whipped cream in your coffee—deliver the most upscale experience you'll have without a waiter.
Dublin restaurants
Café Gertrude: 3-4 Bedford Row, 011-353/1-677-9043, entrées from $15.50
The Market Bar: Fade St., 011-353/1-613-9094, tapas plates from $7
Caifé Trí-D: 3 Dawson St., 011-353/1-474-1054, closed Sundays, soups and sandwiches under $6
Davy Byrnes: 21 Duke St., 011-353/1-677-5217, entrées from $9
The Vaults: Connolly Station, IFSC Centre exit, 011-353/1-605-4700, entrées from $9
Aya @ Brown Thomas: 49-52 Clarendon St., 011-353/1-677-1544
Mimo: Powers-court Townhouse Centre, S. Williams St., 011-353/1-674-6386, entrées $5 to $12.50
Boulevard Café: 27 Exchequer St., 011-353/1-679-2131, closed Sundays
Fitzers At the National Gallery: Merrion Square W., Clare St. entrance, 011-353/1-661-5133, entrées $12 to $13