As America's forests and public lands burn this year, the federal government likely will spend whatever it takes to fight the wildfires. The policy sounds good, but watchdog groups and critics of the Forest Service's "suppress at all costs" mentality toward wildfires say that because firefighting is chronically underfunded, money is siphoned from other agencies, hurting efforts to prevent wildfires in the first place.
"The federal land agencies, and especially the Forest Service, have a blank check to put out fires and thus have no reason to control their costs," says Randal O'Toole of the Thoreau Institute in a report called Reforming the Fire Service. 
Andy Stahl, executive director of Forest Service Employees for Environmental Ethics, agrees with this assessment. "This came about when Congress told the Forest Service that they could spend any part of their budget, regardless of what the money was originally supposed to be spent on, to fight fires" while at the same time promising to "faithfully" repay any money borrowed from other programs, Stahl said.
A government report commissioned by lawmakers concerned about the practice backs up such assertions. "To pay for wildfire suppression when appropriated funds for suppression are insufficient, the Forest Service and [Department of the] Interior transfer funds from other programs within their respective agencies as permitted by law," says the General Accounting Office, released earlier this month.
2002 a costly year
In the past five years the Forest Service and Interior Department have transferred $2.7 billion from other projects to cover costs associated with suppressing wildfires, the GAO report says.  Nearly half that total was transferred in 2002 alone. The cost of fighting wildfires has exceeded the Forest Service's budget nearly every year since 1990, the report says.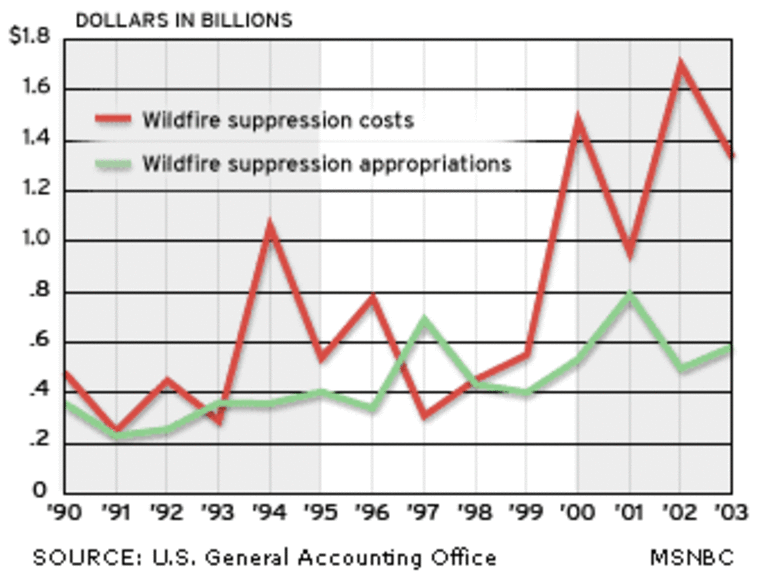 This legal shell-game has crippled some of the very projects meant to forestall catastrophic fires by siphoning off money intended for things such forest thinning and equipment purchases. And in the end, only 80 percent of the overall amount taken from other agencies is actually repaid, according to the report.
"Transferring funds for wildfire suppression resulted in canceled and delayed projects, strained relationships with state and local agency partners, and difficulties in managing programs," the report says.  "These impacts affected numerous activities including fuels reduction (the clearing of dead wood and brush in forests) and land acquisition."
In addition, money earmarked for grants to help at-risk communities develop better fire prevention strategies were delayed, cut back or eliminated.
The policy of fighting wildfires at any cost is one born of a "cultural fear" of fire, said Stahl, and dates to the so-called "big blow up" of 1910 when 3 million acres in Idaho, Montana and Washington burned without intervention, killing 85 people and sending up smoke clouds that darkened the skies all the way to upstate New York.  
In the aftermath of that conflagration, Congress mandated that all wildfires be put out by 10 a.m. the day after being reported — something rarely, if ever, achieved these days — at that federal firefighting agencies be provided a blank check to pay for the efforts.
The cycle remains unbroken
The GAO report "confirms and illustrates what we suspected: We are robbing Peter to pay Paul," said Sen. Larry Craig, R-Id., one of many Western lawmakers that asked the GAO to look into financial practices. "We must enact a funding mechanism that allows the agencies to manage our lands."
Sen. Ron Wyden, D-Ore., who also requested the GAO report, said that year after year Congress fights for "adequate resources for fighting and preventing wildfires," yet time and time again "those resources are cut out of the budget."  Congress has to "fully fund both wildfire prevention and suppression efforts," Wyden said.
Dale Bosworth, chief of the Forest Service, wrote in an official response to the GAO report, "The Forest Service agrees that improving fire suppression cost estimates would be beneficial in terms of both budget planning and reducing the impacts on other important Agency programs. However, ultimately the best strategy for reducing the impacts on other programs is to reduce fire suppression costs through continued aggressive fuel reduction activities and maintaining a strong initial attack force."
Bosworth also noted that although the GAO report "adequately portrays" the negative impacts of funding transfers, it is important to note that the consequences of not borrowing money from other agencies would mean a host of other negative and potentially lethal results, including more acres burned and loss of life.
Solutions elusive?
But there's apparently no end in sight to this practice.  An Agriculture Department official recently told Congress that the Forest Service would continue to borrow from other projects to pay for firefighting because there was no acceptable alternative.
"I don't disagree" that a better way of funding wildfire suppression is needed, said Mark Rey, undersecretary of natural resources at the Agriculture Department, during a May congressional hearing.  "But it's the only avenue available."
But there are signs that Congress is at least tinkering with the current funding process. As of June, the fiscal year 2005 appropriations bill for the Interior Department includes $500 million in supplemental firefighting funds that will be available during the summer wildfire season. The money can be used on an "as needed" basis to supplement the $790 million already in the government's fire fighting fund.
The additional money "represents a tremendous victory for the West," Wyden said.  "We simply cannot continue the practice of looting non-firefighting accounts to fight wildfires each year."
Keith Ashdown, vice president of Policy for Taxpayers for Common Sense, a Washington-based budget watchdog organization, said the $500 million in supplemental spending is a welcome move away from blank check emergency spending practices that Ashdown says have no accountability.
"We know we're going to spend at least a $1.5 billion every year [fighting fires].  I say put it all in the budget and increase their budget," Ashdown said, chuckling at the irony of budget hawk advocating a spending increase for a federal agency.  "But at the same time, the Forest Service has to be accountable for that," he said.
Ashdown also said he supports putting the money in one big budget and letting that money "fight with other resources within the Forest Service so we can have an apples to apples comparison for what are the most important priorities in terms of managing and being stewards of 192 million acres of national forested lands."
Ten-year averaging
Part of the budgeting problem is that the Agriculture Department, which includes the Forest Service, is trying to make these agencies live with a fixed budget for fire suppression based on a forecasting model that uses a 10-year average to estimate the amount of funds needed in the coming year.
"We figure each year into the average … and budget for the average," said Steve Dewhurst, an Agriculture Department budget expert, during a news conference explaining the department's spending proposals. "Everybody knows if we get a bigger fire season, we're going to have to do something about more money, but for the purposes of the budget, we always budget the average," Dewhurst said.
The GAO report recommends the creation of an "emergency reserve account that is government-wide or agency specific."  This would be a recurring fund and not something Congress would have to negotiate each year. 
Lawmakers from both parties have petitioned the White House to bolster its annual fire suppression budget rather than rely on the borrow-and-payback scheme criticized by the GAO.
National planning
In 2000 some 6.5 million acres were consumed by wildfire. The fires included the dramatic Cerro Grande blaze that threatened to destroy the Los Alamos National Laboratory. Out of the lessons learned that year grew the National Fire Plan, a 10-year strategy described on the plan's Web site as a "long-term investment that will help protect communities and natural resources, and most importantly, the lives of firefighters and the public."
A report on the progress of the National Fire Plan done by the Forest Trust, non-partisan, non-profit group, noted that "community planning to reduce fire threats and firescaping around individual properties are the most effective fire-risk reduction strategies, yet less than 5 percent of the Fire Plan funds are spent on these activities." 
Stahl, of Forest Service Employees for Environmental Ethics, said the federal government is frustrating local efforts at fire prevention, fire awareness, "by taking their sparse tax dollars and spending them on federal lands and very, very few homes lie within a 100 feet of national forest boundaries," Stahl.  "Ninety-plus percent of the battle for home protection has to be fought on private lands, but we're spending over 90 percent of the federal dollars on federal lands.  We're not buying anything for homes and communities," Stahl said.