/ Source: The Associated Press
Elections for the European Union's parliament were marked by widespread apathy and protest votes as citizens of the 25 EU nations punished their governments for everything from high unemployment to involvement in Iraq.
Across the continent, voters voiced discontent by casting ballots for opposition and fringe parties. But most of the 350 million EU citizens eligible to vote didn't bother to: turnout was a record low of 45.5 percent.
Of the 10 new members that joined the EU in May, the eight from the former Soviet bloc showed particularly little appetite for the vote, with the worst turnout — a mere 20 percent — in Slovakia. The biggest newcomer by far, Poland, was hardly better at 21 percent.
European Parliament spokesman David Harley called it "a disappointing and indeed pathetically low turnout."
German Foreign Minister Joschka Fischer, arriving at a meeting of his EU counterparts in Luxembourg, said he too was disappointed, "but it's the way it is."
Iraq backlash
Voters punished leaders in Britain, the Netherlands, and to some degree Italy for getting involved in Iraq — but also turned their ire on German Chancellor Gerhard Schroeder and French President Jacques Chirac, Europe's leading opponents of the war.
The outcome highlighted anxieties about the expanding union, with anti-EU parties gaining ground in Britain, Sweden, and even the Czech Republic.
Overall, center-right parties won, with the European People's Party taking 274 seats in the 732-member EU assembly and retaining its plurality.
The center-left European Socialist Party, which includes lawmakers from Blair's beleaguered Labour Party and Schroeder's Social Democrats, finished second with 201 seats. The third-largest group in the EU assembly was the Liberal Democrats with 64.
The Greens won 42 seats, while the left-leaning and communist European United Left group won 36 seats.
Anti-EU parties made a major impact, riding a wave of high voter discontent over how the European Union is run: Britain's UK Independence Party took 12 seats — four times as many as in the last elections in 1999. Euroskeptics also picked up seats in the Netherlands, Denmark, Sweden and elsewhere.
A parliament divided
The election result means that the European Parliament will be more polarized than ever, with a growing number of anti-EU parties, including far-right anti-immigrant members pitted against the traditional pro-European parties on sensitive issues like approval of a draft EU constitution.
"This is a wake-up call," said outgoing European Parliament President Pat Cox, who warned EU leaders they had to do more to tell their electorates that the EU is important and relevant.
"Europe has been too absent in too many campaigns," Cox told reporters. "States need to engage, particularly in central and eastern Europe, in voter education of EU institutions."
Blair's Labour Party won 17 seats to 25 for the main opposition Conservatives and 11 for the Liberal Democrats, although Harley noted seats from Scotland and Northern Ireland have yet to be allocated.
Labour's poor performance in this vote and in the local council elections held concurrently — the party came in an unprecedented third — was widely attributed to popular dismay over Blair's support for President Bush on Iraq.
Iraq was also an issue in Italy, where Berlusconi's party lost around 4 percentage points, but his center-right ruling coalition appeared to hold its own, projections showed early Monday. Turnout was a robust 73.5 percent in Italy, where Berlusconi has faced strong opposition for his decision to send some 3,000 troops to help Iraq's reconstruction.
In many countries, voters used the election as a report card for their national governments.
German, French economies at issue
Among those who fared poorly were the ruling parties in Germany and France, where voters protested rising unemployment, sluggish economies and painful reforms to trim budget deficits.
Schroeder's party slumped to its worst nationwide performance in post-World War II Germany, taking just 21.5 percent, compared to 30.7 percent in the last European election five years ago, according to official results. The opposition Christian Democrats won 44.5 percent, down slightly from 48.7 percent in 1999.
But Schroeder's junior coalition partner, the Greens party, made strong gains, rising to 11.9 percent from 6.4 percent in 1999 and winning 13 seats in the European Parliament, compared with seven last time.
Fischer, a member of the Greens, said the problem with Schroeder's party was that it ran weak candidates.
"We put people on the electoral lists who were able to mobilize voters, and I think the voters appreciated that," he said.
Germany has the largest contingent at the EU assembly, with 99 seats.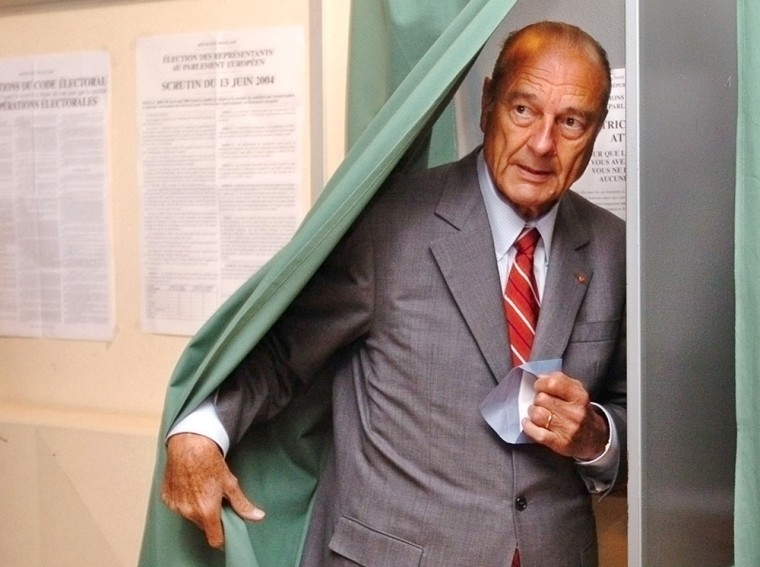 In France, Chirac's Union for the Popular Movement was projected to win about 16.5 percent of the vote, a far second behind the Socialist Party, with a projected 30 percent, according to Sofres polling firm.
Former Socialist Prime Minister Laurent Fabius called the vote a "considerable setback" for the current premier, Jean-Pierre Raffarin, who came under pressure to resign after the regional elections.
Other domestic governments also fared poorly, including those in Austria, Denmark and Poland, where two anti-EU parties combined for 30 percent of the vote.
In Sweden the June List, an EU-opposition party created specifically for the election, garnered nearly 15 percent of the votes in an exit poll by Swedish public television broadcaster SVT, though the governing Social Democrats didn't lose any seats.
The Greek conservatives were one of the few ruling parties to emerge unscathed after Premier Costas Caramanlis scored a significant win, polls showed. In Spain, the ruling Socialists won 43.3 percent, edging the conservatives who took 41.3 percent — an apparent vindication of the Socialists' opposition to Spain's role in the Iraq war.