Fifteen automotive engineering teams from U.S. and Canadian universities challenged each other this week on Ford's Michigan proving ground, competing not for speed but to see who could build the cleanest, highest-mileage sport utility vehicle.
Sponsored by the U.S. Energy Department, Ford and others, the third annual FutureTruck competition gave top honors to the University of Wisconsin-Madison team for re-engineering a 2002 Ford Explorer so that it gets 33 percent higher mileage and a 50 percent reduction in emissions.
Like many of the competitors, the Wisconsin team added an electric motor to create a gasoline-electric hybrid system. It also added an advanced catalyst system capable of extremely low emissions.
The top team in the previous two years as well, the Wisconsin team this year also showed the greatest reduction in emissions of carbon dioxide, a gas that many scientists tied to global warming.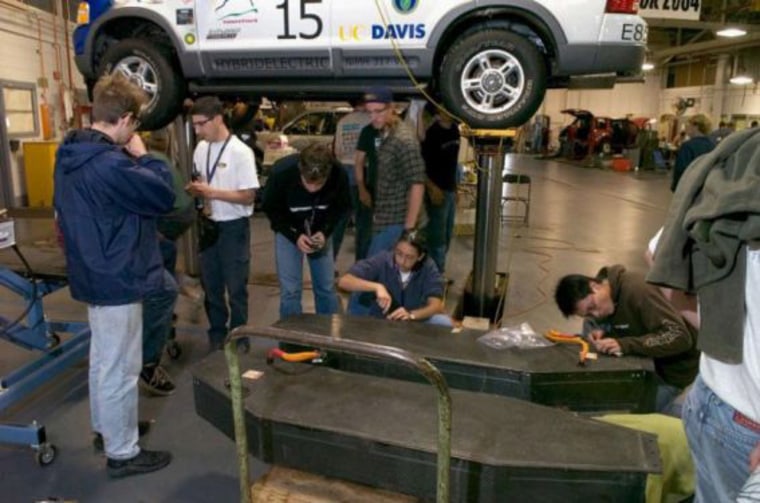 To get to the competition, all teams had to re-engineer an SUV to improve fuel economy by at least 25 percent and to reduce emissions while maintaining the vehicle's performance, utility and safety.
Ford didn't promise to adopt any of the students' technologies for its vehicles, but said the students represent the industry engineers of tomorrow.
"This competition helps develop tomorrow's engineers by giving students a unique hands-on opportunity to work with and explore clean, fuel-efficient technologies, Al Kammerer, Ford's executive director for SUVs, said in a statement. "These are the engineers who will lead the automotive industry in the 21st century."
Background on the competition is online at www.futuretruck.org.