Fitness buff Dr. Mark Hawkins bought his first iPod a year ago when the clunky CD player he used in morning workouts started giving Robert Plant, the singer of Led Zeppelin's blues-y "Babe I'm Gonna Leave You" a bad stutter.
But the initial excitement of owning Apple Computer Inc.'s popular digital music player diminished somewhat the first time Hawkins went jogging with it near his home in Hickory, North Carolina.
"I was pretty upset that it started to skip," said the 41-year-old general practitioner, who was drawn to the shiny, deck-of-cards-sized player as much for its design as by its promise of being able to do everything from "headspins to head-banging" as the ad suggests.
"It's not like I'm using it for something they don't expect you to use it for," Hawkins said.
While Apple maintains that skipping iPods are indeed rare, that hasn't stopped competing electronics makers' efforts to create a new market in lower or comparably priced skip-proof alternatives.
Royal Philips Electronics, Samsung Electronics, iRiver and Creative Technology are all aiming to serve music lovers on the go.
To lure active users, technology companies are adding to their lineup players built using flash memory and with no moving parts, making them less prone to skipping.
Analysts say it's a trade-off because flash memory players can't store as much music as their higher priced, hard-drive-based cousins because flash memory is actually more expensive on a price per capacity basis.
It comes down to the question: "Do you want something that fits on your arm and you don't even know it's there?" asks Richard Doherty, director of The Envisioneering Group in Seaford, New York. "Or, do you want something that has the world stored inside it?"
The iPod, and other devices like Creative Technology's Nomad line of players, store songs on hard drives that are constructed with moving parts. These parts may be prone to skipping, especially with prolonged periods of shaking.
"A hard-drive player will always be a hard-drive player, it has moving parts and there is still the possibility of it skipping," said Lisa O'Malley, senior brand manager for portable media players at Creative.
Recognizing the limitations of hard-drive based players, Creative also has developed its MuVo line of flash-drive devices that costs between $120 to $200.
For its part, Apple said they've had few complaints about skipping. "It's quite odd to hear that," said Stan Ng, director of iPod marketing at Apple, adding that the player holds 25 minutes of music in a memory cache that helps prevent skipping.
Apple executives say its players, which retail in a range from about $250 to $500, have been used by legions of active lifestyle customers.
"The iPod and iPod mini are both widely used for athletic purposes and all sorts of active lifestyle pursuits. We've had very few complaints," Ng said.
Sole mates
"When we look at developing products for athletes, it has got to be skip free," said Scott Levitan, who oversees Philips digital music player business in North America.
The Netherlands electronics company known for its home audio and visual gear worldwide found a kindred spirit in athletic footwear manufacturer Nike Inc. in its pursuit of active users in 2002.
In August, the companies plan to start selling the $299 MP3Run PSA260 player, which measures the duration and pace of your workout.
The disc-shaped MP3Run comes with a separate dongle device that tracks the speed and distance of your run and sends the information wirelessly to the player. Runners, who clip the dongle to their sneakers, can receive audio alerts.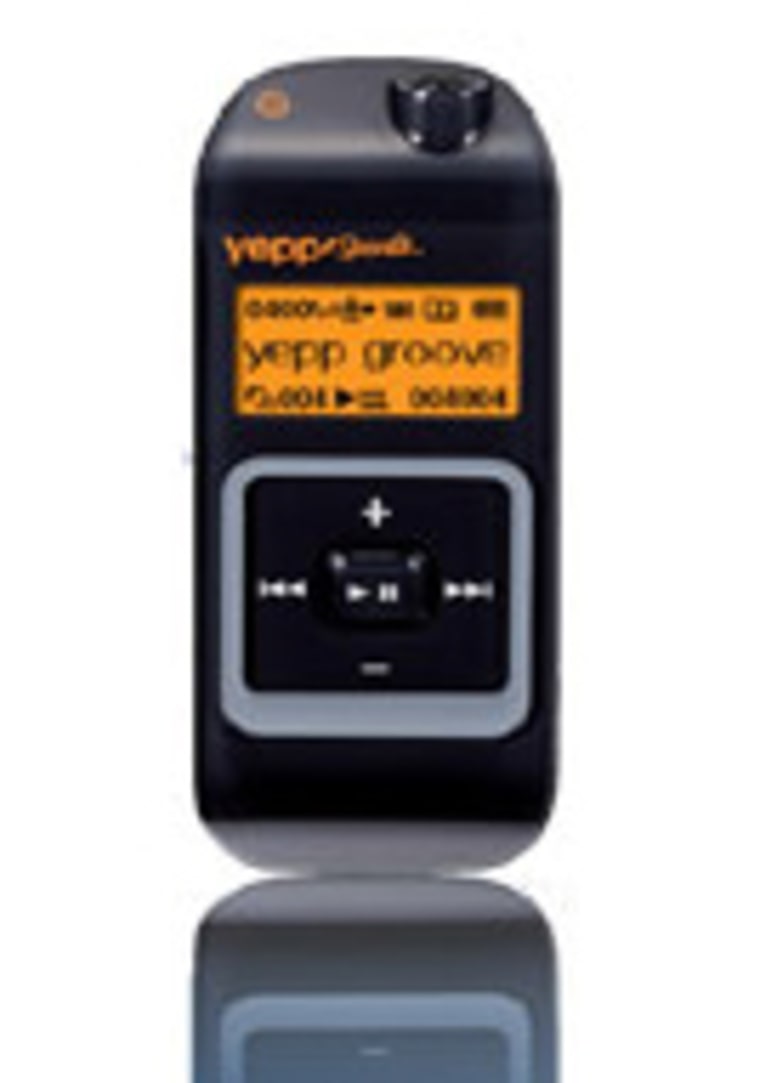 "You have your own coach with you in the product," said Levitan, who also pointed out other runner-centric features like a flashing strobe and the ability to operate it without having to look at it.
"You don't want to run into a tree," he said.
Back at home, runners can upload their data from the Philips-Nike player onto a computer to keep a workout log.
Korean chip giant and electronics maker Samsung came to a similar conclusion in creating a dream player for fitness buffs.
"Flash players are much smaller, more portable and are for more active and younger users," said Mark Farish, marketing manager for digital audio at Samsung.
Samsung began selling the $230 YP-60 player, no larger than two packs of chewing gum, that also comes with a heart monitor and a calorie counter.
Like the upcoming Nike player, Samsung's lets users upload workout data onto a home computer as a way to keep closer tabs on fitness progress.