South Koreans, shocked at the beheading by militants of a compatriot, vented their anger on Wednesday at their government that had rejected the abductors' demand to drop a plan to send more troops to Iraq.
While some remained firmly committed to the government's plan to send 3,000 more troops to Iraq to join 670 already there, others questioned whether the cost was too high after the gruesome death of 33-year-old businessman Kim Sun-il.
The deep human tragedy struck a chord with all, notably Kim's desperate cries as he pleaded for his life.
"Imagine your own child dying like that," said Seo Tae-chung, a 61-year-old housewife.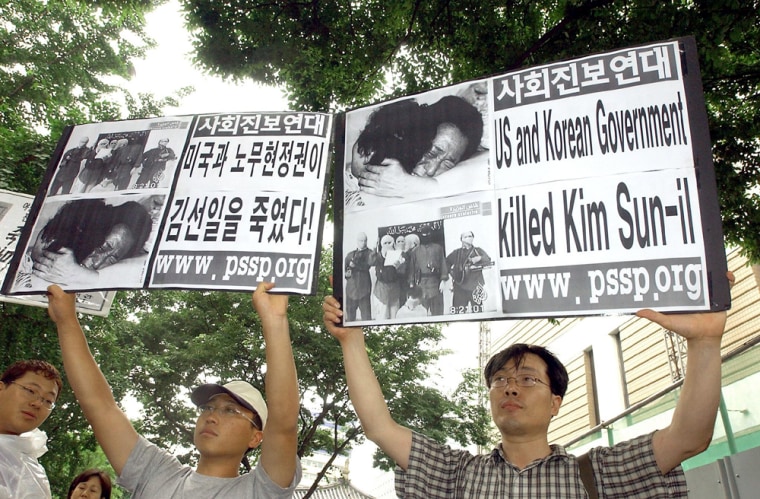 "If I were his mother, I would have thought that it would be better that I could die in his place," said Seo, adding that she opposed sending troops but realised U.S. influence made it inevitable.
President Roh Moo-hyun told the country in televised remarks that he was heartbroken but would not be swayed from sending troops. Many of his people disagreed.
"I think we have to seriously reconsider if we have to send the troops to Iraq at all," said Chung Kwang-dae, 56, a taxi driver. "They killed Kim because we're with the Americans."
"I couldn't even say 'have a nice day' to others this morning because of the tragic news," said Yoon Hyun-sung, a 31-year old bond trader. "The government should have dropped the troops plan if it really cared about its own people, rather than its relationship with United States."
Many said they were simply confused about Iraq policy in the wake of the killing.
"I had heard or seen on TV the calamities facing hostages before, but I had never expected this would happen to us," said Kim Dae-hwan, a 23-year-old student. "I have always been positive about the dispatch of troops but now I am really confused."
Decisive action urged
Editorials in afternoon editions of newspapers called for decisive steps by the authorities.
"This tragic incident must not leave terrorists any hope of holding up the South Korean government's plan of dispatching troops to Iraq," said an editorial in The Herald Business.
"Immediate checks on the safety of Korean citizens in Iraq must be carried out and solutions found if any problems are discovered," said an editorial in the Munwha Ilbo.
"Poor initial counter-measures by the government as well as the fact that government was not informed of the kidnap incident by U.S. troops in Iraq must be looked into," it added.
A spokesman said the Foreign Ministry was not aware that the United States knew before Seoul about Kim's capture, but was investigating the exact timing of his kidnapping.
The ruling Uri Party released a statement expressing shock over a killing it termed "an unforgivable crime" and pledged every effort to protect South Korean citizens.
"We are in deep shock and sorrow to receive the tragic news despite the whole country's desperate prayer and efforts," the statement said.
"Our country has provided medical and construction aid since last year and our efforts to help Iraq's reconstruction will continue," it said.
South Korea said U.S. soldiers had found the body of Kim, five days after he was seized in Fallujah, west of Baghdad, by a group led by Jordanian-born militant Abu Musab al-Zarqawi.