/ Source: msnbc.com news services
Iraq's new government, facing its sternest challenge to date after the second deadly car bombing in two days killed 10 Iraqis in western Iraq, will create a new security service geared toward tackling the nearly 15-month-old insurgency in the country, Prime Minister Iyad Allawi said Thursday.
The new service, the General Security Directorate, "will annihilate those terrorists groups, God willing," Allawi said during a news conference.
Allawi's statement came shortly after attackers detonated a car bomb near police and government buildings in the western city of Haditha on Thursday, killing 10 Iraqis in a second day of violence that underscored just how little regard insurgents have for the new government.
Police apparently thwarted a second bombing in Karbala, where police chased a car after receiving a tip it was filled with explosives. The two people inside detonated their bomb, killing only themselves and causing no other casualties.
Gunmen also attacked a vehicle belonging to the Iraqi Foreign Ministry as it traveled south of  Kirkuk, killing a ministry official, Iraqi authorities said. The victim was not immediately identified, but the authorities said Foreign Minister Hoshyar Zebari was not in the vehicle when it was attacked.
Pipeline sabotaged
The insurgents also continued their campaign of sabotage, drilling holes into a key southern pipeline in Iraq, causing pools of oil to spill on either side of the line, police said.
Thursday's violence came a day after a suicide attacker in Baghdad killed at least 10 people in a car bombing near Iraqi government headquarters and insurgents assassinated a provincial governor in an ambush of his convoy.
The attack in Haditha, known as a stronghold of Saddam Hussein's ousted regime, hit a government complex that houses the police station, civil defense headquarters and the municipal building. In addition to the 10 killed, the blast wounded 40 people, said Col. Adnan Abdel-Rahman, spokesman for the Interior Ministry.
Police and government officials have repeatedly been targeted by insurgents, who view them as lackeys of U.S. forces here.
Since taking power late last month, Allawi's government has made clear it intended to crack down on militants who have caused chaos with assassinations, bombings, sabotage and other attacks. The violence has hampered efforts to rebuild and recover after war and years of international sanctions.
The government has passed emergency laws giving Allawi the power to declare curfews and impose limited martial law to curb the violence and has repeatedly threatened the militants.
The new security service appears to be another step in the fledgling government's efforts to tackle the violence.
Allawi said Thursday that security is gradually improving and that he had been working hard to boost border controls to prevent foreign insurgents entering the country.
Allawi plans trip to discuss border security
Last week, Iraq and Syria agreed to work to tighten controls along their long desert border and Allawi said he would visit Jordan, Syria, Kuwait, Lebanon, Saudi Arabia and Egypt next week, and afterward make a trip to Iran, Pakistan and Europe to discuss issues including border security.
Border security has become an increasingly pressing issue over the past 15 months amid suggestions that foreign fighters have been entering Iraq across porous borders to join the insurgency.
Allawi has moved to crack down on the insurgency with a death threat hanging over his head.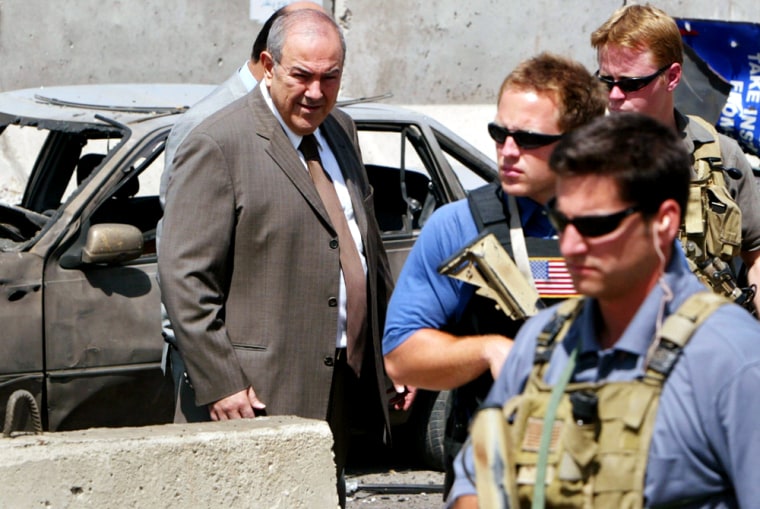 On Wednesday, a statement posted on a Web site purportedly from Jordanian militant Abu Musab al-Zarqawi claimed responsibility for a mortar attack near Allawi's home last week and said the militants would continue to pursue Allawi.
"We are after you," the statement said.
Allawi also is watching with concern new strains on the U.S.-led military forces providing security for his government provoked by the insurgents' hostage-taking.
A Saudi company employing an Egyptian driver held hostage by insurgents in Iraq said it would stop work in the country to win the captive's freedom.
The move, reported by pan-Arab satellite television Al-Jazeera late Wednesday, came after the Philippines said it had early, apparently giving in to the demand of kidnappers threatening to kill a captive Filipino truck driver.
Massive blast outside Green Zone
In Wednesday's attack in Baghdad, insurgents detonated a massive car bomb at a checkpoint just outside the so-called Green Zone, former home to the U.S. occupation government and currently home to the Iraqi interim government and the U.S. and British embassies.
The blast ripped a deep crater in the road and killed 10 Iraqis, many as they waited in line to apply for jobs with the government, the Health Ministry said. The U.S. military said 11 were killed.
Hours later, insurgents tossed hand grenades and fired machine guns at a convoy transporting Nineveh Gov. Osama Youssef Kashmoula, killing him and two of his guards, Iraqi and U.S. military officials said. Mosul is the largest city in Nineveh province.
Kashmoula was attacked between the cities of Beiji and Tikrit north of Baghdad as he traveled to the capital, the U.S. military said. Four of the attackers were killed in the fight, Mosul officials said.
In the attack just outside Karbala on Thursday, police chased down insurgents after getting a tip they had a car bomb, said Rahman Mshawi, a spokesman for the Karbala police. "Finding themselves surrounded, the two persons inside detonated the car," Mshawi said.
Footage from Associated Press Television News showed four charred toes on the ground near a crumpled cigarette pack. Blood was spattered on a wall of a building, and two cars were damaged by the blast.
Rocket attacks in Kirkuk
In a separate attack early Thursday, a rocket landed on a home in the oil-rich city of Kirkuk, killing four people and wounding three others, police and hospital officials said.
A second rocket also struck a home in a former army base now used by Kurdish refugees, injuring four people. The targets of the attacks were not immediately clear.
The pipeline sabotage, announced by Thursday, occurred in in the al-Askari district, 12 miles southwest of Basra, said Staff Brig. Gen. Ali al-Mousawi, the head of the Iraqi Border Police.
The pipelines runs to offshore export terminals, but the attacks did not cut exports, al-Mousawi said.
Elsewhere, two U.S. soldiers were killed and two others injured after their vehicle rolled over on a road in northern Iraq, the U.S. military said in a statement Thursday