/ Source: NBCSports.com news services
The New York Yankees are still trying hard to land Arizona left-hander Randy Johnson, The Newark Star-Ledger reported Saturday.
The newspaper said Johnson's agent has been telling some GMs that Johnson will only accept a trade to the Yankees or Anaheim Angels. The Angels have better prospects than the Yankees, but it's not clear whether they want to trade them.
A source told The Star-Ledger that the Diamondbacks aren't impressed with the Yankees' prospects, but that isn't stopping the Yankees from trying to craft a creative deal. In fact the source said the Diamondbacks have determined that none of top six Yankees prospects aren't good enough to start in the major leagues any time soon.
The newspaper said the Yankees have been trying to convince the Angels to trade them right-hander Ramon Ortiz for lefty reliever Felix Heredia. The paper said the Yankees then could keep Ortiz or try to convince Arizona to take him as part of a Johnson deal.
The Star-Ledger said an official with one of the teams involved said one of the reasons the Yankees are bumping right-hander Chien-Ming Wang up from Double-A Trenton to Triple-A Columbus to start tomorrow is because the Diamondbacks had expressed "some interest" in Wang.
Last week, the Diamondbacks reportedly asked the Yankees if they would include catcher Jorge Posada in a deal for Johnson.
Posada, who can exercise an option to become a free agent after the season, is one of three Yankees without a no-trade clause. Gary Sheffield and Kenny Lofton are the others.
Johnson's agent, Barry Meister, told the Arizona Republic last week that the team hasn't asked Johnson to waive his no-trade clause and he doubts the team is shopping the lefty. What's more, Johnson has not asked for a trade, he said.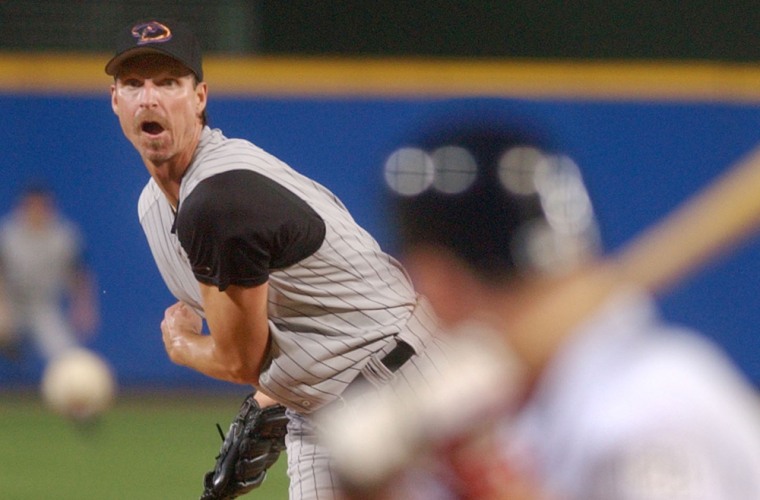 Arizona's East Valley Tribune, citing "a person who speaks often with Randy Johnson," reported that the long, tall left-hander wants to go to the Yankees, and only the Yankees.
The deadline to make trades without waivers is July 31. After that, given the competition between the Yankees and Red Sox, it would be hard to imagine Johnson slipping through waivers without being claimed.
Johnson is making $16 million this season and has a $16 million contract for 2005, the last year of his deal.
Last week, the 40-year-old lefty said he would consider waiving his no-trade clause if Arizona wants to send him to a contender.