It is their first "taste of civilization" in more than a year, and while Mannheim is still more than 4,000 miles from their base in Maryland, four of the soldiers awaiting trial for their part in the Abu Ghraib prison scandal are glad to be out of Iraq, even if for less than a week.
Their attorneys wish that the entire case could be shifted out of Iraq, although they failed on Monday to convince a judge to do so.
The alleged Abu Ghraib ringleader, Spc. Charles Graner, along with Staff Sgt. Ivan Fredericks, Sgt. Javal Davis and Spc. Megan Ambuhl where flown out of Iraq late Friday, for pretrial hearings at a U.S. Army base in Mannheim, Germany.
A fifth soldier, Spc. Sabrina Harman, who, inexplicably has been named but not been charged with abuse of Iraqi detainees, remained in Baghdad.
At the start Monday of the two days of hearings, U.S. military Judge Col. James Pohl rejected a defense motion to move the trials out of Iraq, saying the request was premature.
"Keeping them there is like keeping them in prison," Guy Womack, the Houston defense attorney for Graner said. "[They are] away from their families and making it harder for us to defend them."

Tainted pool?
Defense attorneys contend that the court-martial jury pool in Iraq has been tainted by command influence making it impossible for the soldiers to get a fair trail. Also, attorneys argue, civilians who were at Abu Ghraib at the time of the abuse could not be forced to leave the United States to be witnesses for the defense.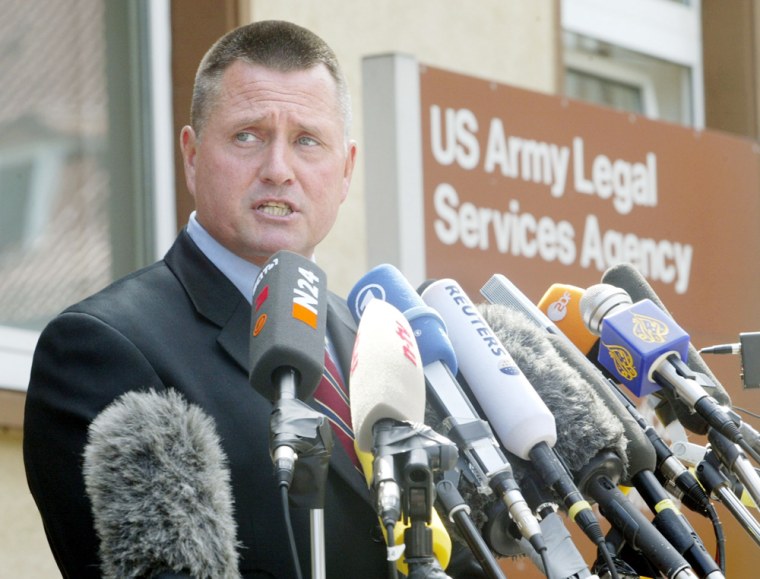 Lawyers for Garner also failed to persuade the court to bar evidence gained from the defendant's computer, which the defense argued may have been improperly obtained by investigators.
It was that computer, prosecutors contend, that held the digital pictures showing the cruelty, depravity and sadism that shocked the Pentagon, the nation and the rest of the world.
During Monday's hearing, lawyers for Graner suggested he had been too tired to make a clear decision about his rights when he allowed investigators to take a laptop and CDs from his quarters at the prison in January.
But Pohl provisionally rejected a request to bar anything found on the laptop as evidence, while stressing that the point could be discussed again later once it became clear what exactly was on the computer.
He granted a defense motion to suppress a statement by Graner, cited by an investigator who testified Monday, that "everything you want is in my computer."
Just following orders  
Before the hearing, the four soldiers were allowed to go off the Mannheim base accompanied by their lawyers and an Army escort.
As a group, the accused soldiers contend that higher ups, specifically officers in Army Military Intelligence, ordered them to "soften up" the Iraqi prisoners for interrogation, that the members of Maryland's 372nd Military Police Company, were simply following orders.
"We expect to prove, if this ever comes trial, that intelligence officials, senior generals, civilian contractors and CIA agents urged these soldiers to act in the way they did," said Harvey Volzer, the Washington D.C.-based attorney for Ambuhl.
Volzer and the other civilian attorneys have been very critical of the Army for dragging its feet in providing information and making U.S. officials available for pretrial deposition.
Maj. Gen. Geoffrey D. Miller, the top Army jailer, was deposed for three hours via video tele-conference from Baghdad on Saturday.
It was Miller who was sent to Abu Ghraib from his post at Guantanamo Bay, Cuba last August to set tougher interrogation standards at the prison. One defense lawyer contends that Miller told officers at the prison to treat the detainees, "like the dogs that they are." He denies having said that.
Lt. Gen. Ricardo S. Sanchez, the senior commander in Iraq at the time of the abuse was to be deposed last Friday, but the deposition was cancelled without explanation.
And Col. Thomas M. Pappas, the officer in charge of the 205th Military Intelligence Brigade at Abu Ghraib, declined to be deposed last week. "We are told," said Womack, " that Pappas will invoke his constitutional right not to testify."
That development comes as two investigations into the prison abuse are reported to be quite specific that Pappas and his men allegedly knew about and condoned the abuse. They allege that Pappas, referring to the Iraqi detainees, told the Army guards now charged to "break them down."
Those investigations, one by Maj. Gen. George R. Fay, ordered by the U.S. Army and the other, lead by former Secretary of Defense, Dr. James Schlesinger, for the Department of Defense, are expected to be released this week.
Early leaks of the Fay report suggests that two dozen others, besides those now charged, including military intelligence soldiers, were culpable in the torture. But Fay reportedly finds that no Army general officers were guilty of anything more than leadership deficiencies.
The Schlesinger report, ordered by Secretary of Defense Donald Rumsfeld, is said to be more critical of Army brass and the chaos that led to the abuse of Iraq detainees.