If Americans vote their pocketbooks this year, whom will they support? The Iraq war and concerns about terrorism are dominating this year's closely fought presidential campaign, but the economy remains a top issue for many voters, especially in crucial battleground states like Ohio and Michigan.
In the latest NBC News/Wall Street Journal survey, 26 percent of likely voters said the economy was the single most important issue for them in deciding which candidate to vote for, compared with 25 percent who said terrorism and 22 percent who said the war in Iraq.
The U.S. economy is in the third year of expansion, which should be good news for President Bush. After an unusually long downturn in employment, the economy finally is adding jobs again, and most taxpayers have benefited from reductions in federal income tax rates pushed through by the Bush administration.
But a broad array of cross-currents has created a fresh mood of uncertainty about the economy's future that could help Sen. John Kerry blunt the incumbent's usual advantage on the issue.
A recent and persistent surge in oil prices is just the latest reason to worry about a slowdown in growth over the next year, which is widely expected. Concern about a slowdown sent stock prices to their lowest levels of the year in October, and long-term interest rates have been falling steadily even as the Federal Reserve has pushed short-term rates in the opposite direction.
"The economy has slowed and continues to slow," said Jose Rasco, senior economist at Merrill Lynch. "So those who think we're through the soft patch — it doesn't look that way."
Consumer confidence fell sharply in October to its lowest level in seven months, mainly on concerns about the future, according to the Conference Board, a business research group. The index of Leading Economic Indicators, designed to predict the economy's near-term performance, has fallen for four consecutive months. The manufacturing sector is still growing, but the pace of growth has slowed for three straight months, according to a widely respected survey from the Institute for Supply Management.
"The economy has throttled back since the beginning of the year and will weaken further by a year from now," said Mark Zandi, chief economist of Economy.com, a forecasting firm. "If energy prices don't come down from the $55-a-barrel level they're at, next year is going to be much more uncomfortable."
Federal Reserve Chairman Alan Greenspan said this month that oil prices are acting as "essentially a tax on U.S. residents" and already have cut about three-quarters of a percentage point from the nation's economic output this year. "The risk of more serious negative consequences would intensify if oil prices were to move materially higher," Greenspan said.
Zandi said the U.S. economy could slip into recession if oil rises past $70 a barrel and stays there. His firm figures there is a 27 percent chance the U.S. will go into recession over the next six months, up from less than 10 percent in May.
In his stump speeches, President Bush frequently declares that the economy is strong and "getting stronger."
"Over the last three years our economy has grown at rates as fast as any in nearly 20 years," he said in one recent speech. "The home ownership rate in America is at an all-time high. The past 13 months, we've added 1.9 million new jobs. The unemployment rate across our country is 5.4 percent — lower than the average rates of the 1970s, 1980s, and the 1990s."
Economic growth in the first three years of the Bush administration actually was pretty lackluster. Gross domestic product rose just 0.8 percent in 2001, 1.9 percent in 2002 and 3 percent in 2003 — the weakest three-year run in a decade, according to figures from the Bureau of Economic Analysis.
Over the past year the recovery has indeed picked up steam. It is too early to say, but GDP growth this year could come in at over 4.5 percent, according to some forecasters, which would make it the strongest single year since 1984.
But rising productivity and corporate reluctance to hire have meant that the growth surge has not been accompanied by the usual level of job growth. Other than a hiring spree in the spring, payroll growth has been decidedly subpar. Kerry's stump speeches almost always include a reference to Bush's poor record on job growth.
"George Bush is the first president in 72 years to lose jobs on his watch," Kerry said in Milwaukee this week. "In fact, Wisconsin alone lost 7,000 jobs last month.  And, when you add up the numbers, this state hasn't gained a single job in the last four years.  Not exactly what I'd call an economic 'recovery.'"
Many economists have tried to tease out the correlation between the performance of the economy and the result of the presidential election, and job growth always seems to be a key variable. Don Straszheim of Straszheim Global Advisors said that over the past 11 presidential elections dating to 1964 job growth in the six months leading up to the election has nearly always predicted whether the incumbent party stays in power.
Job growth of greater than 1.2 percent has predicted the winner every time but once, when Hubert Humphrey lost to Richard Nixon in a 1968 campaign dominated by the Vietnam War. Job growth of less than 0.8 percent has always signaled a loss by the incumbent party, including Al Gore's loss to Bush in 2000.
Over the past six months, the economy has added 937,000 jobs, for a gain of 0.7 percent, meaning Bush appears likely to lose, Straszheim said. "It's just at the high end of the bad economy," he said. "It's not a terrible economy – but it comes out on the bad side, which suggests Bush is out."
Kerry also makes a blunt appeal to pocketbook interests by referring to the rising cost of gasoline and highly visible services like education and health care.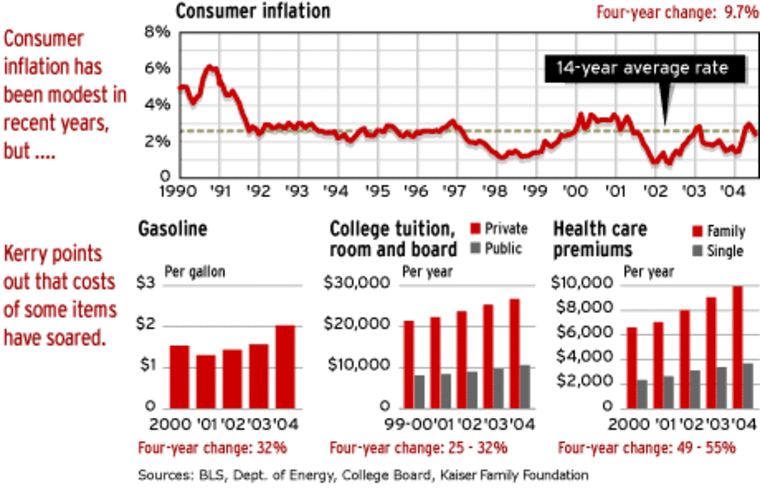 The heated rhetoric of this year's bitter presidential campaign might be contributing to a sense of unease about the economy's future, but wider concerns about war and terrorism are probably playing a larger role.
"It's not just the negative campaigning going on – it's that the recovery has never really fully engaged," said Ethan Harris, chief U.S. economist of Lehman Bros. He ticks off a series of economic shocks beginning with the recession, the attacks of 9/11, corporate scandals, the war in Iraq and now a highly inflammatory election season.
"The lack of confidence stems from the accumulation of these kinds of momentum-killing blows," he said. "It just seems the economy never has a nice long period of quiet where it can lick its wounds and keep growing."
Zandi agrees that the economy is basically a neutral force in an election likely to be decided on questions of national security and foreign affairs.
"The president can point to the past year, and Kerry can point to the last four — so that's a wash in a lot of people's minds," he said.
Wyss, of Standard & Poor's, is among those who say the economy favors Bush, arguing that even if confidence is declining, it remains at relatively high levels by historical standards.
"Those who have jobs are really — despite all their complaints — living pretty well," he said. But he acknowledged that the sustained high gas prices ensure that every time voters fill up their gas tanks, they will be reminded of the "nasty" possibilities of global insecurity.
And many analysts think this year's growth will mark a high-water point for this economic cycle — especially given the sharp rise in energy prices since May.