/ Source: The Associated Press
From natural springs and river kayaking to folk music and civil rights history, visitors coming to Arkansas to tour the Clinton Presidential Library will find a state full of day-trip opportunities.
"What we hope is they decide Arkansas is a surprise they like," said state tourism director Joe David Rice, who is part of a team working to make it easy for tourists to find their way to the state's many attractions.
Former President Bill Clinton's library opens to the public Nov. 18 on the banks of the Arkansas River. It is expected to draw 300,000 people to Little Rock in its first year.
The state capital's relatively central location makes it a good jumping-off point for everything from the Ozark Mountains to the north, to the history-rich Arkansas Delta and nearby Memphis, Tenn., in the east. The casinos of Tunica, Miss., and Branson, Mo.'s shows are just across state lines.
Skip Rutherford, president of the Clinton Library foundation, said an information desk in the lobby of the Clinton Library will field questions from tourists. So far, he said, the site most asked about is Little Rock Central High School, which was the center of a desegregation struggle in 1957 when nine black students started to attend an all-white school.
Mike Madell, superintendent of the historic site, said the visitor's center and commemorative garden is open seven days a week and that tours of the actual school are available by appointment.
"We make clear the challenges the Little Rock Nine felt," Madell said. "Many people have a personal, emotional response when they go through our exhibits. I think some don't really realize the inequities that existed."
Side trips from Little Rock
Just south on Interstate 30 from Little Rock, a good day trip takes Clinton fans to stops in Hot Springs, where Clinton grew up, and Hope, where he was born. Locals hope tourists will come to Hot Springs for the Clinton connection, then stay for shopping and tours of Hot Springs National Park. You can fill up a jug with spring water at a few of the hot—and cold—fountains around town. The hot water is 143 degrees; for a soak, head to a bathhouse.
The city also boasts Park Place Baptist Church, where Clinton was baptized; two of his boyhood homes; his grade school, junior and senior high schools; the hotel where he attended his prom and McClard's Bar-B-Que, a Clinton favorite that he special-ordered from during his White House years.
"Learn the background where he grew up, because this is where his formative years are," said Steve Arrison, the local tourism director.
There's another side to Hot Springs of course, the resort town's art galleries, shopping, shows and famous bathhouses on Central Avenue, the races at Oaklawn Park (open January-April) and Magic Springs and Crystal Falls, a pair of amusement and water parks.

Hope offers a tour of the house where Clinton was born and his mother's gravesite. The town also brags about its big watermelons, some tipping the scales at 150 and 200 pounds, which it celebrates during the Hope Watermelon Festival each August. And 80 miles down the interstate from Hope is the world's only public diamond mine at Crater of Diamonds State Park in Murfreesboro, where visitors can sift for their own gems.

Nature-lovers starting the day in Little Rock can trek north on U.S. 65 to the Buffalo National River, which more than a million canoers, kayakers, swimmers and boaters visit each year. There are 20 public boat launches along the river, but most people put in from the Tyler Bend Visitor Center on U.S. 65 just north of Marshall. The free-flowing river stretches 150 miles and is preserved in its natural setting from end to end.

Music-lovers can take U.S. 65 and turn north at a town that happens to be called Clinton, on Arkansas 16, as it turns into Arkansas 9 and leads to Mountain View, the self-proclaimed folk music capital of the world. Musicians mosey to the town square at sunset each night, weather permitting, and play in groups as audiences gather. Bring your own lawn chair or blanket and bug spray. There are shops and bed-and-breakfasts nearby.

A quick trip up the road from Mountain View on Arkansas 14 is Blanchard Springs Cavern near the town of Fifty Six. The cave offers paved tours and for the brave of heart, daylong off-trail expeditions. A choir offers a concert in the cave at the holidays. And north of the cavern trout fishermen can find lodges and resorts on the White River.
Shopping and art connoisseurs can find buys and beauty in the eccentric Ozark Mountain town of Eureka Springs, about three hours north of Little Rock. Tourists flood the mountain enclaves where free-spirited locals offer astrological readings and demonstrate ancient healing ceremonies at the town's natural springs.
Mostly though, visitors come for the quaint shops, beautiful vistas and numerous wedding chapels. Motorists pull off to see the Thorncrown Chapel rise into the trees with its 6,000 panes of glass forming 425 windows. The seven-story "Christ of the Ozarks" statue towers just east of town.
Just a few miles north of the border from Eureka Springs are the live shows of Branson, which boasts more theater seats than Broadway and draws 7 million tourists a year.
Slot-stuffers and blues fans can head east of Little Rock into the Arkansas Delta on I-40 to Helena, Ark., and Tunica, Miss. Gambling and outlet shopping reign supreme in Tunica, with its nine casinos.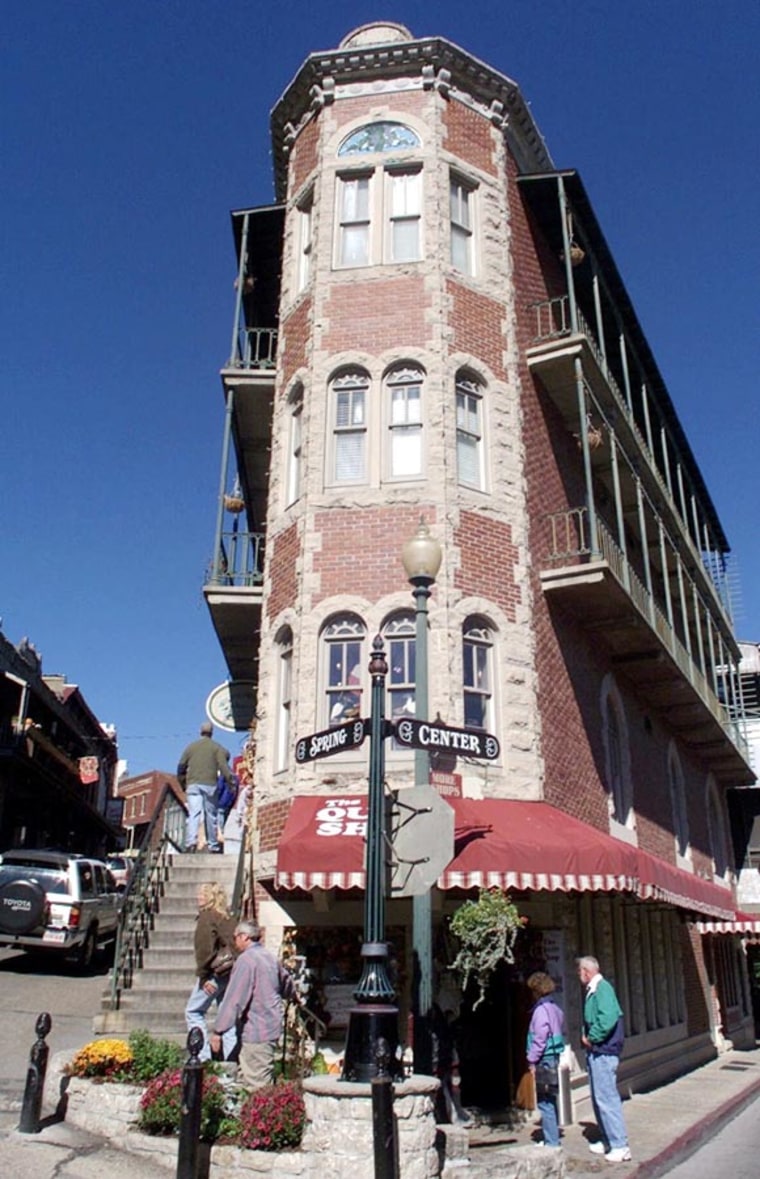 Just north of the casinos, the Arkansas town of Helena hosts the annual King Biscuit Blues Festival and the Helena Delta Cultural Center.
Another quick trip takes travelers west on Interstate 40, where they can stop in the town of Altus for winetasting at one of a handful of wineries before continuing on to Fort Smith. There they can visit the Fort Smith National Historic Site, where they can see infamous "Hanging" Judge Isaac Parker's courtroom and the nooses where his convicts met their deaths.
Rutherford said that he expects a memorial and cemetery at the site of Arkansas' World War II Japanese Internment sites in the towns of Rohwer and Jerome to be a large draw for international tourists.
"We said that we want to be a magnet for Arkansas tourism," Rutherford said. "It will bring new people to Arkansas, and hopefully they will discover the rest of the state."

If you go

CLINTON PRESIDENTIAL LIBRARY: River Market District, downtown Little Rock; www.clintonpresidentialcenter.com or (866) 773-7542. Opening festivities Nov. 14 to 18; opens to public Nov. 19.

CLINTON CHILDHOOD HOME: 117 South Hervey, Little Rock; www.clintonbirthplace.com or (870) 777-4455.

McCLARD'S BAR-B-QUE: 505 Albert Pike, Little Rock; (501) 623-9665. Entrees $6 to $10.

HOT SPRINGS: www.hotsprings.org or (800) SPA-CITY. For bathhouses where you can soak in spring water, visit www.hotsprings.org/things-to-do/baths-spas/.

LITTLE ROCK CENTRAL HIGH SCHOOL: 2125 Daisy L. Gatson Bates Drive; www.nps.gov/chsc or (501) 374-1957.

EUREKA SPRINGS: www.eurekasprings.org or (866) 566-9387.

THORNCROWN CHAPEL: 12968 U.S. Hwy. 62 West, Eureka Springs; www.thorncrown.com or (479) 253-7401
MOUNTAIN VIEW: www.mountainviewcc.org or (888) 679-2859.

BUFFALO NATIONAL RIVER: Tyler Bend Visitor Information Center in Harrison; www.nps.gov/buff or (870) 439-2502.

ARKANSAS: www.arkansas.com or (800) NATURAL.

BRANSON: www.explorebranson.com or (800) 214-3661.

MEMPHIS: www.memphistravel.com/ or (901) 543-5300.

TUNICA: Bally's, Fitzgeralds, Gold Strike, Grand Casino, Harrah's, Hollywood, Horseshoe, Sam's Town and Sheraton casinos; www.tunicamiss.org or (888) 4TUNICA.