/ Source: The Associated Press
India's prime minister paid a rare visit to the divided Himalayan region of Kashmir on Wednesday, marking the start of a partial troop withdrawal that has been hailed by rival Pakistan as an important step in easing tensions.
India has cited a decline in separatist violence as the main reason for its pullback, but that was not the case Wednesday as suspected separatists lobbed grenades and fired at soldiers in the main city of Srinagar ahead of the arrival of Prime Minister Manmohan Singh.
Two suspected militants were killed, and two soldiers and a civilian were wounded in the attack less than a mile from where Singh was to speak later in the day, said K. Srinivasan, Border Security Force chief.
It is rare for an Indian leader to visit the restive region, and the trip was Singh's first to India's portion of Kashmir since he became prime minister in May. He was expected to announce an economic reconstruction package to jump-start industries and economic activity in the region.
After landing in Srinagar, Singh headed for the important Muslim shrine of Hazratbal. He was also scheduled to visit a Sikh temple in the city.
Thousands of security forces fanned out across the city ahead of the prime minister's arrival, and the city's cellphone networks were temporarily jammed for security reasons, government-controlled radio said.
Separatists call general strike
Separatists, meanwhile, shut down much of Jammu-Kashmir on Wednesday with a general strike, called to coincide with Singh's visit, in protest of the Hindu-dominated central government's control over the Muslim-majority region.
Only a few cars and motorcycles were on the roads, and most businesses were closed.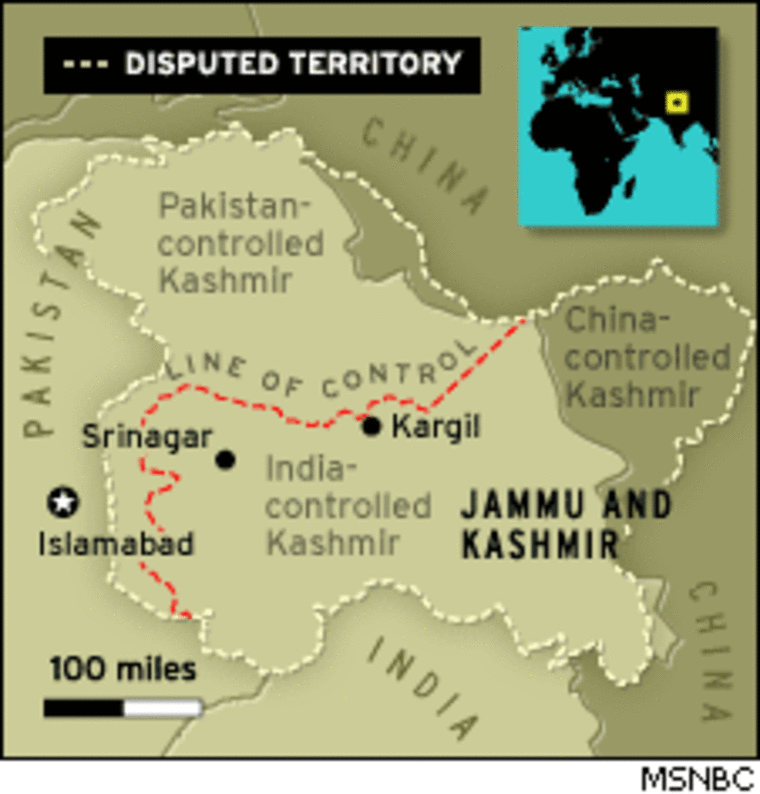 "The prime minister should first apologize for the excesses committed by the government forces (in Kashmir)," said Syed Ali Shah Geelani, a pro-Pakistan leader of the Hurriyat Conference — Kashmir's main separatist alliance.
India has not announced how many troops will be withdrawn from the highly militarized frontier with Pakistan, but news reports have said only about 40,000 of India's half million troops in Kashmir would be redeployed.
The first contingent of at least 1,000 troops headed out Wednesday from the Khanabal base camp, 35 miles south of Srinagar, an army officer said on condition of anonymity.

Pakistan has welcomed the troop move as "a good beginning" as the two nuclear-armed South Asian neighbors push forward with peace talks aimed at ending more than a half-century of enmity.
"This confidence-building measure would further facilitate the (India-Pakistan) dialogue," Pakistani foreign ministry spokesman Masood Khan said.
Source of two wars
India and Pakistan have fought two wars over Kashmir, which is divided between them but claimed by both in its entirety. Islamic guerrillas have fought since 1989 for independence of India's portion of Kashmir, or its merger with mostly Islamic Pakistan.
Indian officials accuse Islamabad of training and funding Pakistan-based insurgents who cross into Indian territory to fight in the rebellion. Pakistan denies the charge, but has pledged to curb the infiltration.
Singh said last week that he would order some troops to withdraw from Kashmir, citing declines in separatist violence there and cross-border incursions.
It appeared to be a response to Pakistan President Gen. Pervez Musharraf's call last month for flexibility over the Kashmir dispute, and his proposal to demilitarize the territory.
A full withdrawal by both sides is considered highly unlikely until the dispute is resolved.
Singh also planned to meet political and business leaders and preside over a graduation ceremony at a Srinagar agriculture university during his two-day trip.