/ Source: Arthur Frommer's Budget Travel
10) Y Tu Mamá También
Mexico | 2001
Julio (Gael García Bernal) and Tenoch (Diego Luna) are horny teenagers from Mexico City who invite Tenoch's cousin's wife, Luisa (Maribel Verdú), to an imaginary beach. What follows is one of the sexiest, slyest road-trip movies ever made. The moral? All road trips, like all adolescences, have to end sometime.
Your Turn: Director Alfonso Cuarón filmed in both Huatulco and Puerto Escondido (despite the movie's dismissal of the latter as a haven for "yuppie backpackers and wannabe surfers"). The trio's car gets stuck in the sand near Playa Cacaluta, just south of Santa Cruz Huatulco, and Chuy, the fisherman, takes them to nearby Playa La Entrega, or Boca del Cielo, as it's called in the movie. San Bernabé—Chuy's hometown, which is soon to be bulldozed for a luxury resort—doesn't exist; the palapa-bar scenes set there were actually filmed along Puerto Escondido's main drag, Avenida Pérez Gasga. (Puerto Escondido is a two-hour drive from Santa Cruz Huatulco.) Both Aeroméxico and Mexicana have flights into Huatulco from the U.S. (via Mexico City; Mexicana also flies to Puerto Escondido) starting at about $600 in December. Stay in Santa Cruz Huatulco. One of the biggest lodging bargains is beautiful Misión de los Arcos, just off the main square (011-52/958-587-0165, misiondelosarcos.com, from $26 double or $75 for a family suite sleeping up to six).
9) Moonraker
France, Venice, Brazil, Guatemala, Outer space | 1979
Though 007 has traveled to some 30 countries (by our rough count), in his early pictures he rarely got his passport stamped more than twice. Moonraker, the goofiest film in the series, has Bond (Roger Moore) hitting seven countries on three continents—and beyond.
Your Turn: Bad guy Drax's estate is the Vaux-le-Vicomte chateau (see A Little Romance, number 22). Drax's space-shuttle plant was the Centre Pompidou in Paris (cnac-gp.fr, $9). Bond destroys untold riches in glass at the Venini emporium on Venice's Piazzetta Leoncini (011-39/041-522-4045, venini.com) and escapes assassins via a tricked-out gondola (again, see A Little Romance). In Rio, he tussles with metal-mouthed Jaws atop the cable car to Pão de Açúcar, or Sugarloaf Mountain (bondinho.com.br, $11). He needs all of five minutes to walk the 4,500 miles from Iguazú Falls (cataratasdoiguacu.com.br, h2foz.com.br, $5) to Guatemala's pyramids of Tikal, Drax's jungle hideout (terra.com.gt/turismogt). The rest of the film takes place in space—which Richard Branson hopes to make a vacation destination by 2007 with Virgin Galactic. Serious Ian Fleming fans, by the way, book with DMD Holidays, a Dutch travel agency that arranges Bond-themed trips (011-31/6-5168-9620, onthetracksof007.com).
8) When Harry Met Sally
New York City | 1989
Woody Allen's Manhattan is a citadel of neuroses, and Martin Scorsese's is all mean streets. But Rob Reiner's New York City (as written by Nora Ephron) is altogether more livable, even as it captures how easy it is to feel lonely when you're surrounded by 8 million people. Harry (Billy Crystal) and Sally (Meg Ryan) hate each other and then fall in love—an apt metaphor for many people's reaction to the city itself.
Your Turn: Sally and her girlfriends have lunch at the Boathouse Restaurant within Central Park (212/517-2233, tuna club $19). Harry and Sally take a stroll through Central Park with autumn foliage ablaze—it usually happens in mid-October—winding up at the Temple of Dendur, inside the Metropolitan Museum of Art (1000 Fifth Ave., 212/570-3828, metmuseum.org, suggested donation $12). Harry realizes that he loves Sally beneath the Washington Square Park Arch in Greenwich Village. And, of course, Sally memorably fakes an orgasm at Katz's Delicatessen on the Lower East Side. If you want to have what Sally had, order a turkey sandwich (and be picky about it). If you want to fit in, order pastrami (205 E. Houston St., 212/254-2246, turkey sandwich $11.95, pastrami $12.45).
7) The Lord of the Rings
New Zealand | 2001, 2002, 2003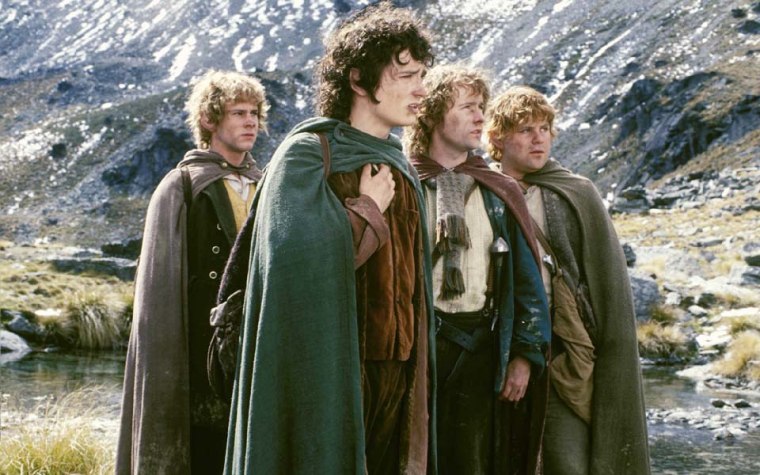 Each Christmastime, from 2001 to 2003, New Zealand's big gift was a three-hour ad touting its landscapes: the rolling farmlands of Matamata (Hobbiton), the volcanic crags of Whakapapa Ski Field (Mordor), the peaks of the Remarkables (the Misty Mountains). When the first film was released, the New Zealand tourism folks rerecorded their voice-mail message so that callers were greeted by, "G'day, and welcome to Middle-earth!"
Your Turn: The New Zealand Tourism Web site has a huge section dedicated to the Rings, including driving itineraries and links to tour companies that run Tolkien-themed quests (purenz.com). Pick up The Lord of the Rings Location Guidebook by Ian Brodie (HarperCollins, $25), which comes with GPS coordinates for pinpointing locations and websites for local tourism info and hotels. Exploring Middle-earth on your own is a snap, especially if you've got an RV. Rumble down New Zealand's back roads in a campervan, starting at $998 for a week, airfare from L.A. included, with Sunspots International (800/334-5623, sunspotsintl.com). Spend a bit extra but get more RV choices with Escapes Unlimited (800/243-7227, escapesltd.com).
6) Out of Africa
Kenya | 1985
In the epic biopic of writer Karen Blixen (pen name Isak Dinesen), Meryl Streep charms all of British East Africa (now Kenya)—the colonial boys' club, wily locals, even Robert Redford. In one stroke, the fantasy of communing with Africa was no longer the province of macho hunter-gatherers like Ernest Hemingway. And the year after Out of Africa won the Best Picture Oscar, tourism supplanted agriculture as Kenya's top industry.
Your Turn: Since it's illegal to handle wild animals in Kenya, director Sydney Pollack set up his camera in the bush and waited for herds to wander into view. That's pretty much what you do on safari. A good place for one is Masai Mara National Reserve, near the border of Tanzania, where the cast and crew lived in canvas tents during filming. Priced from $1,995, 2Afrika's nine-day Swinging Safari (866/462-2374, 2afrika.com) is one of the cheapest ways to get there. It includes air from New York to Nairobi; transportation, hotels, and meals throughout Kenya; and a three-night stay, with guided game drives, at Masai Mara. On your trip's last day, spend $65 for a tour that takes in a giraffe habitat as well as the Karen Blixen Museum, in her former home (336 Karen Rd., 011-254/20-882-779, museums.or.ke, $2.50).
Page 3: Summertime, Swingers, Roman Holiday, The Endless Summer, From Here to Eternity
Continued