/ Source: Arthur Frommer's Budget Travel
5) Before Sunrise
Vienna | 1995
On his last night meandering around Europe, a 20-something American named Jesse (Ethan Hawke) convinces Celine, a French grad student (Julie Delpy), to explore Vienna with him. They open up to each other as only travelers can—especially travelers who may never meet again.
Your Turn: Most of it was shot after dark, when Vienna's cafés, parks, and cobblestone alleys take on an added romantic glow. To re-create the couple's first kiss, take the tram to the Prater amusement park and ride the 213-foot-high, 107-year-old Riesenrad Ferris wheel at sunset (prater.at, $9). Celine gets her palm read at Kleines Café (Franziskanerplatz 3, no phone), a coffeehouse near St. Stephen's Cathedral. On the left bank of the Danube, the Friedhof der Namenlosen ("cemetery of the nameless") is the scene of another poignant moment. But it wouldn't really be in the spirit of the film to follow others' footsteps; the movie is about the magic of getting off the train and exploring. That magic can happen anywhere—on the banks of the Seine in Paris, for example, where much of Before Sunset, the 2004 sequel to Before Sunrise, takes place.
4) Amélie
Paris | 2001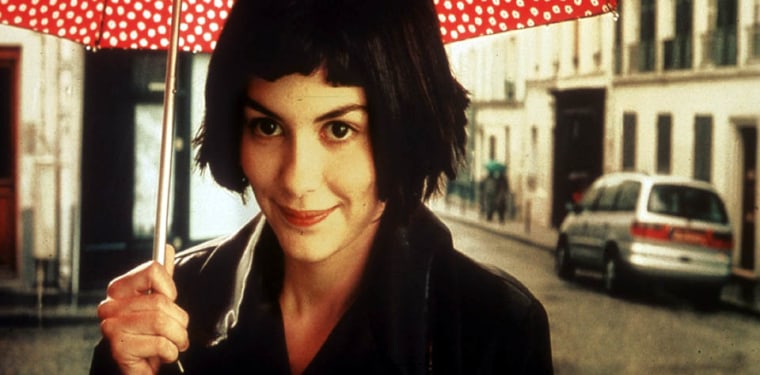 A doe-eyed waitress, Amélie (Audrey Tautou), anonymously rights small wrongs. A man named Nino (Mathieu Kassovitz) looks under photo booths for answers. A garden gnome travels the world. Amélie is more than a misfits' romance, it's director Jean-Pierre Jeunet's love letter to his Parisian neighborhood, Montmartre.
Your Turn: You may very well arrive in Paris via one of the two train stations—Gare de l'Est and Gare du Nord—where many of Amélie's scenes are set. These neighboring stations lie at the southeast corner of Montmartre. To get there, grab Métro line 12 to the Abbesses station—where Amélie glimpses Nino for the first time—or to Lamarck-Caulaincourt, where Amélie drops off the blind man after describing to him everything in the shop windows along rue Lepic. Amélie works in Café des Deux Moulins (15 rue Lepic, 011-33/1-42-54-90-50; Amélie's favorite, crème brûlée, is $6.30), across the street from the director's own house. She lives above Le Marche de la Butte, an épicerie and fruit stand (56 rue des Trois Frères). The film also makes use of the area's major tourist attraction: Amélie leads Nino on a chase through the steep, stair-stepped park below Sacre Coeur. To get to Paris, consider Go-Today.com's air/hotel vacation packages—they often put you up in a modest Montmartre hotel starting at $399 for six nights.
3) Lost in Translation
Tokyo | 2003
Charlotte (Scarlett Johansson) has come to Tokyo with her husband, who's there on business; Bob (Bill Murray) is an actor doing an ad for Suntory whiskey. Paralyzed by ennui, they talk about escape, but once they break out of their self-imposed asylum—the exquisite Park Hyatt—they find that a jolt of electric Tokyo is exactly what the doctor ordered.
Your Turn: A majority of the filming took place in two of Tokyo's most vibrant neighborhoods—Shinjuku and Shibuya. Bob's first views of the city are the neon-lit buildings at the entrance to Kabuki-cho, Shinjuku's entertainment district. (Charlotte's giant elephants and dinosaurs are outside Shibuya Station's Hachiko exit.) Staying at the Park Hyatt probably isn't an option at $470-plus a night, but you can enjoy your own Suntory times at its New York Bar (3-7-1-2 Nishi-Shinjuku, 011-81/3-5322-1234, $18 cover after 8 p.m.). Jugan-ji temple, where Charlotte listens to monks chant, is within walking distance of the Park Hyatt (Honcho 2-26, Nakano-ku). Charlotte and Bob sing at Karaoke Kan in the K&F Building (30-8 Utagawacho, Shibuya-ku). Follow Charlotte to Kyoto on the Shinkansen, or bullet train (jreast.co.jp, $125 each way), and visit the Heian Jingu Shrine and Nanzen-ji Temple (take bus 5 from Kyoto Station to either). Their good-bye is in Plaza Dori, near the west entrance to Shinjuku Station. Kintetsu International offers flights to Tokyo starting at $500 from L.A., $600 from New York. Discounted hotels are available, too (212/259-9648, kintetsu.com). Wherever you end up staying, tune into TV Asahi at 11:15 p.m. on Wednesdays for Matthew's Best Hit TV, the kooky talk show that Bob appears on so he can spend more time with Charlotte.
2) A Room With a View
Florence and England | 1985
Enchanted April, Summertime, Under the Tuscan Sun... There's a subgenre of literature and film concerning stuffy Brits and/or brash Yanks who come to Italy and are seduced, learning to live and to love and to let down their hair. A Room With a View beats the pants off all of them—even more remarkable when you consider that two thirds of it takes place in England. It's in Florence that Lucy Honeychurch (Helena Bonham Carter) meets the brooding George Emerson (Julian Sands). George falls in love at first sight, but it takes Lucy the rest of the film to realize she loves him back. At one point, Reverend Beebe (Simon Callow) laughs off George's certainty about how fate—and a chance encounter in the Italian Art section of London's National Gallery—brought the two destined lovers to the same English town months after their first stolen kiss in Tuscany: "You talk of coincidence and fate! You're naturally drawn to things Italian, as are we and all our friends." George smiles. "It is fate," he replies. "But call it Italy if it pleases you, Vicar."
Your Turn: First, the bad news: You can't book that room with that view. For one thing, the Pensione Bertolini had already disappeared by the time E. M. Forster returned to Florence several years after writing the novel. The hotel in the movie was made up of three locations: interiors from the Villa Maiano (closed to the public), off the road between Florence and Fiesole; the terrace of a private apartment where a fake wall with a window was built expressly to film the titular view; and the Pensione Quisisana, a back room of which was used for the room without a view at the beginning of the film. It's now the Hotel degli Orafi and charges more than $400 for a double. Doesn't matter. We've found better rooms with spiffy views. Fifth- and sixth-floor rooms at Hotel Medici have panoramas across the historic center to the Duomo, two blocks away (Via dei Medici 6, 011-39/055-284-818, hotelmedici.it, from $50 without private bath, $80 with bath). The Hotel Ritz is right on the river and is the closest you'll get—on a budget—to the view from the novel: across the river to San Miniato al Monte, on the hill above the Oltrarno (Lungarno della Zecca Vecchia 24, 011-39/055-234-0650, hotelritz.net, from $135). Hotel Silla is on a leafy square along the Arno, with views to the historic center—albeit several blocks upriver from the view in the film (Via de' Renai 5, 011-39/055-234-2888, hotelsilla.it, from $184). Loggiato dei Serviti is a Renaissance palazzo overlooking the loggias of Piazza SS. Annunziata; Eleanor Lavish and Charlotte Bartlett pause under its portico while exploring the city (3 Piazza SS. Annunziata, 011-39/055-289-592, loggiatodeiservitihotel.it, from $252).
1) The Sound of Music
Salzburg, Austria | 1965
They're a pair of classics, inextricably tied together for three generations and counting. Salzburg and The Sound of Music are so strongly associated with each other that the fact that Mozart was born in town is an afterthought for many visitors. (Mozart!) The film created a charming vision not only of Salzburg but of the entire Alps region, inspiring countless travelers to find out just how alive those hills really are. Featuring a radiant young Julie Andrews, seven adorable kids, a hunky captain (Christopher Plummer) who refuses to bow to the Nazis, and sing-along standards such as "Do-Re-Mi" and "Edelweiss," the beloved Rodgers and Hammerstein musical is truly one of our favorite things. Nearly all exteriors were filmed in and around the gorgeous baroque city, with its old-world blend of castles, gardens, cathedrals, and open squares. It's enough to make you want to break into song.
Your Turn: Salzburg Panorama Tours (011-43/6628-83211, panoramatours.com, $41) carts tourists around in a bus, and Bob's Special Tours (011-43/6628-49511, bobstours.com, $43) uses a van, but both blast the movie's soundtrack and invite everyone to sing while visiting Mirabell Gardens (where Maria and the kids frolic during "Do-Re-Mi") and Mondsee Cathedral (site of the wedding). As an alternative to a tour, many of the locations—Mirabell Gardens, Residence Square (where Maria sings "I Have Confidence," with the Hohensalzburg Fortress high on a hill above), St. Peter's Cemetery (where the family hides from the Nazis)—are easy to find on foot in Salzburg's old town. Most Austrians haven't seen The Sound of Music, and those who have chuckle at the liberties Hollywood took. For something more authentic but still related to the film, watch a puppet show at the Salzburg Marionette Theatre (Schwarzstrasse 24, 011-43/6628-72406, marionetten.at, $17–$43) or ride a cable car to the top of Untersberg, the dramatic peak at the beginning and end of the movie (011-43/6246-72477, untersberg.net, $21). Finally, if Austria is too far, the Trapp Family Lodge, outside Stowe, Vt., is run by descendants of the Von Trapp family (800/826-7000, trappfamily.com, doubles from $198, carriage ride $5).
Previous:
Page 3: Summertime, Swingers, Roman Holiday, The Endless Summer, From Here to Eternity
Page 4: Y Tu Mama Tambien, Moonraker, When Harry Met Sally, The Lord of the Rings, Out of Africa