/ Source: The Associated Press
A 55-year-old woman who gave birth to triplets for a daughter who was medically unable to conceive said Wednesday she was "a caring incubator" and was awe-struck when she learned she was carrying three children.
Tina Cade delivered her own grandchildren — two boys and a girl — by Caesarean section Tuesday at Bon Secours St. Mary's Hospital. She served as a surrogate for her oldest daughter, Camille Hammond, and Hammond's husband, Jason.
She told NBC's "Today" that she was "awe-struck — I could not believe it" when the doctor told her there would be triplets.
Hammond, 29, suffers from endometriosis, a condition that affects the lining of the uterus and makes it difficult to become pregnant. She and her husband, both resident physicians at Johns Hopkins University in Baltimore, tried for four years to conceive.
Cade underwent in-vitro fertilization in the spring.
"Well, it was actually my idea with my husband," Cade said on ABC's "Good Morning America." "We had seen a movie many years ago that showed a similar predicament and when this opportunity presented itself, we knew we just had to do something to make a difference to Jason and Camille. And we think that this has."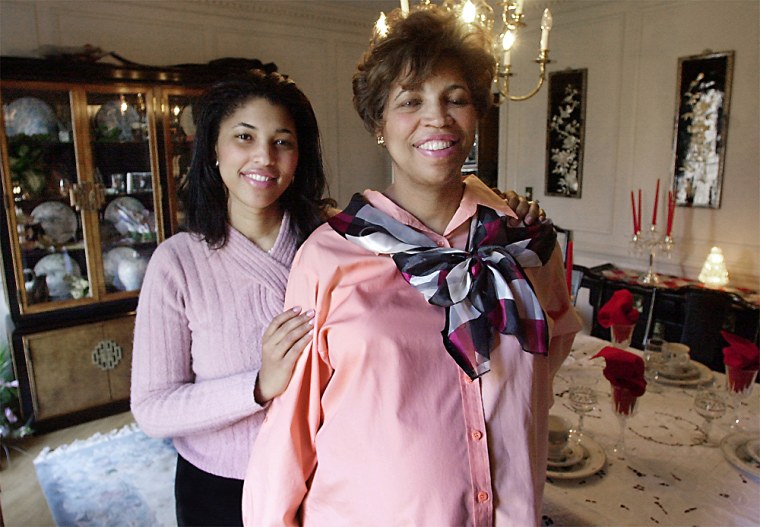 Camille Hammond said she was "overwhelmed" by her first look at the three infants, and her husband said "they were all just so beautiful, we were just overcome."
"We all just melted," Jason Hammond said on NBC. "Holding them for the first time, I have to learn how to balance all three. It will be fun, though."
The couple declined to disclose their names.
The babies, who were due in mid-February, are in intensive care. The C-section was scheduled after Cade came in for an appointment and doctors noticed swelling. She was admitted Monday.
"I was a caring incubator and that's how I saw myself," Cade said.
The boys weighed 4 pounds, 9 ounces and 3 pounds, 12 ounces; the girl weighed 4 pounds, 10 ounces.
Asked if she had any counsel for the new parents, Cade, who is director of multicultural affairs at the University of Richmond, said: "Just to love them. Unconditional love. That conquers so many hurdles and challenges."
The National Center for Health Statistics said 12 children were born in 2002 to women ages 50 to 54 who carried triplets. The center only records surviving infants, and does not maintain statistics for women 55 and over.