/ Source: The Associated Press
Civilians shopping at street markets, worshipping at mosques and mourning at funerals have become the prime target of insurgents in a two-week spree of carnage that many people think is linked to efforts by foreign extremists to plunge Iraq into civil war.
At least 489 people, most of them civilians, have been killed by bombings and other insurgent attacks since Iraq's new government was announced by Prime Minister Ibrahim al-Jaafari on April 28.
Now, with the bodies of 50 men found shot to death by unknown assailants and dumped across the country over two days, fears are rising that foreigners like Abu Musab al-Zarqawi may be making headway in their campaign to turn Iraq's fractious communities against each other.
Old retaliations, flaring anew
There are worries the unexplained killings in Baghdad and other cities could be a result of angry Shiite and Sunni Muslims retaliating against each other's communities in frustration over two years of unrelenting insurgent attacks.
Religious leaders also have been singled out. Shiite cleric Qassim al-Gharawi died in a drive-by shooting in western Baghdad last week. Quraish Abdul Jabbar, a Sunni cleric, was reported shot dead and his body dumped behind a mosque in northeastern Baghdad on Monday.
"We are approaching a situation that is unstable, of a war of all against all, complete chaos, where the government is ineffective, the security is ineffective, and anybody can be killed at any time by anybody," said Kenneth Katzman, an expert on the Persian Gulf region with the U.S. Congressional Research Service.
The Jordanian-born al-Zarqawi, leader of Al-Qaida in Iraq, made his intentions clear in a letter obtained and released last year by the U.S. government saying that causing sectarian fighting between Shiite and Sunni was the best way to undermine American policy in Iraq.
Most of the insurgent attacks aimed at civilians have been in neighborhoods whose residents are predominantly from Iraq's Shiite Arab majority or their Kurdish allies. Many insurgents are thought to be from the formerly dominant Sunni Arab minority, but many Iraqis blame foreign extremists for the assaults on civilians.
"This shows that the terrorists are in their last period. They weren't able to violate the security zone and therefore they started targeting schools, markets in order to kill civilians," the new defense minister, Saadoun al-Duleimi, said at a news conference Monday.
Al-Duleimi, a Sunni Arab, said insurgents killed 230 civilians last week alone, while only 13 Iraqi soldiers and policemen were slain.
The government's efforts to quell insurgent violence and keep Iraq's religious and ethnic communities from splitting could be complicated by the close relationship between the Interior Ministry, headed by Shiite leader Bayan Jabr, and the Badr Brigades, the militia of Iraq's leading Shiite group, the Supreme Council of the Islamic Revolution in Iraq.
Concern was raised when the militia, once regarded as terrorist by U.S. officials, cooperated with security forces to capture four Palestinians and an Iraqi wanted for a bombing Thursday that killed at least 17 people at market in a Shiite neighborhood of Baghdad.
Al-Duleimi, the defense minister, has said he won't merge militias such as the Badr Brigades and the Kurdish Peshmerga into Iraq's army. The United States has called for the militias to be disbanded.
Civil war? Not yet, one analyst says
Despite the violence and communal frictions, Katzman, the analyst at the Congressional Research Service, doesn't yet see Iraq tumbling into a sectarian war.
"Some would define this as some kind of civil war, but we don't yet have entire distinct camps across the country opposing each other," he said.
Iraq's influential Shiite leaders, particularly Grand Ayatollah Ali al-Sistani, are also playing a key role in tamping down resentments that could erupt into civil war.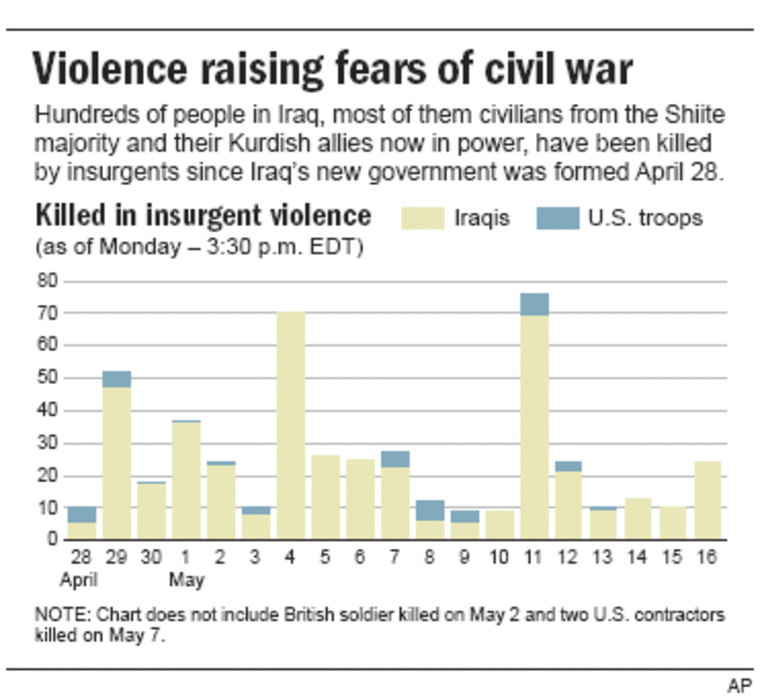 Laith Kuba, spokesman for al-Sistani, said Shiite retaliation against Sunnis over terrorist attacks could jeopardize the Shiites' new role as the strongest political group.
"There is an awareness among Shiites now that we have the larger presence in the country, run the state and can benefit most" from peaceful relations, Kuba said.
Shiites, who make up 60 percent of Iraq's 26 million people, were oppressed under Saddam Hussein, then emerged from the Jan. 30 elections with the biggest bloc in the National Assembly. They have allied with Kurds, who also were oppressed by Saddam, but have included Sunnis in the government in an effort to ease Sunni discontent over losing power.
'The only scenario they have'
One factor working against the effort by foreign extremists to foment civil war is the widespread belief among Iraqis that homegrown anti-U.S. insurgents, either fervent nationalists opposed to foreign occupation or former Saddam loyalists angered by their fall from power, would not turn their weapons on fellow Iraqis.
So many Iraqis aim their anger over the attacks at foreign extremists and allied Iraqis who follow the puritanical Wahhabi sect of Sunni Islam.
"Civilians are always going to be the easiest targets, and the Islamic extremists coming into the country are using them to try to torpedo Iraq's political process," said Ismael Zayer, editor in chief of the Iraqi newspaper al-Sabah al-Gadeed.
"Civil war is the only scenario they have," Zayer said of the foreign terrorists. "These people have nothing else."