MTV Networks — no stranger to controversy or going after an undervalued audience — is bidding for the attention of a lucrative demographic with a new cable channel targeted at gays and lesbians.
The Logo channel made its debut on Thursday, going after viewers in the coveted 25-to-49 age range with a mix of original and acquired programming.
Logo is the latest cable television channel aimed at gays and lesbians, whose annual buying power this year is estimated at more than $600 billion, according to Witeck-Combs Communications, a Washington, D.C., marketing firm specializing in the gay marketplace.
Logo, which will be offered as a premium service to an estimated 14 million households at launch, will challenge two other channels aimed at the same highly prized eyes. The Here! cable channel, launched in 2002, is available to Cox and Comcast cable subscribers. And Q, started in October and now on the largely regional RCN satellite network, said it hopes to eventually reach 10 million households as a premium channel.
Tapping into broad distribution network
What sets Logo apart is the breadth of the company behind it: Logo will join the stable of movie, television, radio and advertising properties owned by Viacom. The communications conglomerate also owns BET, CBS, Comedy Central, Nick at Nite, Paramount Pictures, UPN and Spike TV, among others.
With such a distribution network in place, Logo is likely to have a broader immediate reach and name recognition than either Q — now seen largely in Boston, New York, San Francisco and Seattle — or Here!, available as an offering to 42 million households but actually seen in about 14 million.
Some of the channel's charter advertisers include Orbitz, Subaru, Motorola, Tylenol, Miller beer and Lions Gate Films.
One media observer played down the importance of Logo to either Viacom's bottom line or its core communications strategy. "This is such a small story for Viacom," said Michael Nathanson, media analyst for Bernstein & Co.
"There's more sociological and political interest in this than financial," Nathanson said. "They perceive this area to be an underserved market at this point, and they want to tap into it."
'Pent-up demand'
Going after the gay and lesbian market makes sense for MTV. Market research shows they prefer cable programming to broadcast, in part because of cable's tradition of pushing the envelope on language and depiction of adult themes, as witnessed by such programs as Showtime's groundbreaking series "Queer as Folk."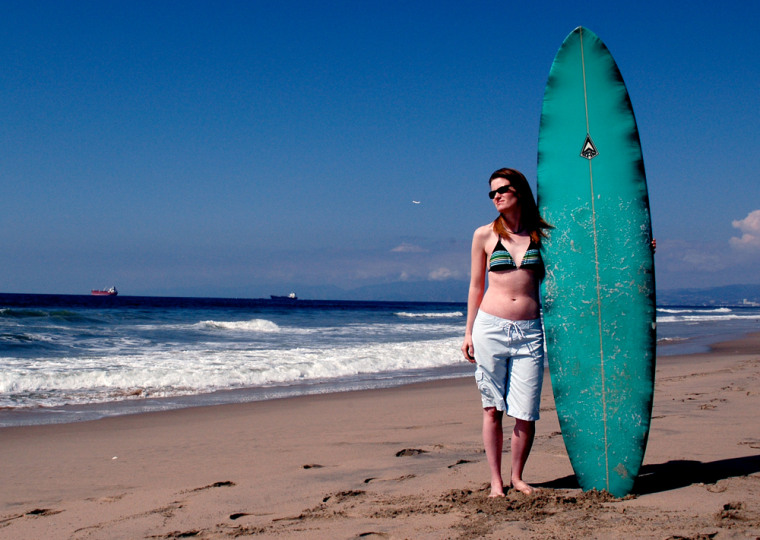 "The appearance of three networks targeting this audience indicates the pent-up demand for this type of programming," said David Bittler, an MTV Networks spokesman.
Logo plans to tap into what's worked for MTV in the past. "Our original shows will be in the MTV tradition of cool-looking, interesting shows built around this audience," Bittler said.
The new programs now in production include "Noah's Arc," a comedy about a gay black screenwriter and his friends in Santa Monica trying to carve out livings in the movie business, and "Curl Girls," a reality show exploring the lives of lesbians whose day jobs as lawyers, real estate brokers and doctors give way on the weekends to their passion for surfing.
Logo plans to broadcast the 16th annual GLAAD — Gay & Lesbian Alliance Against Defamation — Media Awards presentation on July 24.
A window on gays' lives
The new channel also expects to be a showcase for documentaries. "MTV Networks has a long tradition of creating original documentaries," Bittler said, "so it makes sense for Logo to do the same."
"The guiding principle is to show parts of gay life that aren't what people think of immediately when they think of this community," Bittler said. "Gay rugby players, for example, or the experiences of being gay and Hispanic or gay and Muslim — what everyday gay lives are like."

Logo will also draw from a deep well of mainstream films. "At Logo, you'll see more than 200 titles from major movie studios [with] stars that have proven their popularity in terms of creativity and audience response," he said. "We're collecting the shows and themes that have been a huge part of popular culture — a lot of the movies that people have been talking about — from HBO's 'Angels in America' to 'Billy Elliott' to 'Fried Green Tomatoes.' "
Bittler said he doesn't anticipate backlash from conservative groups. "The network is programmed for a very specific audience," he said.
Criticism from conservatives
But some opponents have already weighed in. Janice Crouse, senior fellow at Concerned Women for America, a conservative public-policy women's organization based in Washington, D.C., called Logo "another example of an assault on children's innocence, a means of legitimizing a homosexual lifestyle, mainstreaming homosexuality in a positive and appealing way."
"They have successfully established themselves in the sex education curriculum in our schools, and now they're on the move into our nation's living rooms, with children being exposed to propaganda that tries to portray the gay lifestyle as normal," Crouse said.
Diverse demographic
Another media watcher is cautiously optimistic about Logo's chances of success in an already crowded media marketplace.
"I think this is a difficult time to launch any channel," said Robert Thompson, director of the Center for the Study of Popular Television at Syracuse University. "There are so many out there. But the idea of a 'gay channel' was inevitable."
"I'm not surprised that it's happening," he said. "I'm just surprised that it's taken so long."
But Thompson sees some hurdles. Other cable channels have been directed at specific, easily identified viewer blocs. But gays and lesbians comprise a demographic almost too diverse for words, Thompson said. "What a 17-year-old gay male wants to watch will be considerably different from what a 65-year-old lesbian female will want to watch," he said. "You can't program for the entire gay audience."
In search of the monster hit
Thompson generally applauded MTV's strategy of repackaging tried and true programs. "That's a good idea and a good launching point," he said. "The problem for gay programs is, let's face it — that well isn't nearly as deep. I'm not sure there's enough there [on which] to base a new channel."
He said Logo needs what every new cable channel needs, a "niche anchor hit."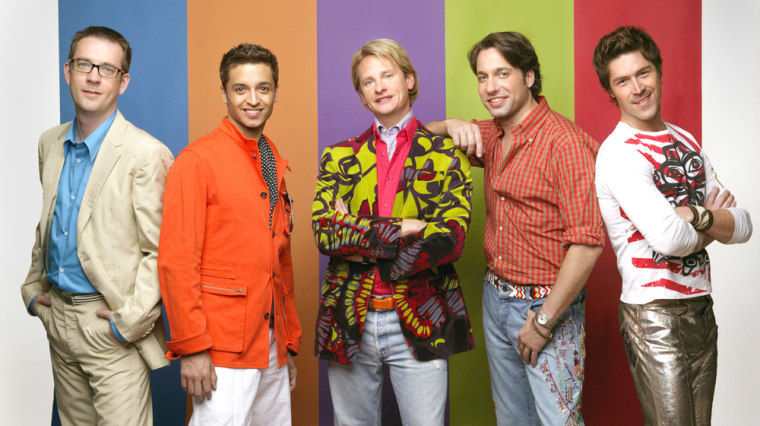 "Look at Bravo's 'Queer Eye for the Straight Guy.' It forced everyone to look at their cable channel list," he said. "The buzz was everywhere, and that's what did wonders for Bravo. Millions of Americans found Bravo as a result of that."
(Bravo is a property of NBC Universal; MSNBC is a joint venture of Microsoft and NBC News.)

"But getting that niche anchor hit is easier said than done. Many are called, but few are chosen," Thompson said.
More slices of America
But Logo, as well as Here! and Q, appear to represent ways to address the continuing stratification of American television.
"Back in the analog world, you had to have services that were very broadly defined in order to come up with a hit," said Paul Colichman, founder and CEO of the Here! channel. "Today, with digital availability, the smaller niches are more important than the hits. The gay and lesbian audience is high on the list of desirable niches."