The water in Lake Austin was too cold for the guests of the Sunshine Nudist Camp, which was established on Lake Austin in the early 1970s, replacing a fishing camp that had been there since the '40s. The campers gritted their teeth for a few years, then decamped to warmer climes. Replacing them were rodeo clowns and cowboys learning the ropes at the Steiner Ranch Rodeo Camp. That venture lasted until 1979, when the Bermuda Inn, a fat farm, opened its doors at this secluded spot 45 minutes northwest of the Texas capital. It would stay until 1997, undergoing two name changes (and substantial shifts in philosophy) during that time, becoming Lake Austin Resort in the 1980s and Lake Austin Spa Resort in 1994. Then, in 1997, the property was bought by its present owners, Michael McAdams and Billy Rucks, who kept the name but started changing just about everything else.
The current Lake Austin Spa Resort is incarnation number seven, and that seems to be the lucky number. McAdams and Rucks have just finished a seven-year renovation of the property. The grand finale, which opened in June, is the 25,000-square-foot LakeHouse Spa. It has 30 treatment areas, both indoors and out, and one of the most extensive treatment menus I've seen, encompassing everything from Ayurveda and energy work (Energy Balance with Healing Sound) to a variety of baths and very good scrubs (the Texas Pecan is a favorite). There are special menus for men and teens and a separate beauty salon with a pedicure bar. The new facility, along with the property's other improvements, puts Lake Austin firmly on the destination-spa map, right up there with Canyon Ranch and Rancho La Puerta.
But it's been a long road.
"I didn't know I was buying Green Acres," says McAdams, who had previously run on the fast track at Dallas Ft. Worth real estate power Trammell Crow, where he was president of the company's design centers--good training for this venture. "I found an amazingly beautiful piece of nature, a fantastic core staff, and just ugly run-down facilities." One of the first people he hired, general manager Tracy York, who came from the Hotel Crescent Court in Dallas, got a good dose of what was in store on her first day. "A lady was just standing there screaming," she recalls. "She had stepped into her bathtub and her foot had gone right through. The tub was rusted out. I thought, What have I done?"
McAdams's ambition was to build a spa "that would be like your best friend's lake house," he says. Based on my three-day visit, I'd say that he and Rucks have succeeded. The LakeHouse Spa, constructed of local limestone and cedar, sits on a hillside that overlooks two acres of terraced water gardens containing 200 species of native plants. To the left, as you come up the walk to the building, is the Pool Barn, a handsome trussed-roof structure with garage doors built into the sides; it houses a junior Olympic lap pool. And on the right is the new resort pool, which includes private spa cabanas for two.
"I worried that the LakeHouse Spa would be too grand," says McAdams. "I asked the design team to build in a funky factor to give it some whimsy." That took the form of large wooden shutters and a screened-in porch with Kennedy rocking chairs. Both give the building a down-home feel that plays nicely off the golden limestone facade.
Still, it was McAdams who often supplied a leavening touch through the furniture, artwork, and accessories he purchased on what sounds like a seven-year buying trip. It was his idea to hang the vibrant geometric quilts, all champions at the Texas State Fair, in the hallway leading to the treatment rooms. He ordered up the bouquets of wildflowers in the cheerful Aster Café, where the creative low-fat menu draws on the flavors of Asia, Mexico, the Southwest, and the Caribbean. And he figured out a use for the antique iron cart he bought in a Dallas antique shop: fill it with freshly picked herbs and let guests choose one to use in their treatments.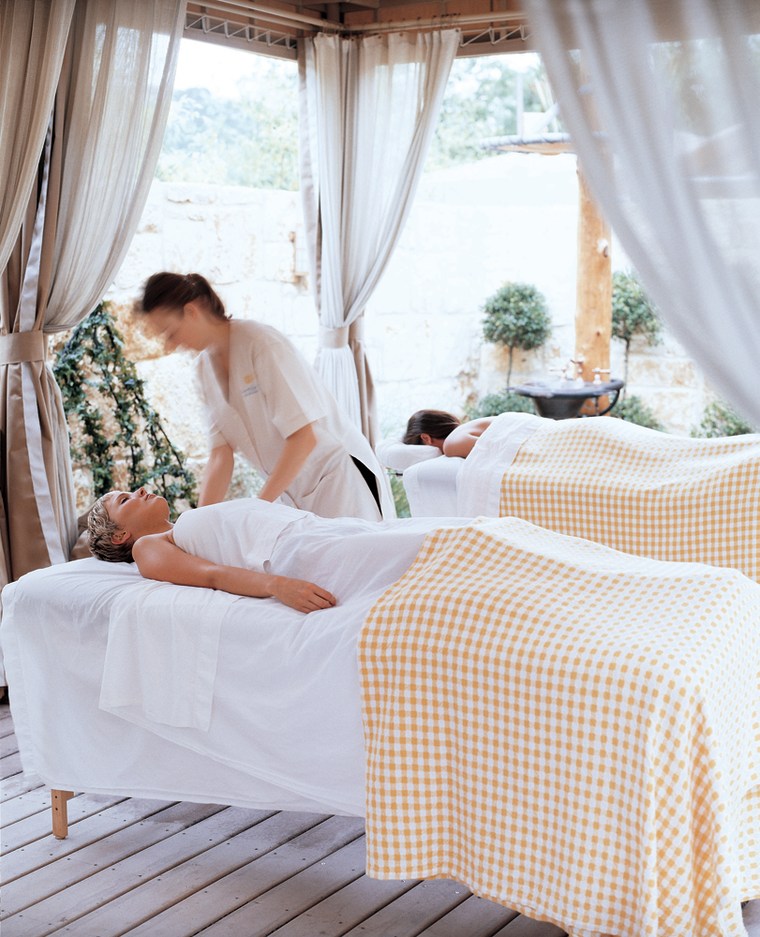 McAdams's stamp is especially evident in the Blue Room, the spacious, high-ceilinged relaxation room on the LakeHouse Spa's second floor. The centerpiece is a large tin chandelier that he commissioned from Santa Fe artist Ted Arellanes. The floor-to-ceiling linen drapes have hand-painted garden scenes, complete with butterflies, bees, and hummingbirds, on the lower portion. The wool rugs were handmade in Turkey and took nine months to complete, and the orange-and-yellow leather ottomans are Moroccan. Oversize art books are stacked on a coffee table next to guide books on birds, wildflowers, and Texas history. And of course, this being Texas, there are afghans draped over daybeds and wicker chairs. "I wanted this place to be decorative," says McAdams. "I wanted everything to be grounded and earthy."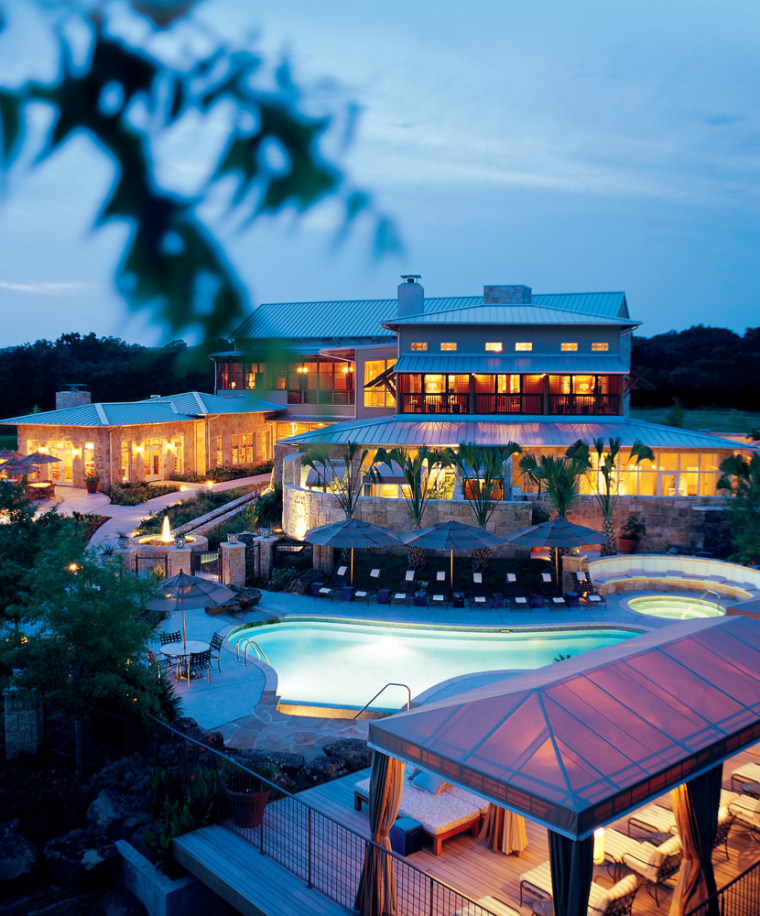 "When I saw the new spa, I felt like I was on the yellow brick road and then there was Oz," says Robbie Luitjen, who lives in San Antonio and has visited almost 20 times throughout the property's various lives. She compares her visits to coffee breaks: "You can make it through the day if you know you have a break coming." The old spa, she notes, was very rustic: The accommodations were simple, the food was good but limited, and there were spiderwebs everywhere. The Healing Waters Spa, as it was then known, was a cottage-like 3,600-square-foot stone building, added in the late '80s, with ten treatment rooms. It stands empty today, but McAdams is thinking of converting it into a villa for families or groups of friends.
The mood at Lake Austin is low-key. Many guests pad around in a robe all day and spend downtime in the rocking chairs outside their cabins. The tour of the extensive gardens, full of butterflies and birds, is popular. "If you want to ride horses and climb mountains, this wouldn't be your spot," says York. "If you want to wear jewelry to dinner, this wouldn't be your place, either. If you want to wear no makeup and wear your robe to dinner and feel really comfortable, then you'll like it here."
While the property may have changed over the years, one thing that has remained constant is the man-made, 21-mile-long lake, the inspiration for the spa. The water in Lake Austin, part of a five-lake chain, comes through the Mansfield Dam at a depth of 147 feet. "That's why it's so cold," explains York. "The sun doesn't go through that water."
The lake plays a major role in the exercise program, which includes hydro-biking, kayaking, waterskiing, wakeboarding, and sculling. There's also a yoga deck over the water, where tai chi classes are taught as well. "You have to experience the lake to appreciate it," says sculling instructor Cindy Present. "To get out on the water when it's totally flat, with a little mist coming off it--it's magical. This place has been an escape for more than half a century. People have always come to the water's edge to renourish."
The new LakeHouse Spa completes a chapter in Lake Austin's evolution that began in the 1980s. When it dropped the name Bermuda Inn, management also gave up the fat-farm approach. "We took it from a deprivation place and turned it into a wellness facility," says Deborah Evans, who spent 12 years at the property (1983?1995) and is now the general manager of Red Mountain Spa in St. George, Utah. "We started teaching self-responsibility and were leading the industry during the '80s, making that transitional move to where spas are today--much more balanced."
And isn't that what it's all about? "Destination spas give you the opportunity to stop long enough to look within yourself to find balance," says McAdams. "Balance is what we're all looking for; a happy life is a balanced life. Our whole property is about that."

Spa Finder, the global spa resource, reaches millions of health-conscious consumers via its website, Spafinder.com. The company publishes Luxury SpaFinder Magazine, the trusted authority on luxury spas and associated lifestyles, and The Spa Enthusiast, the leading publication for active spa-goers.