/ Source: The Associated Press
The National Science Foundation agreed to halt construction of a $13 million mountainside telescope complex after an American Indian tribe filed a federal lawsuit claiming that the area is sacred.
The foundation said it will work with the Tohono O'odham Nation to assess the environmental and cultural value of the Kitt Peak area before resuming work on what the lead scientist said would be the most advanced system of its kind in the Northern Hemisphere.
"We are being very deferential to ensure that the tribe is on board every step of the way," said Charisse Carney-Nunes, a foundation attorney.
The tribe, which claims 24,000 members, withdrew a motion to halt the construction but said it will press the litigation. The lawsuit, filed in March, claims that the National Historic Preservation Act requires the foundation to consult with the tribe and the state Historic Preservation Office because Kitt Peak is considered sacred.
In the Tohono O'odham creation story, the universe gave birth to the world thanks to I'itoi, the deity who lives at Baboquivari Peak south of Kitt Peak.
Science foundation documents that are among court records acknowledge the importance of the two peaks to the Tohono O'odham people, formerly known as the Papago Tribe. "Both of these mountains figure prominently in tribal legend as the homes of ancient Papago gods," the papers say.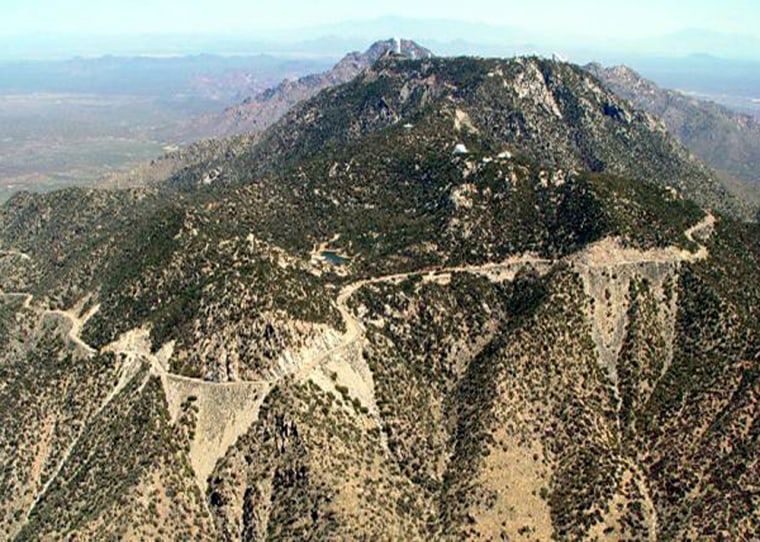 Amy Northcutt, a foundation attorney, said the group assumed it was in compliance with federal requirements because Kitt Peak National Observatory already operates on Tohono O'odham land under a 1958 lease with the agency. The site is part of the National Optical Astronomy Observatory in Tucson, and it supports 22 optical and two radio telescopes from eight research institutions.
The new project, the Very Energetic Radiation Imaging Telescope Array System, would eventually include seven scopes and is meant to detect gamma rays coming from black holes, quasars and exploding stars.
About $1 million has already been spent to grade the site, install power lines and pour concrete foundations, and work continued on the telescopes offsite.
The government filed a motion to dismiss the lawsuit in May; the tribe's response is due next Friday.