/ Source: msnbc.com staff and news service reports
Idaho kidnapping suspect Joseph Edward Duncan III committed his first act of sexual assault 30 years ago, preying on a 5-year-old boy when he was just 12, according to a report published Wednesday.
Duncan's records reveal a history of inflicting violence and sexual torture upon others, particularly young boys, with his crimes escalating in their seriousness. His past shows a series of failed treatments and refusal to comply with therapists and law enforcement officials who tried to correct his behavior, which mental health evaluators diagnosed in 1980 as consistent with an antisocial personality and a sexual deviant, the Seattle Times reported.
On Tuesday, Duncan was charged with two counts of first-degree kidnapping in connection with the abduction of Shasta Groene, 8, and her brother Dylan, 9, of Coeur d'Alene, Idaho. The two children had been missing since May 16, when the bound and beaten bodies of their mother, older brother, and mother's boyfriend where found in their rural home.
In addition to kidnapping the children, authorities believe Duncan is also responsible for killing the children's brother, mother and her boyfriend at the family home, a sheriff's spokesman said Wednesday.
Duncan the 'only one responsible'
"We believe Joseph Duncan is the only one responsible for these crimes," Kootenai County Sheriff's Capt. Ben Wolfinger told a news conference.
Duncan was never a suspect in the attacks on the family and his name never came up until his arrest, Wolfinger said. He could not explain why Duncan's fingerprints were not found at the scene.
Wolfinger declined to say whether Duncan had a gun or to speculate on how he might have overpowered the five people at the house.
Officials still have no motive for the crimes, nor have they found a connection between Duncan and the family, Wolfinger said, raising the possibility the attack and kidnapping were random.
Still no clear motive
"When we get the pieces together, we'll find out what the motive is," he said, adding, "A sense that we got the right guy permeates through the investigators as they work diligently."
Duncan, of Fargo, N.D., was charged Tuesday in 1st District Court in Coeur d'Alene with two counts of first-degree kidnapping.
Shasta safely returned home after being spotted with Duncan in a Denny's at 2 a.m. Sunday in Coeur d'Alene. In an affidavit released Tuesday, Kootenai County Sheriff's Sgt. Brad Maskell disclosed that Shasta told authorities Duncan repeatedly molested her and Dylan during their six-week nightmare.
"Shasta and Dylan were repeatedly molested," Maskell wrote in a terse, handwritten affidavit released Tuesday. "Shasta saw Mr. Duncan molest Dylan."
The intent of the crimes, court documents said, was to rape, seriously injure or commit a lewd and lascivious act on a child under 16 years old.
While it is the Associated Press' policy not to identify alleged victims of sexual assault in most cases, the search for the children and Shasta's recovery were so heavily publicized that their names were already widely known.
Dylan is believed to be dead by authorities, and Wolfinger said officials likely would not be able to conclusively identify human remains found in western Montana, believed to be those of the boy, until next week.
One of five children born into a military family in Fort Bragg, N.C., Duncan moved frequently when he was growing up. The high school dropout often felt lonely and displaced, particularly after his parents' divorce in 1979, the Times reported.
Rape at gunpoint
It was these feelings that prompted him to victimize others: by the time he was 16, Duncan estimated he had raped 13 younger boys, some at gunpoint, it said.
"It was an outlet for my feelings [of] rejections. One from my mother and one from my father," Duncan wrote in a personal history cited by The Times. He said he didn't feel wanted at home and at school, he was bullied by peers because of his constant moves.
His hostility led him to sexually assault a 9-year-old boy at gunpoint when he was 15, and a year later, to tie up six young boys and sexually assault them, the newspaper said.
Duncan was deemed a sexual psychopath at 17, after he was arrested for the rape and torture of a 14-year-old boy in 1980. Police said Duncan broke into a neighbor's house, stole a gun, and then pulled it on the boy, who was walking to school.
Duncan forced him into a wooded area and made the boy take off his clothes and perform a sexual act, according to court documents. Duncan then prodded the boy further into the woods, sexually assaulted him again, and then beat the boy's buttocks with a stick and burned him with a cigarette. He led the boy back to his clothes and told him to run away.
14 years in prison
As an alternative to prison, Duncan underwent treatment at the Sex Offender Program and Western State Hospital in Washington state, where he lived during his teenage years. Twenty-two months later, he was kicked out of the program for sneaking off the campus and having rape fantasies, the Times said. A judge then reinstated his 20-year prison sentence in March 1982 and Duncan served 14 years in prison.
Duncan's next encounter with the law came in April, when he was released on $15,000 bail  after being charged with molesting a boy in Minnesota. Police in Fargo, where his last-known address was, had been looking for Duncan since May, when he failed to check in with a probation agent.
Shasta and Dylan Groene were discovered to be missing on May 16, when police found the bodies of the girl's mother, older brother and mother's boyfriend bound and bludgeoned to death.
Shasta Groene said her nightmare began when she was awakened, tied up and carried with her 9-year-old brother to a waiting pickup truck.
"This little girl really went through more than any little girl should ever have to think about," Wolfinger said Tuesday.
Darlene Torres, Shasta's grandmother, said Duncan has no known connection to the family. "Nobody in the family has ever seen this man before. Ever," Torres told CBS' "The Early Show" Wednesday.
'Doing really good'
Misty Cooper, Shasta's aunt, said Shasta "seems to be doing really good right now," but that the family has not spoken to the girl about her ordeal. "We just go on with every day, normal things," Cooper said.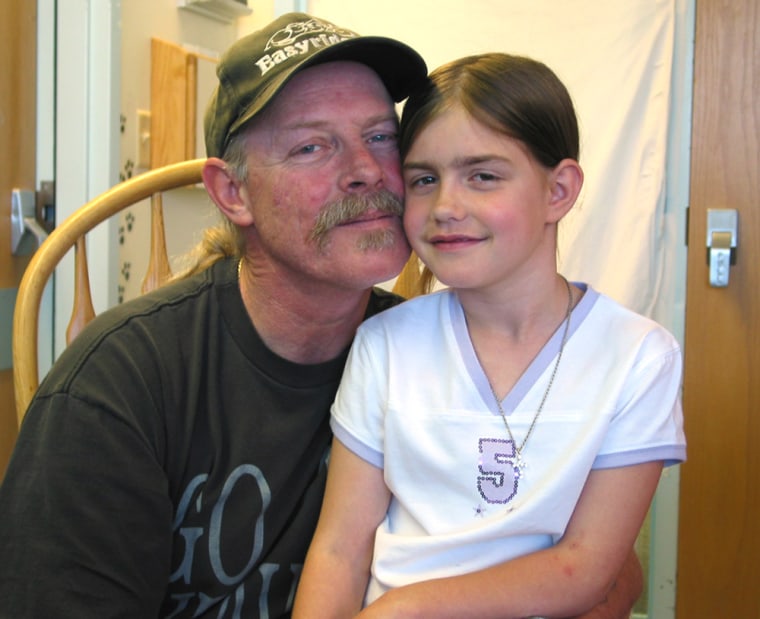 And Shasta's father, Steven Groene, made comments calling on more vigilance to prevent such crimes from happening.
"There's been so many times I've seen the news announce sex offenders being released into the community," Groene said in a Wednesday news conference.
"People need to contact their congressmen, their senators, and even the president. There's a lot more that can be done."
"These people are put in their position by us, are supposed to be working for us, and they are not doing their jobs whatsoever," he said.
Taken to three campsites
Shasta told Maskell she had never seen Duncan before.
She was awakened at her home and watched as her mother Brenda Groene, 13-year-old brother Slade and Mark McKenzie, her mother's boyfriend, were tied up, the document said. She and Dylan were also bound and placed in the pickup truck. The children were later transferred to a stolen red Jeep and taken to the first of three campsites, she said.
The affidavit does not mention the beating deaths of the girl's family or whether she witnessed the killings. It also did not say if she witnessed what happened to Dylan.
Duncan was shackled and appeared unshaven and choked up as he quietly answered Magistrate Judge Scott Wayman during a brief appearance Tuesday via video link.
"Really, is it possible not to be frustrated at the way events have unfolded in this case?" Fargo Police Chief Chris Magnus asked Tuesday at a news conference.
Spotted in Montana town
Duncan was described as relaxed and clean-cut when he stopped at a store in the western Montana logging community of St. Regis more than a month ago for gas and a 12-pack of Bud Light.
He chatted with attendant Jackie Allen for nearly 15 minutes, peppering her with questions about area parks and campgrounds and asking for directions to nearby communities.
Allen said she was "shocked and stunned" to learn that the man she said visited her store was Duncan. "I know people can fool you, but he was a really clean-cut and relaxed guy," Allen said. "It's just kind of shocked me. I still don't know what to think."
Like others in the timber town of about 300 near the Idaho state line, Allen had been on the lookout for Dylan and Shasta since they were reported missing six weeks ago.
Posters with their photos hung in nearly every business in town. And though hundreds of tourists pass through every day en route to Glacier National Park, residents watched for any suspicious people or activities.
After Duncan's arrest, business owners meticulously paged through fishing licenses and other records, checking to see if he'd stopped in their establishments.
"You hate for this kind of thing to happen anywhere, but especially for it to happen close to home," said Laura Palmer, a St. Regis gift shop employee and longtime resident.