/ Source: msnbc.com news services
Five U.S. soldiers were killed by roadside bombs in two separate incidents in Baghdad, the U.S. military said Sunday.
In the first attack Saturday around 1:40 p.m., a patrol hit a roadside bomb in the southern Dora neighborhood, killing a soldier from Task Force Baghdad, a statement said. Two others were wounded in that incident.
Later that evening, around 11 p.m., four more Task Force Baghdad soldiers were killed when a roadside bomb exploded in southwestern Baghdad.
The names of all the soldiers killed are being withheld pending notification of next of kin.
Chalabi convoy attackedMeanwhile, gunmen ambushed a convoy from Iraqi Deputy Prime Minister Ahmad Chalabi's political party on Sunday, killing one security guard and wounding three, an aide to Chalabi said.
Entifadh Qanbar told Reuters a large convoy carrying an international delegation was attacked as it drove through the town of Mahawil on the way to the southern city of Kerbala.
Neither Chalabi nor other senior officials of his Iraqi National Congress party were in the convoy, Qanbar said.
A gunbattle broke out after the ambush and one INC guard was killed, Qanbar said. Three guards were wounded when one vehicle flipped over. The INC guards returned fire, killing some of the attackers, he said. "One of the terrorists' cars was left behind. There was blood all over the seats," he said.
Qanbar said the delegation of visitors from India continued to its destination.
Police said earlier that at least one of Chalabi's bodyguards was killed in the attack.
Chalabi survived an assassination attempt in the same area last year, when two of his guards were killed in an attack on his convoy.
A former ally of the United States who lobbied strongly in Washington for the invasion of Iraq, Chalabi has made political connections since returning from exile. He also plays a key role in setting oil policy.
But he has struggled to gain popularity among ordinary Iraqis, who see him as one of the politicians who spent many years abroad and then returned to capitalize on the U.S.-led invasion that toppled Saddam Hussein.
Car bomb targets police
Violence continued Sunday when a car bomb exploded south of Baghdad, killing five civilians and wounding 10, including two policemen. The bomb targeted a police vehicle as it was passing on a main road near the town of Haswa, 30 miles south of Baghdad, said police Capt. Muthanna Khaled Ali.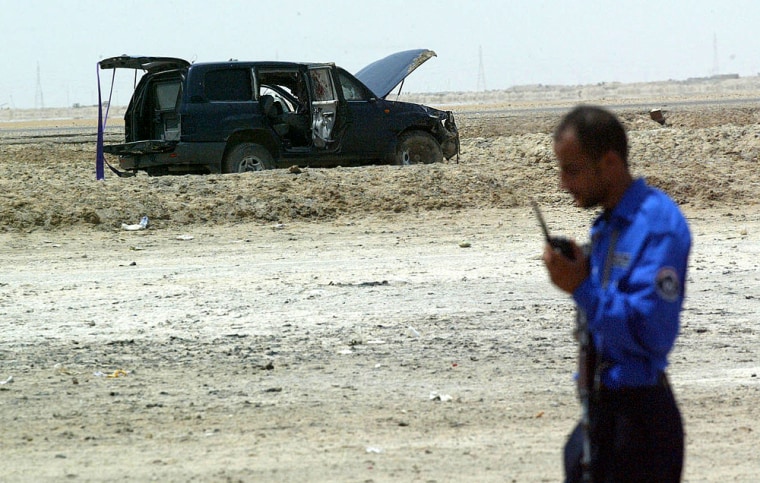 A day earlier, roadside bombs killed two British contractors in southern Iraq and at least seven people in the capital.
The Britons, who worked for the security firm Control Risks Group, were guarding a British consulate convoy in Basra, Iraq's second-largest city, 340 miles southeast of Baghdad. Two Iraqi children were wounded when a second device exploded five minutes later, police said.
Britain has some 8,500 troops in Iraq, mostly in the south. Its military headquarters is based in Basra, where Britain also has a consulate general's office.