/ Source: The Associated Press
Mississippi hurricane survivors looked around Saturday and wondered just how long it would take to get food, clean water and shelter. And they were more than angry at the federal government and the national news media.
Richard Gibbs was disgusted by reports of looting in New Orleans and upset at the lack of attention hurricane victims in his state were getting.
"I say burn the bridges and let 'em all rot there," he said. "We're suffering over here too, but we're not killing each other. We've got to help each other. We need gas and food and water and medical supplies."
Gibbs and his wife, Holly, have been stuck at their flooded home in Gulfport just off the Biloxi River. Water comes up to the second floor, they are out of gasoline, and food supplies are running perilously low.
Until recently, they also had Holly's 75-year-old father, who has a pacemaker and severe diabetes, with them. Finally they got an ambulance to take him to the airport so he could be airlifted to Lafayette, La., for medical help.
Mississippi's death toll from Hurricane Katrina stood at 161 on Sunday, MSNBC TV reported.
'Doing what I can do'
In poverty-stricken north Gulfport, Grover Chapman was angry at the lack of aid.
"Something should've been on this corner three days ago," Chapman, 60, said Saturday as he whipped up dinner for his neighbors.
He used wood from his demolished produce stand to cook fish, rabbit, okra and butter beans he'd been keeping in his freezer. Although many houses here, about five miles inland, are still standing, they are severely damaged. Corrugated tin roofs lie scattered on the ground.
"I'm just doing what I can do," Chapman said. "These people support me with my produce stand every day. Now it's time to pay them back."
One neighbor, 78-year-old Georgia Smylie, knew little about what's happening elsewhere. She was too worried about her own situation.
"My medicine is running out. I need high blood pressure medicine, medicine for my heart," she said.
Analyst's perspective
Larry Sabato, a University of Virginia political scientist, said he's been watching hours of Katrina coverage every day and most of the national media attention has focused on the devastation and looting in New Orleans.
"Mississippi needs more coverage," Sabato said. "Until people see it on TV, they don't think it's real."
Along the battered Mississippi Gulf Coast, crews started searching boats for corpses on Saturday. Several shrimpers are believed to have died as they tried to ride out the storm aboard their boats on the Intracoastal Waterway.
President Bush toured ravaged areas of the Mississippi coast on Friday with Gov. Haley Barbour and other state officials. They also flew over flooded New Orleans.
"I'm going to tell you, Mississippi got hit much harder than they did, but what happened in the aftermath — it makes your stomach hurt to go miles and miles and miles and the houses are all under water up to the roof," Barbour said.
'How many days later?'
Keisha Moran has been living in a tent in a department store parking lot in Bay St. Louis with her boyfriend and three young children since the hurricane struck. She said National Guardsmen have brought her water but no other aid so far, and she was furious that it took Bush several days before he came to see the damage in Mississippi.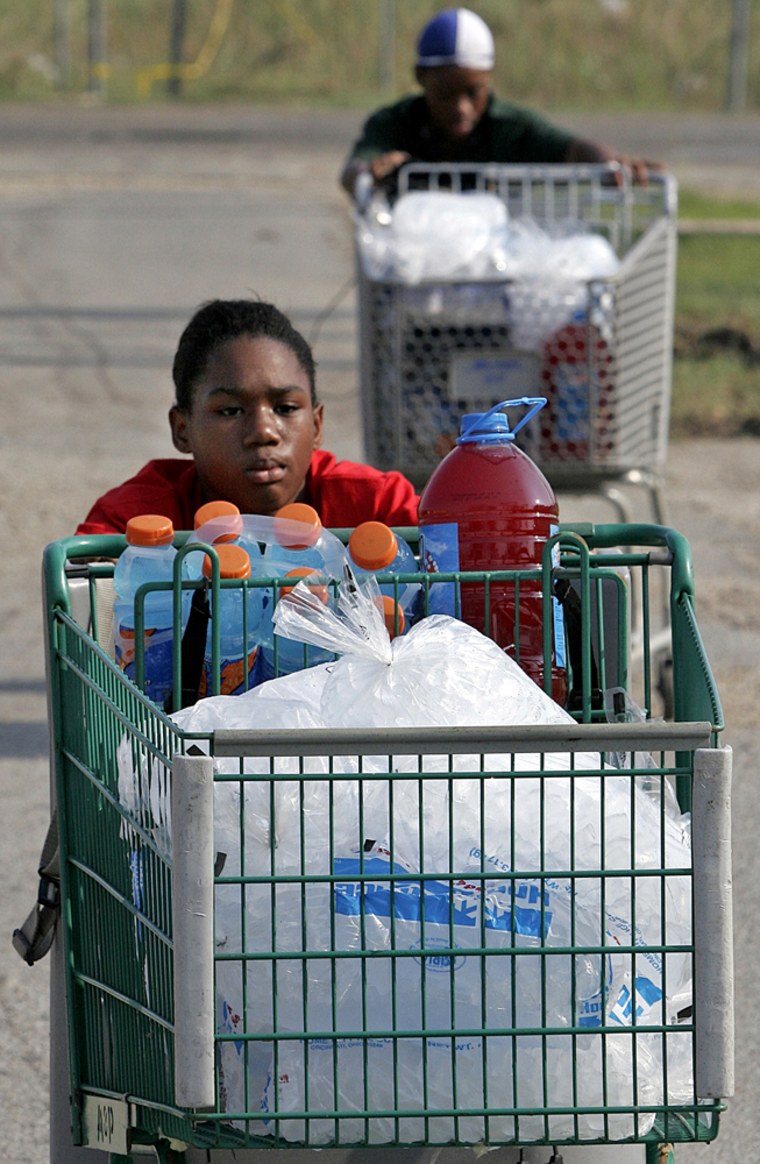 "It's how many days later? How many people are dead?" Moran said.
In a strongly worded Saturday editorial, The Sun Herald of Biloxi-Gulfport pleaded for help and questioned why a massive National Guard presence wasn't already visible.
"We understand that New Orleans also was devastated by Hurricane Katrina, but surely this nation has the resources to rescue both that metropolitan (area) and ours," the newspaper editorialized, saying survival basics like ice, gasoline and medicine have been too slow to arrive.
"We are not calling on the nation and the state to make life more comfortable in South Mississippi, we are calling on the nation and the state to make life here possible," the paper wrote.