/ Source: msnbc.com news services
President Bush, eager to show hands-on leadership in the Gulf Coast hurricane recovery effort, joined commanders working from a military ship docked in this flooded city on Sunday.
The president was spending the night on the amphibious assault ship USS Iwo Jima, which is serving a control center in the relief efforts.
It was the third trip to the area for Bush since the hurricane struck two weeks ago, and coincided with the fourth anniversary of the Sept. 11, 2001, attacks, the other major disaster on U.S. soil that his administration has been forced to confront.
On Monday, Bush will receive a Katrina briefing onboard the Iwo Jima, after which he is scheduled to tour New Orleans in military vehicles. He will then take an aerial tour of one of the parishes and meet with parish officials. Bush will end his visit with two stops in Gulfport, Miss., before returning to Washington.
The trip gives Bush the opportunity to "continue to assess the situation on the ground and visit with those who are overseeing operations on the ground to hear from them" about immediate needs and future recovery and rebuilding efforts, White House spokesman Scott McClellan said.
Death toll tops 400
Bush arrived in the region as the official death toll from Hurricane Katrina rose to more than 400, as Louisiana officials on Sunday raised the number of confirmed deaths to 197 from the Aug. 29 storm, Reuters reported.
Most of the Louisiana dead are now at a morgue established in the city of St. Gabriel, the state Department of Health and Hospitals said in a statement.
The death toll in Mississippi is confirmed to be at least 211 and the storm killed seven in Florida.
Troops won't force people out
Meanwhile, the commander of active duty troops involved in hurricane relief efforts said earlier Sunday that his soldiers will not enforce New Orleans' order for residents to evacuate the flooded city.
Army Lt. Gen. Russel L. Honore said military units continue to provide food, water and other aid despite the order, which he said was the responsibility of state and local authorities to enforce.
"Federal troops will not be involved in the direct evacuation in any way, of any one, from their home. That is a local and state law enforcement task not to include federal troops," Honore told CNN's "Late Edition."
He added that local officials and the National Guard also are providing food and water to people who have stayed.
Forensic workers and cadaver dogs are searching the city for corpses as crews cleared mounds of trash and debris left behind by residents fleeing Katrina.
Four years later, a drop in support Bush's Sunday trip to the region comes on the fourth anniversary of the Sept. 11 attacks, an early crisis in the first Bush term that united the nation behind the president.
Four years later, Bush grapples with a natural disaster that has cost him significant support. A Newsweek poll found his approval rating at its lowest — 38 percent. The survey found 53 percent of Americans no longer trusted the president to make correct decisions in a foreign or domestic crisis, compared to 45 percent who did.
The White House has dispatched a host of top officials, from Vice President Dick Cheney to members of the president's Cabinet, on almost daily trips in the past week to the Gulf Coast to see the storm damage but also to blunt criticism that the administration was unaware of the depth of the crisis and slow to respond.
Baby steps back to normalcy
In small ways, New Orleans fought its way back to near-normal. Workers here were picking up trash Sunday, a small miracle under the circumstances. The airport opened to cargo traffic. A bullhorn-wielding volunteer led relief workers in a chorus of "Amazing Grace."
Nearly two weeks after Hurricane Katrina's onslaught, the day was marked by signs that hopelessness was beginning to lift in this shattered city. While the final toll from the disaster remains unknown, there were indications New Orleans had begun to turn a corner.
"You see the cleaning of the streets. You see the people coming out," said the volunteer with the bullhorn, Norman Flowers. "The people aren't as afraid anymore."
The Louis Armstrong New Orleans International Airport reopened for cargo traffic Sunday, and limited passenger service was expected to resume Tuesday, airport director Roy Williams said.
Williams said he expects about 30 departures and arrivals of passenger planes a day — far below the usual 174 — at the airport, where a week ago terminals became triage units and more than two dozen people died.
Trash collection began over the weekend, a service unimaginable in the apocalyptic first days after Katrina's fury battered the Gulf Coast and broke holes in two levees, flooding most of New Orleans.
Gruesome task
Officials working to identify remains processed bodies around the clock at a field morgue set up in St. Gabriel, a small community between Baton Rouge and New Orleans. A chain link fence covered in black plastic hid the operation from onlookers.
The confirmed death toll in Louisiana stood at 154 people, including some patients on life support who died when power went out, but the toll was expected to climb as crews collected bodies trapped in houses and floating in murky water. Police and military officials have been marking the location of bodies with global positioning devices and paint on the outside of houses.
Around the city center, crews began cleaning the mounds of trash and other debris strewn by the hurricane and by fleeing residents.
Bulldozers pushed heaps of chairs, sleeping bags and other discarded items into giant piles at the convention center, the chaotic site where thousands initially took refuge before being evacuated a week ago. Dump trucks were hauling the debris away.
Tow truck drivers started picking up the scores of abandoned cars littering the streets; other workers unloaded food and supplies for employees working in Bell South's downtown office.
At the Superdome, where thousands first sought shelter only to be trapped inside by the floodwaters, water levels had dropped markedly. Water that once submerged cars parked around the dome had dropped to about a foot high.
A group of police, doctors and National Guardsmen inspected Charity Hospital, where doctors and patients had been stranded in rising flood waters.
Doctors hoped to be able to reopen it to help treat skin infections, dehydration and other illnesses, said Dr. Jeffrey Kochan, who is overseeing medical services in New Orleans. But they found the basement full of water, meaning electricity couldn't be restored. Kochan said they would inspect the city's other hospitals.
Stubborn holdouts remain
Thousands of residents continue to defy orders to leave the city, but security forces were not physically forcing anyone to go. Mayor Ray Nagin warned earlier that residents could be forcibly removed, but authorities have been reluctant to take that step.
Police fearing deadly confrontations with jittery residents enforced a new order that bars homeowners from owning guns. That order apparently does not apply to the hundreds of M-16-toting private security guards hired to protect businesses and wealthy property owners.
Despite missing 300 officers from his 1,750-strong force, Police Chief Eddie Compass was upbeat as he reported that 200 arrests had been made since the hurricane.
"We are definitely in control of this city," Compass said. "We've been almost crime free for the last four days."
Throughout the city, search teams were picking up bodies.
At the grand stone entrance of City Park, in the heart of New Orleans, workers took out two bodies: one partially submerged in water and another covered in a blanket and marked with orange paint indicating searchers had previously reported it. A walker, a bag of clothes and life jacket were nearby.
Crews from Disaster Mortuary Operational Response Teams, a group of volunteer medical professionals called in by the federal government for disasters, processed the bodies and took them away in refrigerated trucks.
City could be drained in a month
The U.S. Army Corps of Engineers said most of the city could be drained within a month, though some areas hit by the storm surge could take longer. The estimates are far shorter than early predictions by the corps, which has struggled to get breached levees repaired and pumps operational.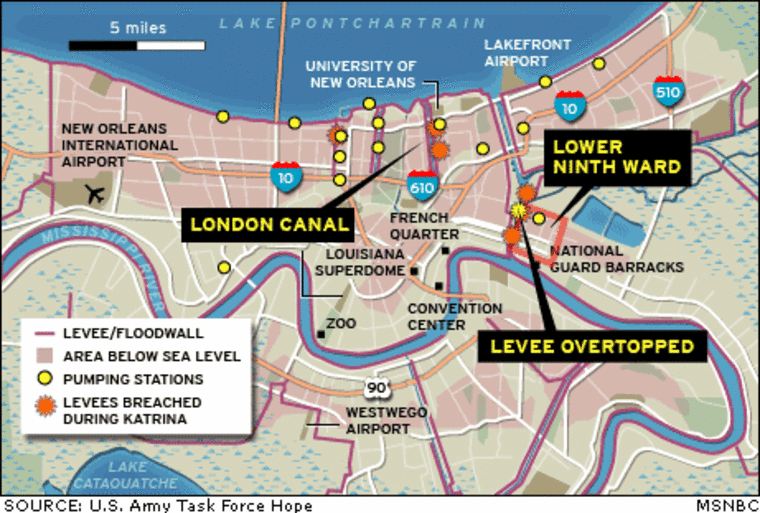 Corps spokesman Dan Hitchings said the work could now be complete by Oct. 18, about 40 days after pumping began. The corps originally estimated it could take up to 80 days to dry out portions of the city.
Saturday, 74 portable and stationary pumps were operating in New Orleans, pumping more than 11,000 cubic feet per second of putrid storm water out of neighborhoods that have been submerged for more than 10 days. During normal operations, the city has 174 pumps keeping the city dry.
Unseasonably dry weather following the hurricane and additional pumps prompted officials to revise their timetable.