In an "unheard of" rescue operation, eight dolphins that were swept out of their oceanarium by Hurricane Katrina have been rediscovered hundreds of yards out at sea where trainers are tracking, feeding and caring for them.
"To find all eight of them on your doorstep is just unheard of," said Moby Solangi, president of the Marine Life Oceanarium in Gulfport. "When we first saw them, they were really starving. When they saw their trainers, they were absolutely flipping."
The eight Atlantic bottlenose dolphins were swept out of their tank by the storm surge from Katrina, which then destroyed the oceanarium.
Since Saturday, when the dolphins were found, their trainers, along with a dolphin rescue team from Florida and a marine biologist from Seattle, have been boating out into the Gulf of Mexico three times a day to visit the school of dolphins.
The six females and two males are fed fish filled with vitamins and medicine to help treat their infections. None of the dolphins suffered life-threatening injuries, Solangi said, but they all endured multiple scrapes and lacerations.
Whistles and buckets
The team of rescuers coaxes the dolphin to a pair of floating mats by using whistles and banging buckets together, sounds the animals learned to associate with eating while in captivity, Solangi said.
"More than likely, they've lost all their hunting skills, their social skills," said Jeff Potter, a marine biologist with the National Marine Fisheries Service who participated in rescues following the tsunami last December. "The biggest thing is to try to get some food in them. We're trying to build up their strength before we actually try to reacquire them."
The dolphins, trained to respond with flips and the like to the delight of show crowds, are being taught how to beach themselves on the mats, which is how the rescuers eventually plan to secure them for transport to safety.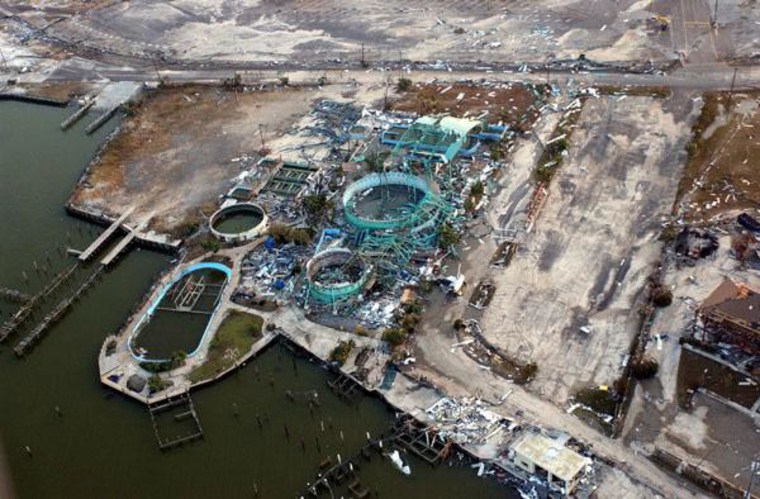 Officials say the U.S. Navy is preparing to deliver saltwater pools in which to keep the dolphins, but those are not expected to arrive before the weekend. In the interim, a swimming pool at a hotel will be placed on standby in the event an emergency rescue is necessary.
The dolphins range in age from 4 years to 40. The two youngest are the males, Noah, 6, and Elijah, 4. The females are Jill, 40; Kelly, 31; Jackie, 31; Tamara, 20, Shelly, 20; and Toni, 17. Jackie is the mother of Toni and Elijah; Kelly is Noah's mother.
Many animals were evacuated from the oceanarium before the hurricane, though the dolphins and a number of sea lions remained. Officials said they believed the steel-wrapped concrete holding tanks, which survived Hurricane Camille in 1969, would outlast the worst blows from Hurricane Katrina.
In looking at the twisted wreckage of what used to be his oceanarium, Solangi said it was a miracle that any of the dolphins made it through all the debris without more serious wounds.
"I'm absolutely amazed," he said.