/ Source: The Associated Press
Thousands of miles from New York, Monica Lozada-Rivadineira's family in Bolivia is stunned by her apparent killing and anxious to resolve who will get custody of her 4-year-old daughter, found abandoned on the streets of Queens.
Relatives recall a happy, independent woman who in 2001 left Cochabamba, a Spanish colonial city in this poor South American country, full of hopes for a better life.
"Her dream was to save up money in the U.S. and come back to Cochabamba to open up a business and buy a house," said her 24-year-old brother, Jaime Rios Rivadineira.
Those dreams were extinguished when the 26-year-old woman vanished Sept. 24. New York police said she was killed by her boyfriend. Her daughter, Valery, was found the night of Lozada-Rivadineira's disappearance, wandering barefoot.
Cesar Ascarrunz is being held without bail on charges of strangling the woman, dumping her body in a pile of trash and abandoning her daughter to the streets, New York authorities said.
Desperate to find any relatives, U.S. officials took the unusual step of putting the child on television. Soon the plight of the little girl and her missing mother captured the attention of people across the United States.
Body found in Pennsylvania landfill
On Thursday, police searching a Pennsylvania landfill where New York trash is hauled said they found a woman's corpse — unclothed and wrapped in black plastic bags — under 18 feet of garbage. While the body has not yet been positively identified, police said they believed it is Lozada-Rivadineira.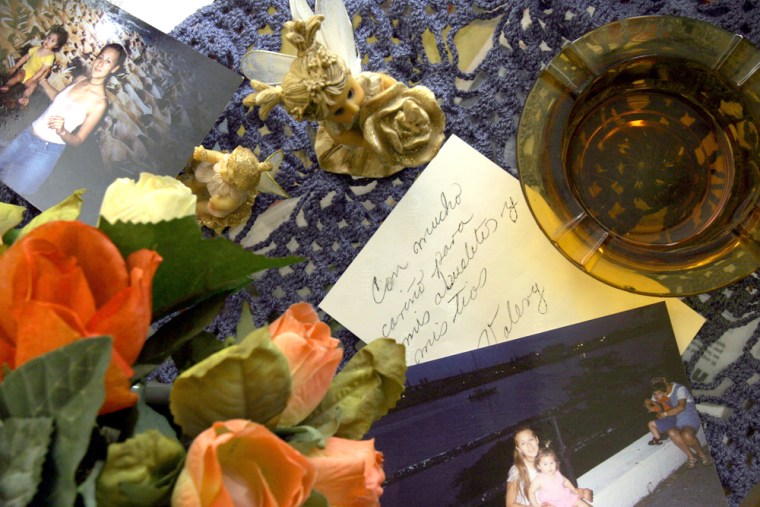 Seated in his family's modest living room filled with framed school awards, Lozada-Rivadineira's brother somberly leafed through a photo album with pictures his sister sent from New York — each with a handwritten note on the back.
"We're at a water park, the mural behind us makes it look like we're sitting with seals, and my shirt is stained with ice cream," Lozada-Rivadineira wrote on the back of one photo showing a smiling Valery in her arms.
Offers to adopt the child have poured in. For now, Valery is staying with a foster family in Queens. A family court judge will decide who she will live with permanently.
As for custody of Valery, Rios Rivadineira says his family wants to honor choices his sister would have wanted, which might mean Valery's staying in the United States.
Keep Valery in the U.S.?
"We don't want to take away the dreams Monica had for her," Rios Rivadineira said. "She lived for her daughter, worked for her, so she didn't lack for anything. ... She was always with her and was always saying, 'I want my daughter to grow up strong and beautiful and to study."'
Lozada-Rivadineira herself was at the top of her high school class and studied to be a secretary at a local college. When she wasn't studying she would go out dancing at a nightclub, always wearing the latest fashion.
Her brother says he still can't believe she's gone.
He recalls exploring the city together when they were young. He laughs, remembering how she always insisted on being one step ahead of him and how she would speak up for him when he was too shy.
Lozada-Rivadineira's estranged husband, 25-year-old Juan Carlos Saavedra, who is imprisoned in Bolivia on drug charges, also remembers that forthright girl.
The pair met in high school and began dating soon after. In the summer of 2001 they married, and it was Lozada-Rivadineira who decided the couple should move to the United States with Valery, then not yet 1. She was already pregnant with their second child, Juan Carlos Jr., now 3.
Couple arrived in America illegally
The couple traveled to Baja California, where they slipped across the Mexican-U.S. border illegally and settled in southern California, he said in an Associated Press interview at the San Sebastian prison in Cochabamba where he is awaiting trial.
Saavedra got a job and Lozada-Rivadineira soon gave birth to their son.
But then there were problems in their marriage. One day, when Juan Carlos Jr. was a month old, Lozada-Rivadineira disappeared with Valery, Saavedra said.
His mother, Ana Maria Rivera, traveled from her home in San Francisco to care for the baby. Desperate to find Lozada-Rivadineira, Saavedra returned to Cochabamba, but she wasn't there. Soon after, he had his mother bring his son to Cochabamba, where the child is now being cared for by Saavedra's father.
Lozada-Rivadineira's relatives declined to speak about her relationship with Saavedra, but said she left California to start a new life in New York with the support of relatives living there.
Saavedra's mother is now in New York seeking custody of Valery on his behalf, and Lozada-Rivadineira's mother, Roxana Rivadineira, is set to arrive there in the next few days. More than anything, Saavedra said he wants to see Valery.
"She's my daughter," he said. "I want her to be with me, she has to be with me."