Further demonstrating its drive to innovate in the automotive business, Toyota will present seven new concept cars at next week's Tokyo motor show, including a vehicle that uses an electric motor for each wheel.
The "Fine-X," which features "gull wing" doors that hinge up from the roof and seats that swing out for better access to and from the cabin, is a new fuel cell hybrid vehicle with electric in-wheel motors housed in each of the four wheels.
Each of the wheels can be steered independently, allowing for a completely new kind of maneuverability according to Toyota. Using four-wheel independent drive control, drivers of the Fine-X can more easily park, do U-turns and on-the-spot rotation the company says.
Toyota also plans to showcase a concept vehicle called the "i-Swing" — a two-wheeled "personal mobility vehicle" that operated in much the same way as a Segway, using the driver's bodyweight for steering. It has two wheels for traveling on sidewalks and can be converted into a three-wheeled model for road travel.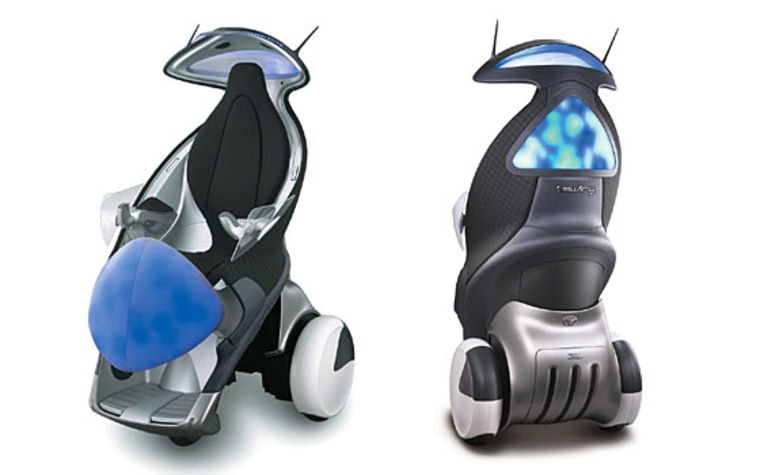 Another concept car due for release next week in Tokyo is the Estima Hybrid minivan, which includes electric four-wheel drive and uses a hybrid gasoline-electric engine and an exhaust heat recovery system to cut CO2 and other emissions.
Toyota will also display the FSC and bB at the show. The FSC minivan includes an electrically-adjustable rear deck to alter its load-carrying ability, while the youth-oriented bB has a "sensually edgy attitude," featuring a "nightclub-like atmosphere" with a nine-speaker stereo system that includes lights that flash in time with the music.
The RAV4 SUV and TF105 F1 racing car will also be shown.