MUZAFFARABAD, Pakistan — What happened in Muzaffarabad, the capital of Pakistan-controlled Kashmir, last Saturday when the earthquake struck was truly unique, as far as my experience as a reporter goes. What we see five days later walking through the streets of this capital is a city that is truly in ruins.
I covered Mexico City in 1985, and it pales in comparison to the visible destruction in this town.
This is a much smaller city, with a population of 150,000 to 200,000, but there is an extreme concentration of buildings here. And we're not talking Afghan-like adobe buildings or housing. We're talking about a modern, concrete city that is now in rubble.
Looks like post-war destruction
The estimate is that 70 percent to 80 percent of the city is now in ruins. This city was just miles from the epicenter of the magnitude 7.6 quake.
Driving slowly through the streets — if you can in fact negotiate the streets — it feels like what I imagine post-World War II Germany was like. I can't help but think of those incredible pictures of total destruction there. You almost have a sense that this city was bombarded by the air, house by house, but there are obviously no craters or bombing. It's quite an eerie experience.
About 11,000 people are believed to have died in a matter of seconds on Saturday, that's almost 10 percent of the population. Those who did survive fled into the streets, where they have remained, sleeping for the past five nights. They are afraid to go back to their homes, even if they are standing, to retrieve personal items.
They are living mostly in parks and gardens. There is one park just yards from where we are spending our days and nights. People are living in close quarters, and until now they had almost no shelter, no food, or water, and very few blankets. It is getting colder now and rainier as  winter approaches. 
Aid visibly arriving, but hearts heavy
Starting today however, we saw some tents arrive, and some blankets and food. There clearly is now a visible improvement in the overall situation.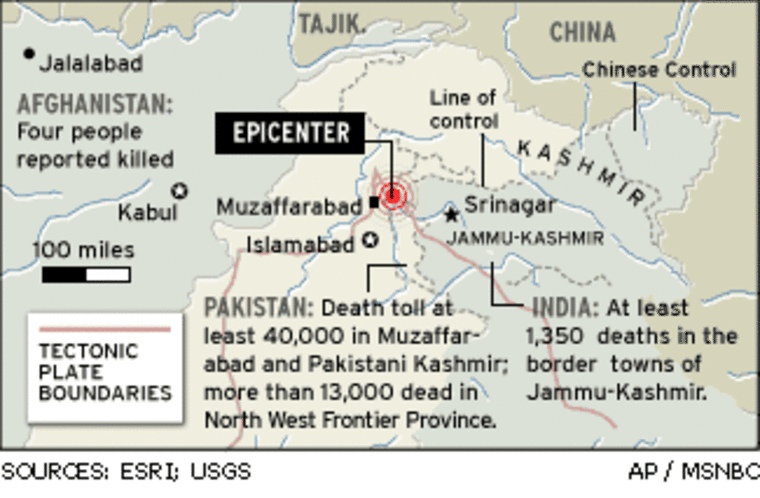 But when you speak individually with people, you don't get that sense at all. They are still very much afraid. The shock and adrenaline is starting to fade, and what's replacing it is this incredibly deep sense of grief.
People break down in tears when you ask them about what happened. Almost everyone has lost a family member and friends.
What's incredible about this particular experience is not only that this city has collapsed, but all of the surrounding villages where people would normally be able to turn for comfort have been destroyed as well. So they have no place to turn.
International outpouring – including India
In terms of aid groups, it' really become an international affair here. There are some 30 countries that are participating in this aid operation.
The United States is providing helicopters — at least eight heavy cargo choppers are ferrying goods into a soccer stadium that has been converted into a make-shift field hospital. They are ferrying out the wounded and injured who can not be treated here, since along with all of the houses and stores, the hospitals were destroyed as well.
The Americans are running that important mission of bringing food aid, blankets, and medicines into the city, and ferrying out those who need immediate attention in terms of their injuries.
The countries that are now participating in the aid mission are from around the world, from Sweden to Japan and in between.
Even India, Pakistan's arch rival, which has fought at least three wars with Pakistan and has been on the brink of a fourth on a number of occasions over the area that we are in right now — Kashmir — has sent aid, including food, medicine and tents. They offered people as well, but that was apparently too sensitive for the Pakistan government to accept.
Health threats
The real problem now facing the survivors, aside from trying to get their lives together and figuring out what to do next, is disease.
It is a precarious situation; the survivors, ironically, could now die from a series of water-borne diseases, including cholera and typhoid. If the situation in relief camps doesn't improve within a matter of days, we could start seeing a serious epidemic here. 
There is a terrible cocktail of impure and contaminated water — particularly unsanitary are the dead bodies that still haven't been extricated from the rubble.
That is why we are now seeing large tents coming in to provide immediate shelter for families, a lot of mineral water and the first of a couple of water purification plants — a small start to begin purifying the very contaminated water here.